Last summer, we asked all of you Young Rider readers to use your creativity and design your perfect riding pants for the 2018 Kerrits Breeches Designed to Ride Contest. There were tons of amazing entries, but these two lucky winners were chosen to have their designs custom made by Kerrits, just for them!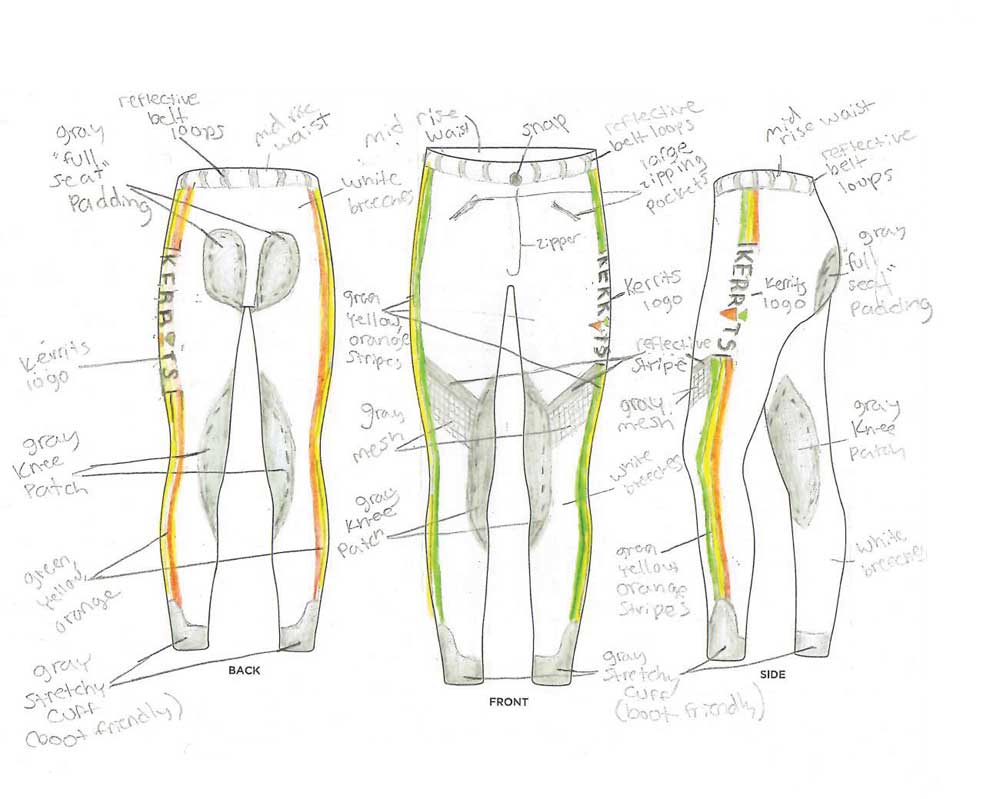 Contest Winner 5-12 Age Group
The 2018 Kerrits Designed to Ride Breeches Contest winner of the 5-12 age group was Cora! Cora, who has turned 13 since she entered the contest, is in the process of adopting an off-track Thoroughbred for eventing. In the meantime, she has been riding a bay Quarter Horse gelding named Bo and a dapple-gray Welsh/Arab cross pony named Penny.
"Jumping and dressage have always been my favorite things to do," says Cora. "I also have experience doing hunters, western and ranch."
Cora's riding background was helpful when it came to creating her dream breeches. They had to be multi-talented, just like her! She calls her design "The All-Around Rider."
"I designed my breeches to be durable and ideal for all English riding," she explains. "I put full seat and knee patch padding to provide enough grip for dressage, but not too much for jumping."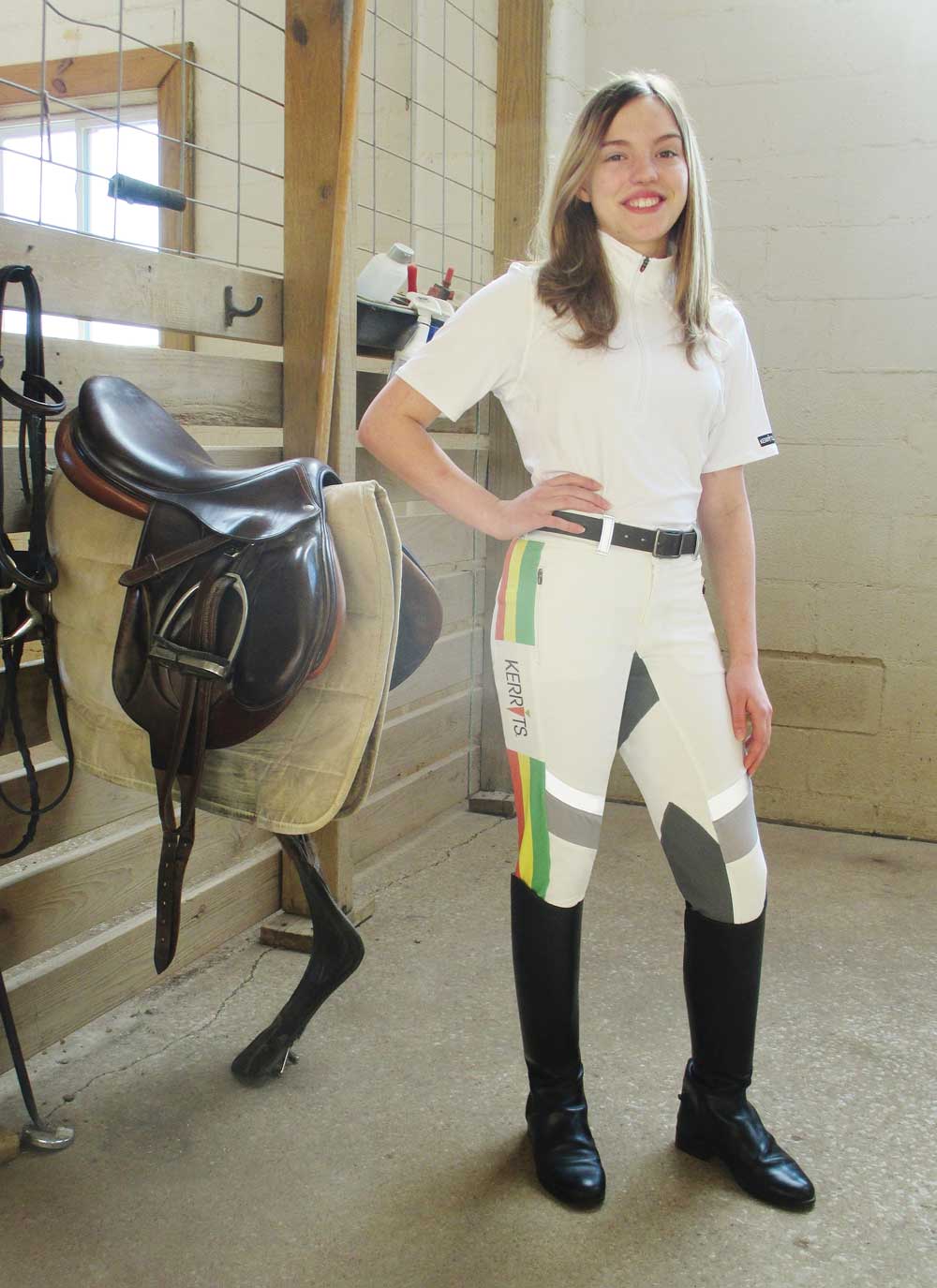 Careful thought went into every detail, as Cora explains the reasons for her choices: reflective striping for safety; mesh for comfort and airflow on hot summer days; comfortable, boot-friendly stretch cuffs; and pockets for practicality. Even the colors—green, orange and yellow—were meant to resemble the carrot in the logo, which she added as a final touch to look cool.
"I was so happily surprised to see my design made into real breeches!" Cora says. "They made them with such high quality materials and they fit me perfectly—they look awesome from every angle. I am just shocked, excited and happy every time I see them."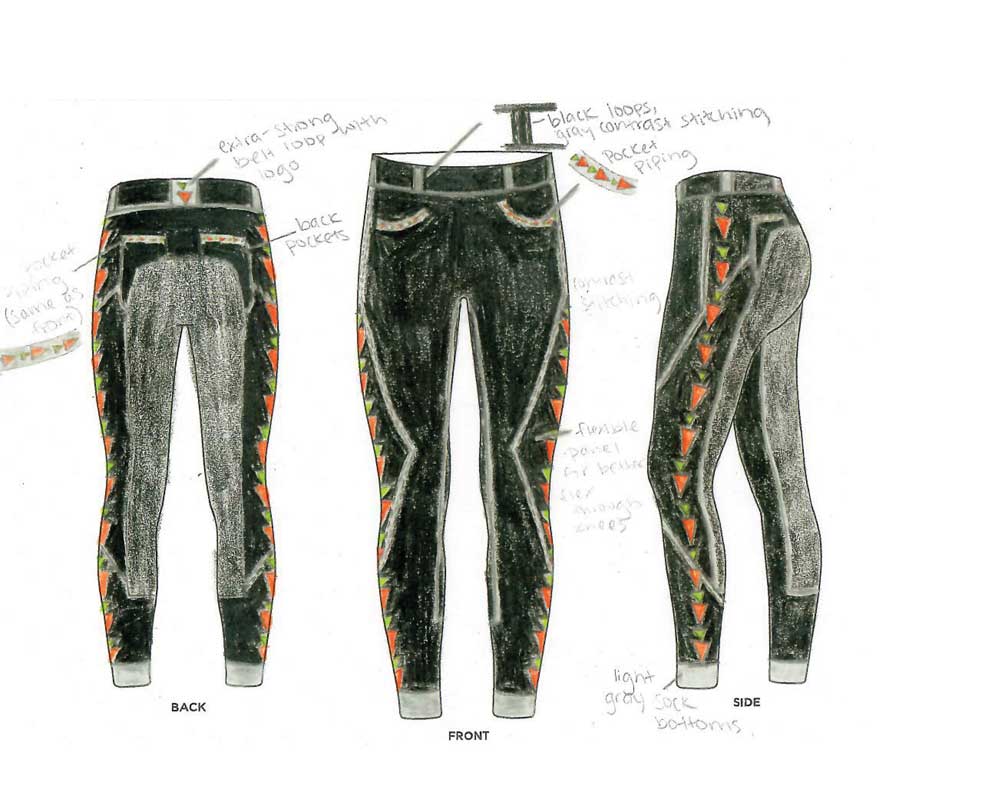 Contest Winner 13-18 Age Group
The 2018 Kerrits Designed to Ride Breeches Contest winner of the 13-18 age group was Sahale! Fourteen-year-old Sahale (pronounced suh-hailey) is a dedicated dressage rider who rides at least five or six days a week. She leases an 8-year-old Morgan named EMR Dauntless from her trainer, Sally Anderson, who bred and raised him.
"We are planning to compete at First and Second Level this summer after having a successful season at Training and First Level last summer," she reports. "I can't wait to see all our hard work pay off. Dauntless is an amazing horse, and we seem to click when we're together."
In addition to riding, Sahale has been helping her instructor train horses too. "I love all of it: riding, training, and competition!" she says.
Her winning design is called "Carrots for Kerrits."
"It took me a while to come up with the idea for my design, but eventually I decided to use a carrot theme, since that's what helped inspire the name of the company," she says. "I just kept going with that all the way through, but I added personal touches like light gray stitching and accents, and a wide belt loop in the back with a Kerrits carrot on it."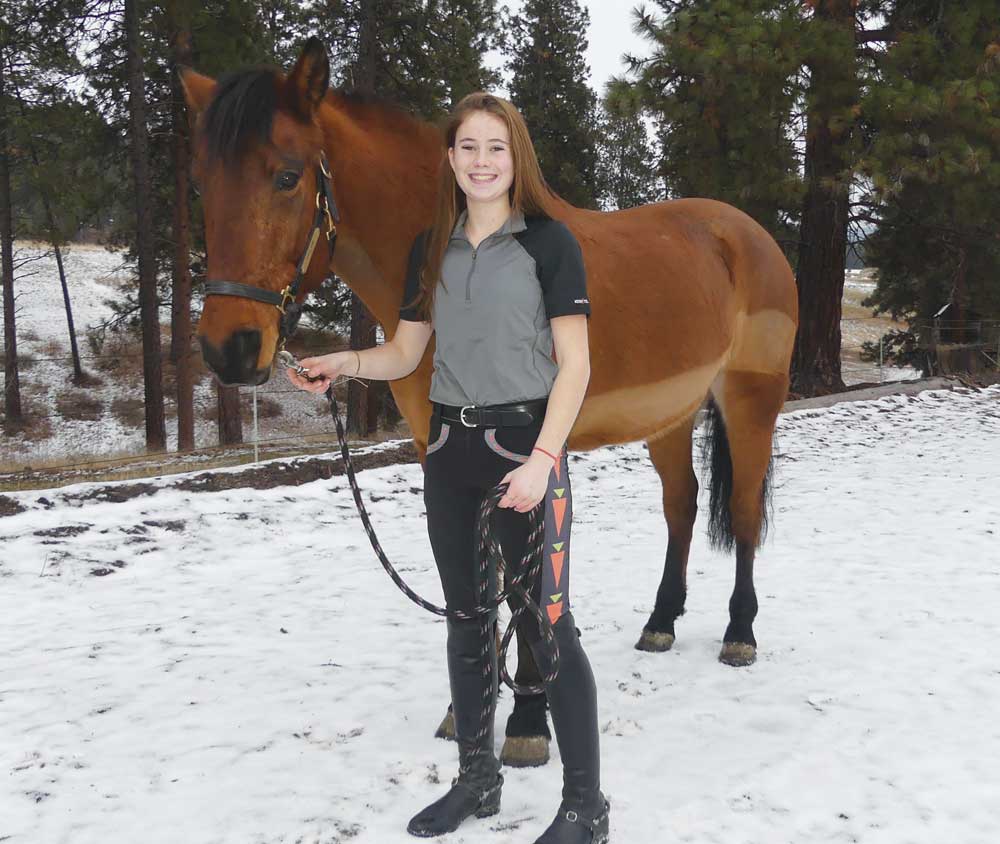 When Sahale first found out that her design was chosen, she said it didn't really sink in.
"Seeing my breeches was amazing because it made everything feel real," she says. "It suddenly seemed so huge that I had won and that I was able to design and wear my own breeches!"
Want to enter this year's contest? Visit kerrits.com/pages/junior-designer-contest for details and an entry form. This year, designers will create breeches and a T-shirt for a #KerritsROOTD (Ride Outfit of the Day). Deadline for entries is July 1, 2019!
---
This article originally appeared in the March/April 2019 issue of Young Rider magazine. Click here to subscribe!