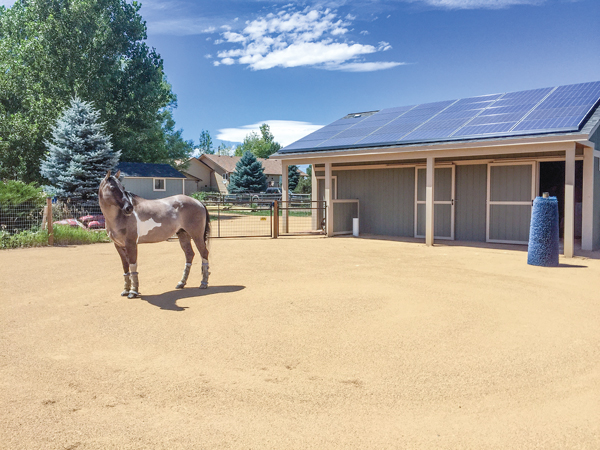 My horses now live in my 2-acre backyard, and I wouldn't have it any other way. As I write, I can see my daughter's white pony visiting his friends at the property line. My office window opens to the back of the house where I can see the barn, pastures and arena. But I haven't always had my horses at home. Just a few years ago, my husband, Jared, and I moved out of the suburbs to a home with enough land for horses. The previous owners had one gigantic back yard but never had horses. That meant we had land that was a blank slate for designing the horse barn and property that we wanted.
We knew that my horse would move home from his boarding facility (and once he got here, he'd of course need a buddy). But first, we needed to plan for a barn, paddock, pastures and arena.
Here's the story of how we planned for two horses to live at home on our small-acreage property.
While every property is different and you'll have your own unique vision for you and your horses, I hope my planning and building process can serve as a useful guide. I'll help you avoid mistakes and provide ideas for a place that you and your horses will love to be.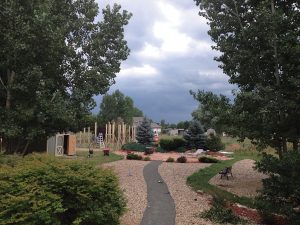 Prior Approval
When we shopped for our home, it was sold as a horse property. Our real estate agent looked up the county regulations for horses and all seemed fine. Once we moved in and did a little more investigating, we learned that because our home is in town limits, we needed to apply for a hooved-animal permit with the town—the county rules didn't apply. Panic set in and prompted us to research and plan all we could to have the perfect horse property—a plan so detailed that it couldn't be turned down.
Before you start your barn-design plan, be sure to consult your homeowner's association, town regulations and county zoning rules. Regulations may dictate what type of barn you are allowed to build—as well as how many animals you can have.
If you're inside town or city limits, start by visiting the town hall to ask for a booklet that shows the current guidelines. Start at the smallest level of government possible to make sure that you know all the rules that will apply to you. Your county may be much more lenient than your town; your town rules may be more lenient than your HOA.
Tip: Go get the requirement listings in person. You'll get the most up-to-date info and you may meet a friendly contact who can guide you through the requirement and permit process.
When we applied for our horse permit, all neighbors within 500 feet of our property were notified by mail. They were invited to appear at our townhall hearing if they wanted to object. At the approval meeting, the board members read our plan for horse care and intended property use. One other person attended the meeting and we worried he was there to object. In the end, the board approved the proposal unanimously. It was time to start!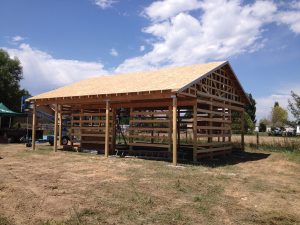 Dreams and Planning for Designing a Horse Barn
I am lucky to have a husband who works in the lumber industry and knows how to build, paint, plumb, and fix just about anything. His skills were a blessing—especially since my wish list was grand: I wanted a custom wood barn with room for two stalls plus lots of storage.
For my own convenience, I wanted automatic waterers in the barn and paddock plus well-draining footing to combat mud season. I also wanted fencing that would keep dogs and horses separate.
It's important to me that horses live as naturally as possible—seeing the horizon and other horses and having room to move. I planned to use every inch of our small property wisely so that I could turn out horses easily. I wanted to make sure that the horses could be outside most of the time—in a paddock, in the arena, or in adjoining pastures. The layout of the land was just as important as the actual barn building.
Budget: Our costs were reduced when it came to labor, which can be expensive. We sought professional help when needed, but I relied on Jared's skills (and my on-the-job learning) to cover the high-cost labor.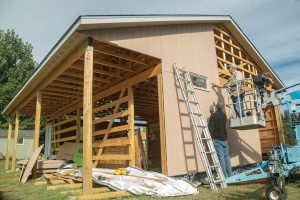 If you're on a budget, write down everything that you eventually want; then decide what you can afford now and what you can add later. If you lay out your property well and plan for the whole picture, you can add details over months or years. You might even consider keeping your horses in a well-placed run-in shed and paddock with good footing as you save up for the barn you want.
Tip: Need to trim more costs? Metal barns are more cost-effective than building a custom wood barn. Plus, they're generally faster to put up. If you have a metal barn "shell" installed, you can choose to customize the inside stalls and tack room when you're ready (but factor those costs into your budget). In some areas, metal barns are preferred to help deter the chance of damage from forest or brush fires.
The Land: Make sure to plan a site for your barn so that the horses will have shade and shelter. It's also best to pick a spot that is already level. Paying for excavation is pricey.
Make sure you know where water will drain on your property and pick a potential spot that is flat and dry.
We printed out a satellite view of our home from Google Earth and marked it with our preferred layout.
Find out what direction your storms usually come from and make sure your horses are sheltered from that direction. Horses need to be protected from the northerly winds. If you want stall openings and an overhang, make sure to place your barn so that stalls will face south (or at least avoid openings to the north and west).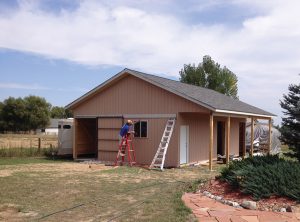 You'll need help identifying pasture plants, trees and even the property's usual weather patterns.
Book a visit with your county extension officer. Each U.S. state has an agricultural school with county offices. In Colorado, Colorado State University's extension agents will visit your property to help identify poisonous vegetation and even help you understand the grade of your land. A one-hour visit cost under $100.
I learned what kind of grasses were growing in the soon-to-be fields, what kind of seed to purchase and how long I could let horses graze as recreation without ruining the grass: only one hour per day. I also learned what trees were poisonous to horses (goodbye to the chokecherries).
Access: Make sure you can get to the barn site you pick. You'll need a driveway that allows easy access for large trucks to enter. A good, well-draining base is also important. You will have large delivery trucks visiting often during construction. Later, you'll need access for hay delivery and horse-trailer loading and unloading.
Be sure to consider how far your new structure will be from water and electric-line access. If you'll need to trench new lines for water or electricity, make sure that to-do item is at the top of your planning list. Also book an electrician who can be available as soon as the barn structure is up.
While Jared knew how to place and attach the plumbing pipe, getting the trench dug took much longer than expected. You'll most likely need to hire professionals to dig down past the freeze line. Heavy equipment operators often book up quickly when the weather is right for building. We required water access for two waterers and a hydrant at the back of the barn so we could fill buckets or wash horses.
For energy efficiency, we opted for solar panels on the barn roof. We were thrilled to find out that trenching the electric line from the house's main electric panel to the barn was covered in the cost of the panel installation. The barn's south-facing roof was able to hold enough solar panels to power the barn and house.
The Best Little Barn
Design: Once we knew the best location, it was actually time for designing the horse barn. Jared purchased grid-lined paper and drew the barn layout while incorporating my long list of requests. We had space for a 24-foot x 32-foot barn that would house two 12-foot x 12-foot stalls, as well as a wide aisle and a tack room compete with built-in cupboards and counters.
A window above the stalls would allow in natural light and help the horses see if they needed to be shut in. We planned space for two automatic waterers that didn't require electricity—one inside the barn and a short one accessible in the covered paddock.
On the outside, we opted for sliding stall doors and two large sliding doors on opposite sides. An overhang above the stall entrances was designed to offer shade and provide the option of keeping the horses outdoors as often as possible. Once we designed the barn, the building process rolled along quickly.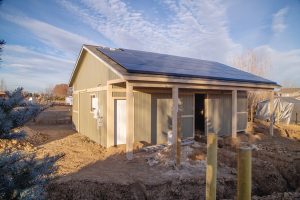 Building Time: Jared prepared the drawing, then worked with a professional pole-barn builder to assist. He submitted the completed barn plans to the town's building contractor.
Once approved, he received a building permit for the entire building process; the permit covered the electric and plumbing needs as well.
For the roof, Jared contracted a truss shop to engineer the support for the roof. To withstand Colorado snowfall and the weight of the solar panels, the trusses were designed 2-foot on center.
Once all plans were approved, it was time to start digging. The professional pole-barn builder brought his skid-steer loader and a post digging attachment. He dug 24 holes through the tough clay. Each post was placed, meticulously leveled then set with cement.
Next, Jared prepared the beams that would connect the poles laterally. It was important to make sure that the inspector could see what type of wood was used. It had to be strong! The poles also had to be sawed off evenly so that they were ready for the beams.
After this, it looked like a real barn. I could see what designing a horse barn and property would look like. I could walk through what would be the door to the tack room then imagine the barn aisle and stalls. I practiced moving through the barn and making sure that each element would be in the right place to easily move horses and do chores later.
The trusses arrived with a team to place them. Jared guided each truss into place, then the team helped secure each one. Once the trusses were in place, we hired a roofing company to install the asphalt shingles. The delivery truck used a lift to place all the materials directly onto the roof and the workers were quick. Jared placed the siding with the help of the barn builder's skid steer and the shape of the outer barn was in place.
Next up in designing a horse barn was selecting paint (we opted to match our house color), spraying the entire barn and placing the final embellishments. While the barn seemed complete, lots of details remained: placing hitch clips at the washing and tacking areas; installing racks for saddles, bridles and helmets; finishing the door latches; installing a programmable lock to the tack room door; and mounting pet doors to the tack room and barn doors to allow the cats to get in and out.
The last big barn component was the concrete barn aisle. The cement truck arrived, and I was excited to place my horse's old shoes at the end of the aisle. My daughter added her hand prints, too, and we marked the barn as our own.
Stalls: While I wanted concrete in the barn aisle, I did not want concrete under the stalls. The hard surface is too firm for horses, even if mats are in place. Instead, we made sure that the excavation for the waterers was complete, then ordered a load of ½-inch rock road base to keep the stall flooring level.
This leveling and tamping couldn't be done by machine and was a big workout. Later, we placed thick rubber mats over the footing to keep the horses' legs well-cushioned.
As part of designing a horse barn, we ordered custom stall fronts and a stallion-wall divider. I opted for stall doors with tops that could open and with corner feeders that could be loaded from the outside.
Having stall tops that can latch open provides horses a little more room if kept inside. The corner feeders were a luxury to have, and have proved helpful when I need to feed quickly but am already dressed up.
Jared finished the inside walls with smooth wood so that horses couldn't easily grab onto it and chew if they were stall-bound. He also placed a retractable electric cord high above the stalls so that we could pull needed line down when necessary for heated buckets, clippers, et cetera. We also placed blanket racks in the barn aisle and organizing hangers in the tack room.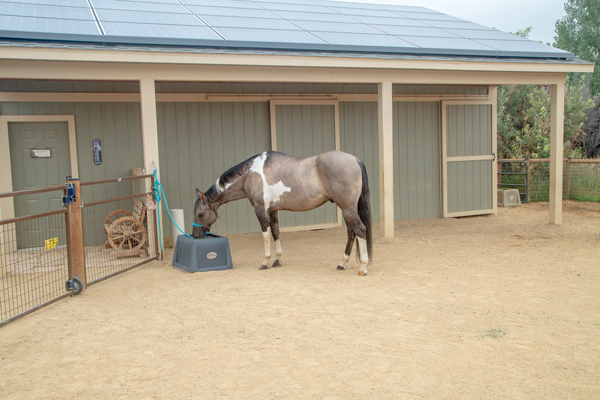 Outside Touches
Fence Me In: While Jared worked on the barn, I was busy shopping for and ordering supplies for the fencing. We wanted to keep dogs and children from getting into the horse pens easily. That meant opting for no-climb wire horse fencing to line the wood posts.
If you get wire fencing, make sure it's made for horses. Horses should never be around barbed wire fence or traditional rectangular wire fencing that could pull down easily or trap a hoof if they paw at it. Any wire fencing needs to be topped with electrified rope or tape at the top to keep horses from getting too close.
I ordered everything at the same time through our local ranching store and made sure to talk to the equipment manager. He helped with the gate and fencing measurements and made sure we ordered all the supplies we needed.
We marked where all the posts should be and hired the barn builder to return with his skid steer and post hole digger. He dug the holes for the posts that would separate the property into a paddock, arena and two pastures.
I made sure to order gates to open to the pastures from the paddock so I could easily turn out horses without having to lead them through another area. I connected the paddock and arena with a wide gate so that the horses could access the larger area for play when they couldn't be turned out in the pasture. We also planned gates at the property lines to allow for easy access to our neighbors' fields so we can help each other with horses and share our amenities.
Footing: Our natural footing includes lots of clay that is slick when wet and easily turns to deep mud in the spring. I searched for well-draining footing that would not only keep my horses clean but would help me clean paddocks easily.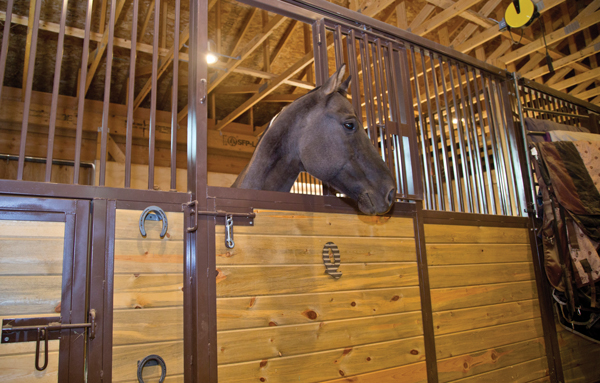 Our local quarry mixes a footing made for equestrian use. It includes sand and clay, so it drains well but is heavy enough not to fly away. The company rep also recommended the footing for the stalls, the driveway to the barn, and the arena.
The materials all match in color but include slightly different-sized stones and concentrations depending on the use. The team from the footing company arrived with big dump trucks full of arena mix, then stayed to level and grade the arena
and paddock.
Once everything was complete, the place looked amazing. The barn was painted and finished, the footing was groomed, and all the gates and fencing were straight and new.
My horse came home to the cleanest, prettiest barn you've ever seen— and he was thrilled when he was turned out into the grassy pasture he'd soon share with my daughter's pony. I was blessed and lucky to have my horse home at last.
Finding a Pro
Looking for pros who know the barn-building and land-prep processes well before designing a horse barn? Ask your local feed store manager if they know of equine-specific companies in your area or contact your state's horse council. Call around and get several quotes.
Barn Design and Architects: When designing a horse property, search for "barn builders near me" to find your local builders and barn manufacturer representatives. They'll often work with pre-approved barn designs or handle architect approval for you. If you're looking for a custom barn and whole-site design, there are architecture firms that specialize in equestrian property design.
Electricians & Plumbers: Your automatic waterer rep may know which local plumbers have installed waterers for agricultural use. You can also search online for "plumbers supply" or "electrical supply" to find out where local pros shop. Call there to ask for a pro recommendation.
Footing: Local is often best when it comes to heavy footing material. Find out who manages the best baseball diamonds in your area—those contractors often have the right material for driveways as well as under-stall footing. In Colorado, we used G&S Sport Solutions. For specialty synthetic materials, check out GGT Footing, based in South Carolina.

This article on barn construction and designing a horse barn and horse property originally appeared in the September 2019 issue of Horse Illustrated magazine. Click here to subscribe!
Further Reading