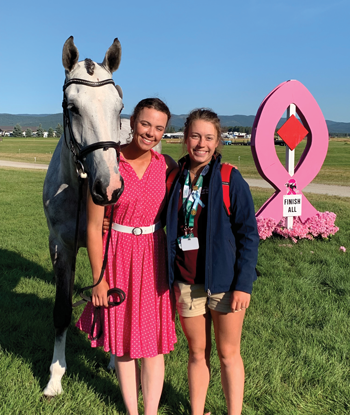 Young Rider Gracie Elliott realized her dreams of competing at the North American Youth Championships (NAYC) and shares her story.
I've always been a goal-setter. In kindergarten I had the goal of learning how to tie my shoes. Sophomore year of high school I had the goal of getting my driving permit, and ever since I caught the eventing bug, I have had the goal of going to the North American Youth Championships.
Thankfully, I can successfully throw on some tennis shoes and drive myself to the barn and back, but the goal I will forever treasure achieving is competing at and completing Young Riders. Not only did I achieve this goal, but I did so with flying colors: I picked up a top-10 individual finish and a team gold medal with my Area VIII teammates Elizabeth Henry, Tate Northrop and Cierra Darratony.
The Long, Hard Road for Gracie Elliot and Her Dreams of Competing at NAYC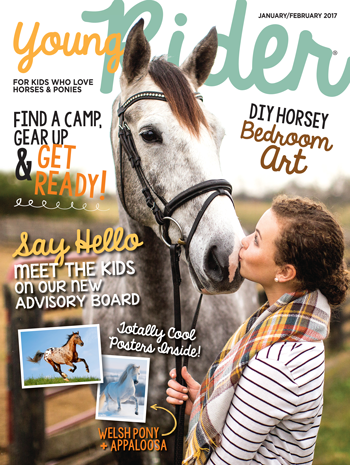 The journey to this momentous occasion was not easy in any way, shape or form but I, Gracie Elliott, was getting to realize my dreams of competing at the NAYC. It's taken me 13 years of riding, three years of producing my horse, Finn, to the upper levels from scratch, and countless amounts of blood, sweat, and tears before even qualifying for the opportunity to travel to Montana with the team.
Somehow, we got it done. Somehow, we proved ourselves despite the self-doubt that naturally comes when developing a young horse while seeing your peers move along at a faster rate than you. Somehow, all of the stars aligned, and we had a perfect week at the competition.
Getting Settled
We flew from Lexington, Ky., to Kalispell, Mont., the Sunday before the competition. The horses had a 36-hour van ride, and we wanted them to get as acclimated to the change in altitude as possible. Our coordinator, Shelley Ryan, and Chef d'Equipe Maxine Preston, were wonderful and had the stalls set up before the rest of the team arrived at Rebecca Farm.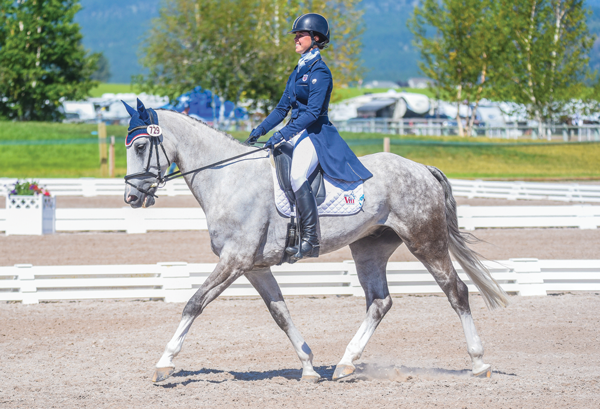 As soon as our flight landed, me, my mom, and best friend/ groom extraordinaire Hayden Simon raced over to the venue and were in absolute awe. We pulled in and were welcomed by green grass, beautiful cross-country jumps, and stunning mountains on every side of us. We had a short team meeting and went over the protocol for how to properly take care of the horses after such a long shipping experience.
After what seemed like forever, we saw our truck pull in and were able to get our precious cargo off to begin the meticulous regimen. As soon as we unloaded the horses, we walked them for around two hours. Apparently Finn was feeling pretty good, because he was being so dif- ficult while being hand-walked that I gave in and threw some jump tack on him. Thankfully, he settled down after a ride and only was mischievous during bath time and on walks for the rest of the week (sorry Hayden!).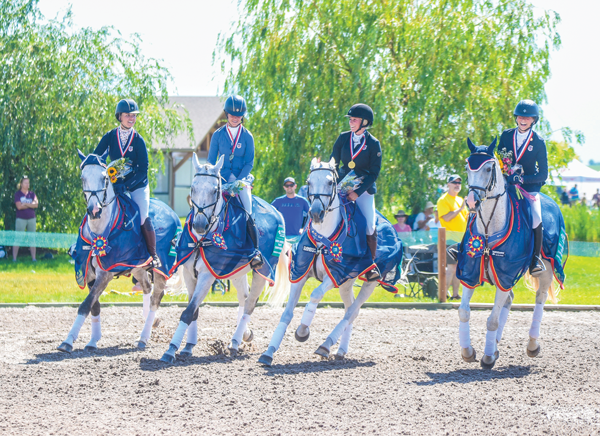 Team Support
The next few days were filled with more meetings, lessons, and wonder- ful meals provided by the Rebecca Farms staff. Finally Wednesday came, and Area VIII's team of four grays was hurried to the wash rack to get ready for jogs. All of the horses passed with flying colors, and the various media outlets that were present took notice of our color coordination.
The next day was the three-star team's time to shine in the sandbox, so all of us back in the barns made sure to oil our tack, bathe our horses for what seemed like the millionth time, and watch their dressage rides. The moments spent outside the dressage rings, in the vet box after cross country, and at the show jumping in-gate were my favorite.
All of the girls from Area VIII made it a priority to be present at the other teammates' rides. We were loud, we were probably (most definitely) annoying, but we were loving every minute of supporting our friends.
The Competition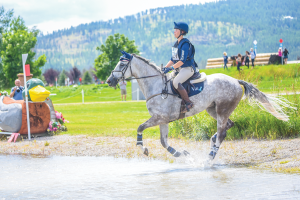 Dressage day was a blur. Warmup was crowded, adrenaline was pumping, and I was ready to get my ride over with. By the time I was trotting around the ring, my mindset had changed from "getting it over with" to savoring every single moment of the rest of the weekend. Finn and I put in a great test, and I—for once—came out of the ring with a smile on my face instead of pointing out the errors I had made.
In what seemed like the blink of an eye, the day I was most nervous about had arrived: cross-country. Our confidence on course had been a little shaken during the first half of the season, but our round that day put those doubts to rest.
We went double-clear, and it was FUN! It seemed like Finn processed every question presented to him in a split-second, and I had to force myself not to cry tears of joy (and relief) coming down the last hill to the final combination on course. Finny got lots of pats, carrots, and kisses on Saturday.
After all of our girls made it around safe with only a few seconds of time added to our score, we learned that we had moved into gold medal position. Knowing that our area tended to be the underdogs and had gone without a team gold since 1983, we did not want to jinx anything and agreed that we would be thrilled no matter what happened in show jumping.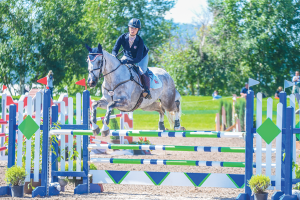 Golden Girls
I think it goes without saying that we were pretty happy after show jumping the next day when we remained on top for team gold! Personally, I had one of the greatest competition rounds of my career, and finally let a few of the tears flow after my round.
Those tears were nothing in comparison to the ones that flooded Hayden's eyes as I came out of the ring. She has been one of my biggest supporters since day one, and nothing made me happier than sharing that special moment with her.
The award ceremony went by in the blink of an eye. We had gold medals on our necks, flowers in our hands, and the arms of our teammates around each other. I cannot thank these girls and everyone else who made the weekend special enough. It still astounds me when I reminisce about our journey and how a rookie team walked away with such an amazing accomplishment.
The moral of the story: work hard, set goals, believe that you can reach them, and last but most certainly not least, never take your teammates for granted.
This article about the dreams of Gracie Elliott about competing at the NAYC originally appeared in the November/December 2019 issue of Young Rider magazine. Click here to subscribe!