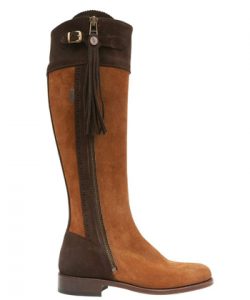 You can never have too much horse stuff! Let your passion for riding exude into your household and wardrobe with these eye-catching equine accents. Quality finds will last a lifetime and remain timeless over the years. These English horse things will spark joy even when you're away from the barn.
Spanish Riding Boots
Welcome fall with suede boots in camel and brown. These chic knee-high boots feature a zipper on the outside, a tassel pull and buckle closure. The Spanish
boots are handcrafted in Valverde del Camino, and additional tassels are available for purchase in a rainbow of colors.
£345.00;
www.thespanishbootcompany.co.uk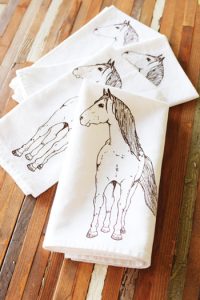 Cloth Napkins
Take your dinner party to the next level with horse-themed cloth napkins. Each napkin is screen printed and handmade in Oregon. The holidays are just around the corner—be everyone's favorite hostess with these rustic napkins.
$36.00; www.etsy.com/shop/ohlittlerabbit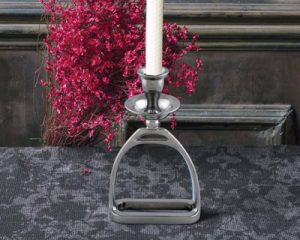 Equestrian Stirrup Candleholder
Owning a piece of Arthur Court is something you can be proud of, and the stirrup candlestick holder is the latest design from their equestrian collection. Place on your mantle or dining room table to instantly elevate the room—light it up and get cozy!
$45.00; www.arthurcourt.com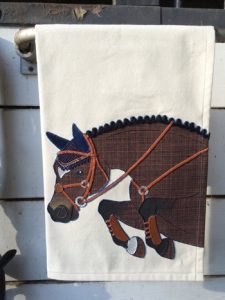 The Artful Equine Tea Towel
Each handmade tea towel created by Betsie Millsap of The Artful Equine features intricate details composed of fabric, leather and acrylic paint. The horse can be personalized from a photo, turning a décor accent into a treasured keepsake. While they are a functional item, it's OK to just hang and admire.
$79.00; www.etsy.com/shop/theartfulequine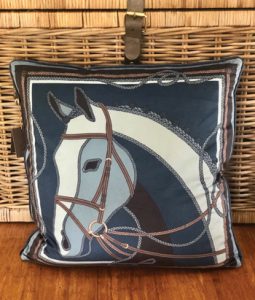 Blue Horse Head Pillow
A down-filled pillow offers a soft place to land on the back of a chair or couch. The iconic horse head with a bridle is surrounded by braided details. The soft exterior fabric is velveteen, which is easy to clean and keep looking new.
$159.00; www.justgorgeousthings.com.au
Marengo Clutch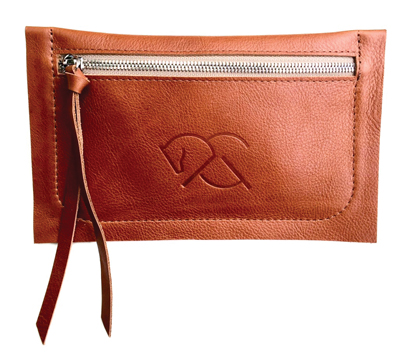 Cindy of AtelierCG designs fine leather goods and jewelry in her Los Angeles studio. The Marengo is a hybrid design of a clutch and belt bag; carry it by hand or attach it to your belt and go hands-free. The supple Red Dun leather has multiple compartments for storage. Each piece is made to order by hand.
$240.00; www.ateliercg.com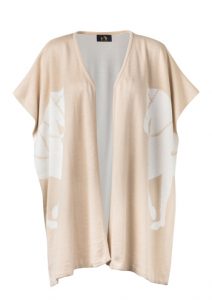 Marina Poncho
Instantly add a layer of sophistication to your outfit with Rönner Design's Marina poncho. The acrylic/cotton blend is perfectly balanced: It keeps you warm
but isn't too heavy, making it a great day or night piece.
$149.00; www.ronnerdesign.com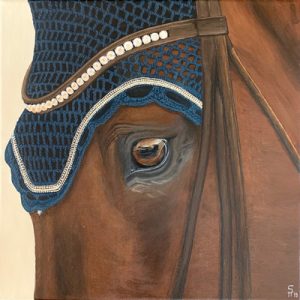 Compassionate
"Compassionate" zooms in on the face of the horse, bringing out the emotion of the eye and beauty of the horse's face. "In our fast-paced modern world, it's my goal to draw attention to the details and capture emotions with my paintings,"
says Stefanie Hornig of Equine Emotions Art.
$1,100.00; www.equineemotionsart.com
This article about English horse things originally appeared in the October 2019 issue of Horse Illustrated magazine. Click here to subscribe!