Not everyone can afford a set of custom-made jumps, and there's nothing wrong with creating your own fences, but safety is still key, no matter how creative you get.
Some fences are never safe to use for jumping. These include anything that could endanger the horse if he lands on it or puts a foot through it. Below are some unsafe items commonly used as jumps and ways to make them safer:
Instead of using this:

Metal barrels that are worn or rusty; a horse could step through the flimsy metal and get a hoof caught.
Do this:

Use barrels as standards, placed either on their side or on end. Poles will easily roll off them if a horse taps them with a hoof.
Instead of using this:

Wooden fence remnant with sharp edges as jump filler
Do this:

Sand off the edges of these picket fence sections and make sure no nails are protruding. If the fence is too high for the height you and your horse jump, cut down the fence from the bottom, adding on an additional wooden piece across all slats to make it sturdier
Instead of using this:

Benches or picnic tables that could entrap legs if your horse lands in the middle of them. Never use these items as jumps or jump standards; they will not withstand the weight of your horse if he lands in the middle of them.
Use this:

If you are looking for a wider, more solid fence, create an oxer and lay a blanket or a tarp over it. Your horse will still jump as if the object is solid, but won't run as high of a risk of hurting himself should he land in between the standards.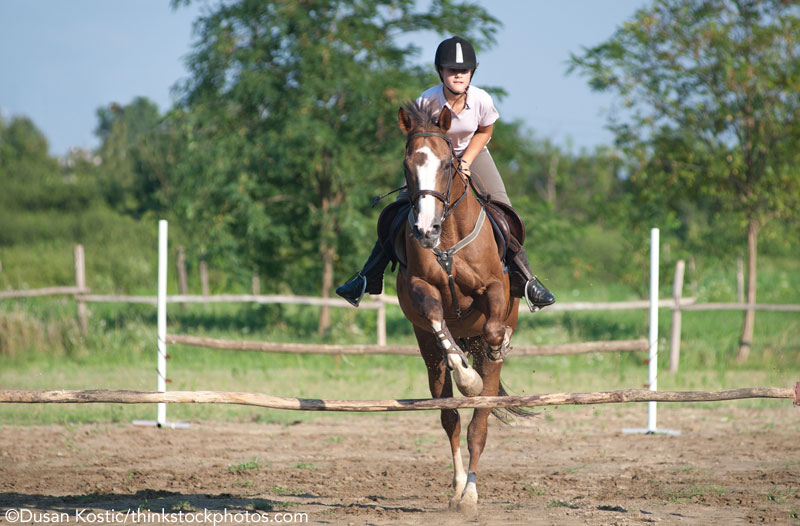 Instead of using this:

Skinny branches you just pulled out of the woods
Do this:

It's fine to use limbs from trees as jump poles, but they need to be larger, thicker limbs that have had all of the branches removed so they don't puncture or scrape your horse as he makes his jumping effort.
Instead of using this:

Fallen trees found while out on the trail
Do this:

It's OK to jump fallen logs on the trail as long as you know that the footing on both sides is ok and there are no branches in the way of his jumping effort that could scrape him as he goes over.
You might be inspired to use some items from around the farm as jump standards, but many things that seem to fit the bill can be dangerous. The following things will make it difficult for a pole to come loose from an improvised standard and could hurt your horse should he hit a rail. Instead of the rail falling as if from a traditional standard, it could become trapped and cause injury to your horse as he drags the entire fence down with him. Here are some thoughts on ways to make non-traditional jump standards safer:
Instead of using this:

Cinderblocks placed on end with jump poles through the holes.
Do this:

Place the blocks on their ends with the pole resting across the shorter top where it can easily roll off. If this height is too high for you and your horse, place the block on its side, allowing the pole to rest on the longer, flat end end.
Instead of using this:

Lawn chairs as standards
Do this:

Don't ever use folding lawn chairs as standards; the pole could get stuck between the back of the chair and the seat if your horse taps it, or,if your horse is being naughty and hits the chair, it could entangled around his leg. Instead, consider making your own jump standards.

Instead of using this:

Buckets you pulled out of his stall. If they still have a handle, these can get trapped around a horse's ankle should he hit them; they can also shatter should your horse happen to land or step on them.
Do this:

If you're willing to exert a little more effort, drag out some bales of hay or straw from the barn to use as standards. These are light enough to be knocked over, but not so light that your horse risks an injury should he hit one.
It should go without saying that you should never utilize humans to hold jump rails for you and that you should never jump people as harm can be done to them if your horse stops, spooks or hits a rail on his way over.