Q: I have a 6-year-old American Saddlebred mare that I currently ride saddle seat. I'm thinking about switching to dressage, but I'm unsure about the transition for my horse. How can I make it easier for her?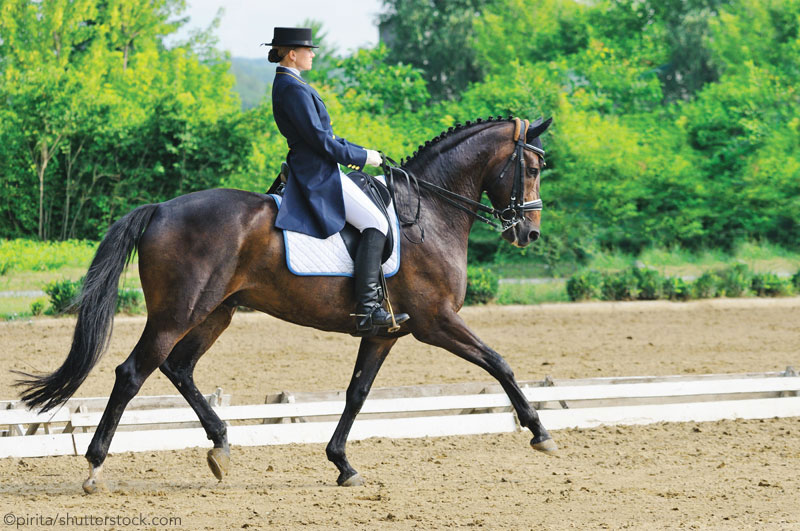 A:
"I made the transition from saddle seat to dressage with a 4-year-old Saddlebred gelding, Forty Something, who had been started in saddle seat and had already been introduced to the double bridle," explains Chrissa Hoffmann, a U.S. Dressage Federation gold medalist who trains at CFH Dressage in Ocala, Fla.
Her first task was to take a step back on the gelding's bitting.
"When I got him home, I reintroduced him to a single-jointed snaffle bit," Hoffmann explains. "I did a lot of longeing with loose side reins. I used a lot of spiraling in and out on the circle while on the longe to teach him to balance and bend through his body. [He also learned] to move towards the outside rein connection when spiraling out."
This technique helped Forty Something learn to reach forward and down into contact and lift his back.
"He was very nervous at first," says Hoffmann. "He had been taught to carry his head in a much higher frame with his back down. Using voice commands and transitions helped him to learn to relax. He soon began to trust to reach for the bit."
Hoffmann explains that transitions can help a horse that's prone to rushing. "Anytime he would get too quick, I would bring him back down to a walk to teach him to stay relaxed."
Removing Forty Something from the routine he was used to was a key step in retraining him for his new job. Once he was working well in the snaffle and had started to relax, Hoffmann took him out of the arena.
"I did some cross-training outside in the fields," she says. "I felt that being outside and on different terrain, cantering up and down hills would teach him to learn to balance himself toward the bit instead of backing off of it. Once I got him to take the contact, accept it, and reach for it, his back lifted and he became relaxed.
"In dressage, the first thing that must be established in a horse is relaxation. After reaching that point [with Forty Something] it was onward and upward. I love the Saddlebred breed; they are so willing and smart. Transitioning to dressage is a fun journey and the reward is amazing!"
Liked this article? Here's more dressage advice:
Dressage Mysteries Solved
Dressage Challenge Part I
CHRISSA F. HOFFMANN is an international Grand Prix rider, trainer and competitor. She is a United States Dressage Federation bronze, silver and gold medalist. She's trained six horses to Grand Prix and several others to FEI levels. She trained Harry Callahan, an American Saddlebred, to Grand Prix and another Saddlebred gelding, Forty Something, to Intermediare-1. www.cfh-dressage.com
---
This article originally appeared in the April 2014 issue of Horse Illustrated magazine. Click here to subscribe!