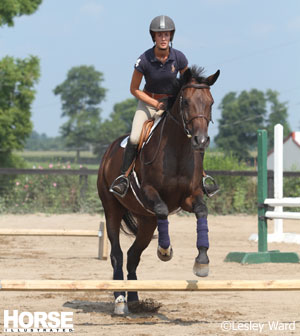 Q: I've been jumping my gelding for around three years now, and we still aren't in sync. I find myself frustrated and confused when he takes an extra stride right before the jump when I'm not expecting it. On most other horses, I don't have this problem. How can I learn to judge distances better?
A:
Once you've determined that a physical problem isn't causing your horse to sneak in a stride at the last minute, it's time to find out what you could be doing as a rider to encourage this behavior. It certainly doesn't seem that you have a confidence issue if you can consistently ride other horses to correct distances.
I am inclined to think that you may be relaxing at the moment your horse reaches the takeoff spot. As you approach the fence and see a distance, you may be inadvertently taking off your leg, relaxing your feel, and softening your hip angle, leaving your horse wondering where his rider has gone.
The goal is to give your horse the same feel in the approach to and over the fence. Every adjustment you make on your way to a fence, including softening, changes your horse's balance and disrupts his rhythm. While most Steady Eddies can ignore these minor changes, some horses become anxious when their rider makes any sort of adjustment—this includes throwing away your reins at the last second and leaning up the neck. These horses require a sense of security and need to be ridden to the base of every jump.
Another issue with subtly softening your aids on a horse such as your gelding is that horses learn by repetition; constantly allowing him to sneak in an extra stride on your way to a fence could encourage him to make this his typical way of going. It is imperative that you nip this in the bud before chipping becomes a habit. To do this, you need to re-establish consistent contact and rhythm, making it easy for him to find a correct distance.
Begin by using a single cavalletti, placed at its highest height (about 16 inches). I like to use cavalletti so that a rider isn't worried about the height of the fence, or about the horse refusing. Work on cantering your horse over the single cavalletti, maintaining the rhythm and your focus—don't look down at it on your approach. This exercise will help you establish a regular rhythm and lock in a consistent pace; it feels uncomfortable when a horse meets the cavalletti at an incorrect spot.
Once you can consistently canter over the cavalletti without chipping in or leaving long, you can add in a second cavalletti, set in a line five or six strides away from the first one. This makes the exercise relate to your lines on course. Once again, a cavalletti is not a jump, so your horse should be able to canter over each one in a normal canter stride. The distance between the two cavalletti will depend somewhat on how big your gelding is; set them in increments of 10 or 11 feet for an average-strided horse. This is shorter than the distance required for your horse to jump two 3-foot fences on a show course.
Once you feel you've established a consistent rhythm to the cavalletti and aren't losing a feel of the corners of your horse's mouth on your approach (dropping him), you're ready to go back to jumping actual fences.
Liked this article? Here's more jumping advice:
How to Count Strides Between Jumps
Better Jumping with Ground Pole Exercises
Teach Your Horse to Jump in Five Simple Steps
SHELBY FRENCH has been a USEF "R" hunter and equitation judge for over 30 years. She spent the first 16 years of her career at St. Andrews College coaching the riding team to several national championship titles, as well as directing the equine program. In 2000, she moved to Virginia to serve as the director of the very successful Sweet Briar College riding program.
---
This article originally appeared in the December 2013 issue of Horse Illustrated. Click here to subscribe.