Saddle seat riders are drawn to flashy, energetic horses that love to show off in the ring. But over time, a repetitive training regimen can drain some of that excitement. Incorporate the following techniques in your riding sessions to maintain the element of fun.
Leaving the arena will prevent you and your horse from becoming bored with the usual show preparation routine.
Keep it Fresh
Whether you're a do-it-yourself amateur owner, or you're bringing your horse home from the training barn at the end of show season and want to maintain his fitness over the winter, it's important to find ways to prevent your training schedule from getting stale. Annalisa Hall trains American Saddlebreds and teaches saddle seat riding at her Mariways Stable in Lee's Summit, Mo. She emphasizes keeping your horse's routine interesting so he doesn't become dull.
"The most important thing for a saddle seat show horse is to look fresh and happy in the ring," says Hall. "You don't want to ride a horse through the same boring routine every day because he won't be happy."
In order to keep your horse interested in his job, Hall suggests taking some time out of the ring.
"One great thing to do with your horse is a bit of trail riding," says Hall. "Get him outside and let him see some new things. Bring him to new areas so he's not working in the same place day after day."
If your horse is not a seasoned trail mount, keep in mind that you don't have to take off into the deep woods or scale the nearest mountain. Hall suggests riding your horse down a dirt road, through the trees, or in a level field if there is one close to your barn. The key is to let your horse see more than just the inside of the arena each time you work.
Mix It Up
For the most part, horse show judges will ask for the same gaits in the same sequence during a class. However, that doesn't mean you should always work that way at home. Juli Goder-Larson trains Arabians and half-Arabians, and teaches riders up to the national level of competition. At her Fox Hollow Farm in Wisconsin, the horses are ridden through varying exercises each time they're worked.
"When we do something repetitively with our horses, they will start to anticipate too much," says Goder-Larson. She explains that this causes horses to stop listening to the rider and instead go through the motions of the same sequence of gaits.
Practicing patterns is a good way to sharpen your aids and remind your horse to be attentive to your cues.

"To mix it up, we'll start out cantering instead of trotting, or start on the right-hand track instead of the left," adds Goder-Larson. "We'll start trotting and do some figure-eights, then walk. We'll ask our horses for canter departs from the middle of the ring instead of on the rail.
"Pattern work reinforces the basic skill of control," continues Goder-Larson. "Most anybody can follow the rail. Coming off the rail and performing a correct, even serpentine is more difficult than many people think. Doing pattern work can also tell you something about your horse. Is he stiff going to the right? Does he need more leg going to the left?"
Hall also believes in adding elements of pattern work to break up the monotony of riding on the rail. She suggests practicing circles and simple lead changes, and changing direction at the trot through the center of the ring. Add new elements gradually, however, and pay attention to how your horse reacts. Some horses that have spent their careers as performance show horses may need more time to understand what you're asking them to do when you take them out of their old routine.
"You don't want to frustrate your horse. You want to keep him happy," says Hall. "If your horse is trained to do patterns, try all of them. But if he doesn't do patterns well, then take it slow."
Both Hall and Goder-Larson emphasize that adding pattern work to your rides helps your horse's responsiveness and your skills as a rider. By starting, stopping and changing direction when your horse is not anticipating it, you are teaching him to listen to your cues instead of just following a routine.
Take it Slow
Successful saddle seat horses are high-energy animals. They are alert, forward-moving and put a lot of power into every stride. However, if you show your horse in pleasure classes, it is imperative that he can also come down and perform a relaxed, flat-footed walk. A horse that jigs or breaks into a trot or canter before it is called for will be severely penalized in a pleasure class.
Goder-Larson explains that many riders don't work on the walk the way they do on the trot and canter. "The walk is a gait, not just a transition," she says. "So ride it like a gait. Let your horse walk for a long time so he's not anticipating the next gait."
It can also be beneficial to let your horse stop and stand for a few moments during your ride. If he is a high-energy show horse that does not readily stop and relax, it can help him mentally to take a break. If you show in certain pleasure classes, the judge may ask you to stop and stand, and even back a few steps on the rail, so it is a good idea to incorporate these things into your riding.
Rider Rewards
Though you may not compete in equitation classes, it is important to remember your own riding and not just your horse's performance.
"Even if you're a pleasure rider, good horsemanship is good horsemanship," says Goder-Larson. "Even if you don't ride in the show-ring, that doesn't mean the basic rules of horsemanship and equitation don't apply to you. Those rules weren't created because they make you look pretty; they were created because they're functional."
If you aren't able to take lessons on a regular basis, there are other ways you can work on improving your riding.
"Have someone videotape your ride," suggests Goder-Larson. "Even if you're not a professional, you'll still be able to recognize basic errors."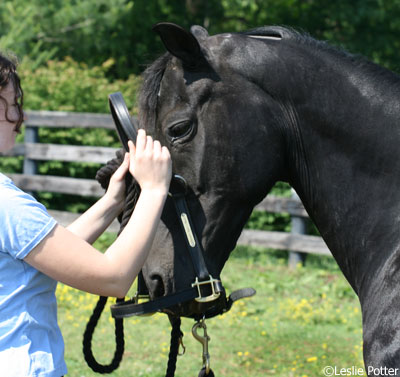 Turnout time is important for your horse's mental and physical health.

Hall advises reading books and articles to get ideas about what to work on. You can also learn by attending other people's lessons. "Watch a lesson and listen to the instructor," says Hall. "Internalize what he or she says and apply it to your own riding."
Hall also recommends seeking a riding instructor who will travel to your barn for an occasional lesson. Even if you can only afford one session a month, having an expert to keep you on the right track can make a huge difference in the results you get with your show horse.
Time Off
Show training can get pretty intense. Sometimes the best thing to do is to take some time out of the saddle.
"In professional training, show horses don't have the same regimen day after day," says Hall. "Give your horse different things to do, such as longlining or driving. A lot of saddle seat horses drive really well, and it's great for building muscle."
Saddlebreds and Morgans in particular are often trained for driving as part of their early show-ring preparation. However, if you don't know if your horse is broke to drive, or if you're not an experienced driver, make sure you enlist the help of a knowledgeable trainer to work with you and your horse.
If your horse does not already get regular turnout, giving him some time outside a couple of days a week can help his mental soundness.
"Turn your horse out in a small area with protective boots and just let him play," says Hall. If your horse wears show shoes, make sure you put on bell boots that are large enough to protect his hooves.
The most important thing you can do to keep your show horse happy and working well is to pay attention to the feedback he gives you. Keep him interested without overwhelming him and you will have a happy equine partner.
Further Reading
Saddle Seat Myths and Misconceptions
Saddle Seat Equitation: Form to Function
Leslie Potter graduated from William Woods University with a Bachelor's of Science in Equestrian Science with a concentration in saddle seat riding.
---
This article originally appeared in the September 2009 issue of Horse Illustrated. Click here to subscribe.