Conditioning a performance horse for work is an art and requires good judgment on the part of the rider. You need a fine-tuned feel for how much and how soon to increase a horse's work to build up its strength and endurance.
A good way to build up power, wind and stamina is to climb hills. Climbing up a grade puts the horse's own body weight to good advantage. The effort to climb makes the horse exert more and use its muscles harder. It also doesn't hurt to ask a horse to climb a steep bank now and then; the effort will not only make the heart pump faster and the lungs work harder, but will also strengthen the muscles in the hindquarters and forearms.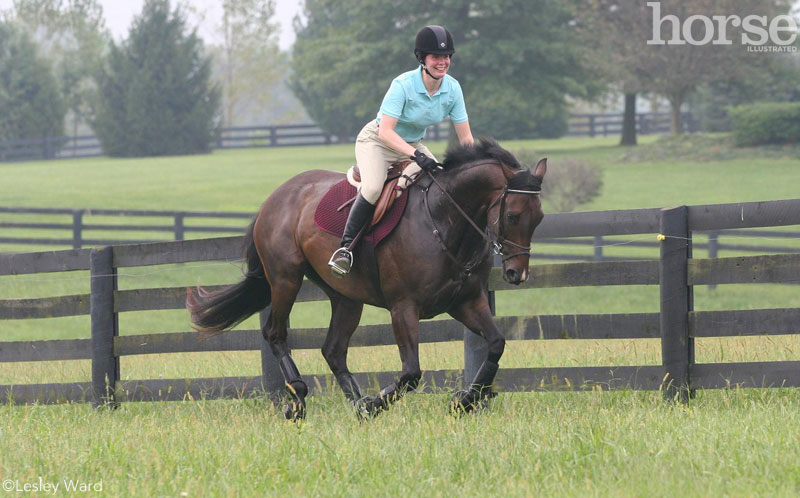 The gait used on hill work will also affect the horse's development. Start off slowly, and have your horse already warmed up so as not to injure soft muscles. An out-of-shape muscle may pull or tear if subjected to sudden stress. As the horse becomes more fit and its muscles, tendons, ligaments and joints are able to take it, you can increase the speed.
Walking or trotting up hills is ideal for strengthening the lower leg, and the thigh and gaskin of the hind leg. A gallop uphill works the muscles in the rump. This should not be overdone, however, and should be attempted only after the horse is already quite fit.
When trying to improve a horse's coordination and strength for handling uneven ground or inconsistent footing during strenuous performance, do some traveling across the sides of hills as well as up and down them. Side work can do a great deal to improve a horse's coordination and balance, and is one of the best exercises you can give a horse in preparation for many types of athletic competition.
When going around the face of a steep hill, especially if the footing is a bit uneven or loose, the horse must develop more dexterity and coordination, picking up each leg and moving it around the other, perhaps having to scramble a bit if its feet are sliding. This improves agility and teaches the horse to balance itself to its best advantage. An agile horse is less apt to strain a leg or fall down when footing is unpredictable.