Our best tool for improving our equine athletes is no secret: a cache of proven exercise routines. During moments when we most need to use them, though, many of us fail to rely on them like we should. Instead, we get sidetracked over-thinking our current situation and trying a variety of aids to change it. We get tempted to hold off riding an exercise until we tidy up whatever in that moment is not working. When we do this, we get in the horse's way more often than we help. Instead, we need to let the exercises work for us.
Almost always, a well-chosen exercise is the swiftest and most effective means of bringing a horse into balance, rhythm, and relaxation. Rather than riding around on a circle giving a bunch of half-halts trying to get your horse on the bit, for example, it is more fruitful to go immediately to a pattern that will break up any resistance or stiffness that prevents him from being on the bit right then.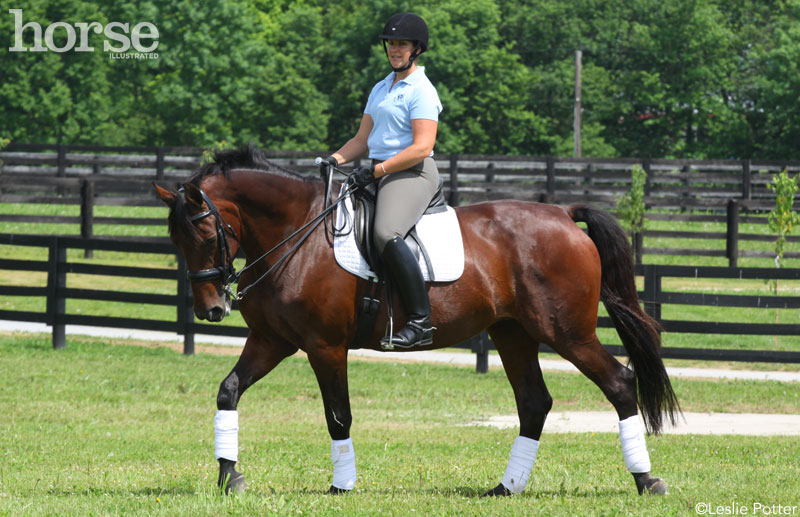 This means allowing a serpentine to dissolve his rigid neck instead of fidgeting with your reins, or ride square corners to modify a rushing trot, or several quick changes of direction to get him bending and focused. Then the action of getting him on the bit will come easily and quickly. And in the meantime, you will have maneuvered his body positively rather than letting him cruise around pulling on your reins strengthening the muscles that counter roundness.
Arena exercises have evolved over time for a purpose, that being how they correctly change the horse's body and performance. The time to use them is when our riding gets messiest, when the horse gets hollow, tense, crooked, or dull, for instance. If we wait to execute these valuable routines until we feel we've gotten ourselves fully organized, we miss out on their value. We also risk riding the horse around too long strengthening the muscles that keep him in a bad posture. For quicker access to better performance day-by-day, let the exercises work for you. So, the next time your horse inverts his topline or gets crooked, resist the temptation to fidget with the reins. Look up and steer yourself on to a figure of eight, a square with transitions, or another handy pattern of your choosing.
Liked this article? Here are others you'll enjoy:
Video: Learn to Love the Canter
Video: Riding in Different Frames
Video: Feel Your Horse's Muscle Development
JEC ARISTOTLE BALLOU is the author of 101 Dressage Exercises for Horse & Rider.