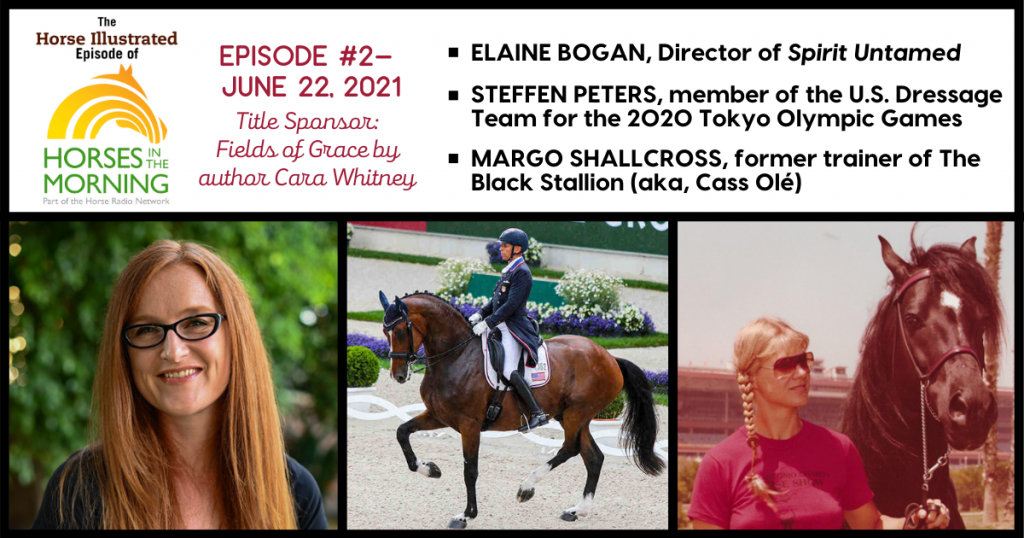 In the second podcast episode of
The Horse Illustrated Episode of Horses in the Morning
, brought to you by Title Sponsor
Fields of Grace
by author Cara Whitney, hosts Glenn the Geek and Sarah Evers Conrad talk to Elaine Bogan, director of the new DreamWorks Animation movie,
Spirit Untamed
; U.S. Olympic Dressage Team member Steffen Peters, who already has an abundance of experience on the international stage; and Margo Shallcross, the former trainer of Cass Olé, one of the horses that played The Black Stallion.
Link to Sound File for Sight Impaired: Click Here
Hosts: Sarah Conrad, Digital Content Editor of Horse Illustrated & Young Rider and Glenn the Geek, host of Horses in the Morning
Title Sponsor: Field of Dreams by author Cara Whitney
There's an App for that!  Check out the new Horse Radio Network app for iPhone and Android. Follow Horse Radio Network on Twitter or follow Horses In The Morning on Facebook.
Guests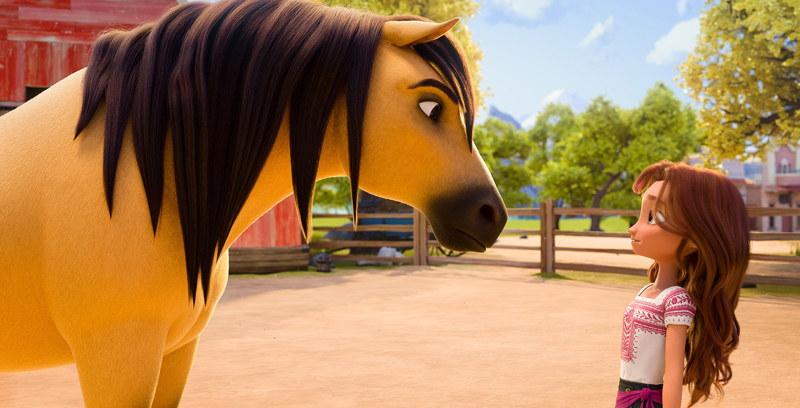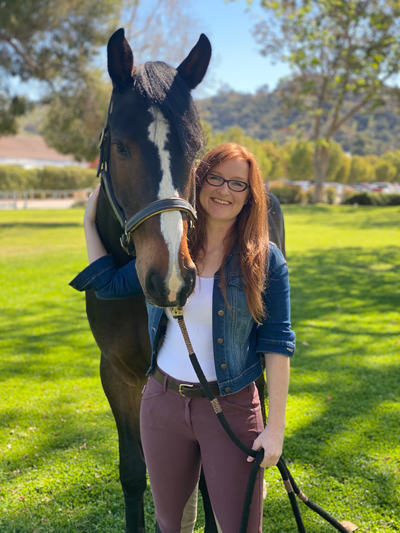 Elaine Bogan is the director for the DreamWorks Animation movie Spirit Untamed, which came out in theaters on June 4, 2021. After receiving her Bachelors in classical animation at Sheridan College, Bogan found her home in story, which has translated into a challenging and successful career. She has been a story artist with DreamWorks Animation since 2005 on a wide range of feature films and television series, and began directing for the studio in 2011. Elaine Bogan became DreamWorks Television's first female director while working on the series Dragons: Riders of Berk. Her debut episode was nominated for a 2014 Annie Award for Outstanding Achievement in Directing in an Animated Television/Broadcast Production. She went on to direct episodes of the Emmy-nominated Trollhunters and 3Below, both part of Guillermo del Toro's Tales of Arcadia trilogy. While the movie is now out in theaters, it will also be available on Premium Video On Demand platforms starting on June 25 for families to watch at home.
Links: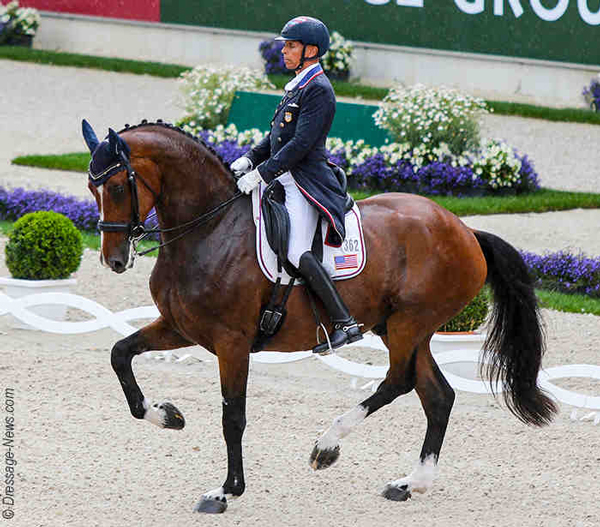 Steffen Peters came to the United States in 1984 from his native Germany to work for trainer Laurie Falvo in San Diego. He became a U.S. citizen in 1992. He has been one of the country's top international dressage competitors ever since, having represented the U.S. at four Olympic Games, four FEI World Equestrian Games, and two Pan American Games, and now he is headed to his fifth Olympic Games in Tokyo, Japan, in July 2021.
Peters rode his KWPN gelding, Udon, to Team Bronze in his first Olympic outing in 1996. With Legolas 92, he won Team and Individual Gold at the 2015 Pan American Games in Toronto and Team Bronze at the 2016 Rio de Janeiro Olympics. With his longtime mount, Ravel, the KWPN gelding owned by Akiko Yamazaki, he won the FEI World Cup in 2009 and two Individual Bronze medals at the 2010 Alltech FEI World Equestrian Games in Lexington. He has been recognized for his accomplishments with three USEF Equestrian of the Year titles, in 2008, 2009, and 2011.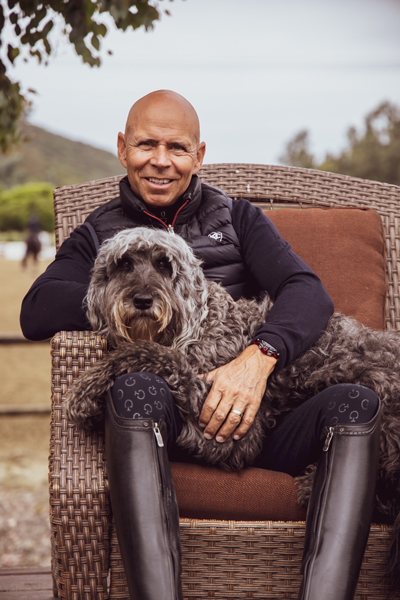 Peters has built a phenomenal record with his current top horse, Suppenkasper, a KWPN gelding owned by Yamazaki and Four Winds Farm. They were undefeated in 2020 through the Adequan Global Dressage Festival in Wellington, Fla., and the CDI 3* at Desert Dressage in Thermal, Calif. The pair kicked off 2021 in the same winning fashion, winning the FEI Grand Prix and Grand Prix Special CDI 4* at the Adequan Global Dressage Festival (AGDF) week 3 and the FEI Grand Prix and Grand Prix Freestyle CDI 5* during week 7 of the festival.
Links: 
SPetersDressage: Operated by Steffen Peters and his wife, Shannon, a U.S. Dressage Federation Bronze, Silver, and Gold medalist and three-time National Championships competitor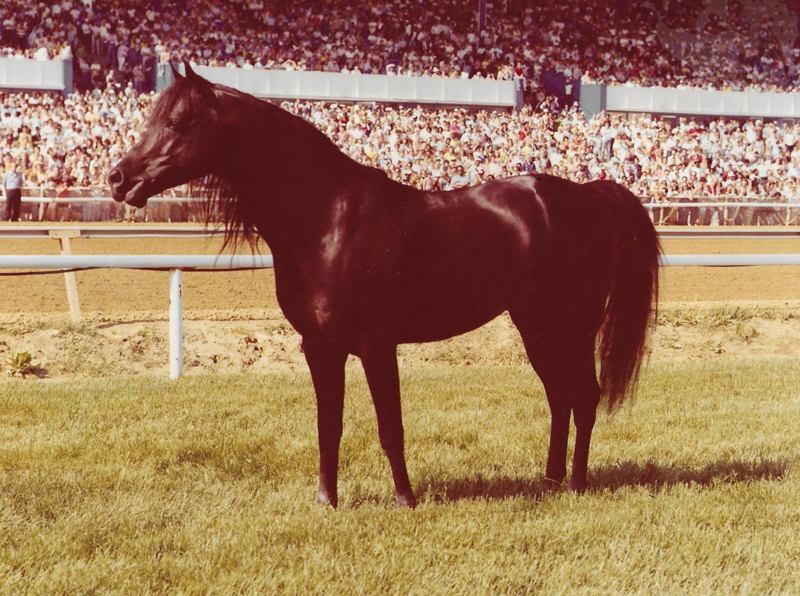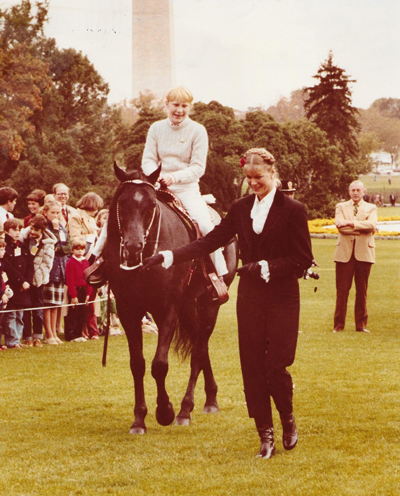 Margo Shallcross was introduced to the world of Arabian horses in 1964. Shallcross joined Anderlea Arabians in Albion, Iowa, as head trainer and farm manager in the 70s. Her responsibilities included training, breeding, and showing Anderlea's horses. In 1977, she became the head trainer and farm manager at San Antonio Arabians, home of Cass Olé. Cass Olé starred in two movies, The Black Stallion and Return of The Black Stallion. She showed the famous stallion at liberty at numerous national and international venues, including the U.S. and Canadian Arabian National Shows, the White House, and the Washington International Horse Show. She also presented Cass during T.V. appearances. In 1983, she opened her own training facility, Fancy Free Arabians, which she ran until 2006. There, Shallcross offered training, lessons, breeding, and showed clients' horses at the local, regional and national levels.
Shallcross, who has been judging Arabians since 1990, is a Senior National Judge with the USEF Arabian Division, the Pinto Association, the American Miniature Horse Association and the American Miniature Horse Registry. She has judged numerous national and international world competitions, including shows in Venezuela, Mexico, Australia, New Zealand, Austria, Belgium, Denmark and Canada.
Links: 
Title Sponsor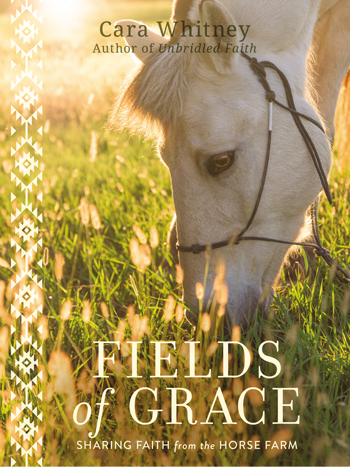 We want to thank our Title Sponsor, Fields of Grace by author Cara Whitney. Draw closer to God down on the farm. From her horse farm in Nebraska, Cara Whitney—wife of Dan Whitney (aka "Larry the Cable Guy")—shares humorous and touching stories featuring her horses, cows, and rascally dogs. In Fields of Grace, Cara shows us that it's always a good time to share the love of Jesus with your neighbor. Look for Fields of Grace everywhere books are sold.
Premier Sponsor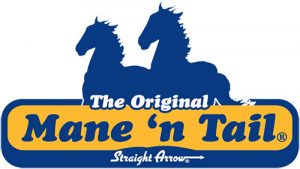 We would also like to thank our Premier Sponsor, Straight Arrow Products. Mane 'n Tail's newest premium product line, Ultimate Gloss, will leave your horse's mane, tail, and coat with an award-winning shine. If you are looking for a formula that gets down to the skin, releasing dirt, dander, and build-up from your horse's coat, then Ultimate Gloss is your go-to bathing solution. Made with natural ingredients, Ultimate Gloss provides a gentle way to leave your horse with a high-gloss, long-lasting shine. Discover the secret behind the "Boss of Gloss" by visiting the website at www.ultimategloss.com.