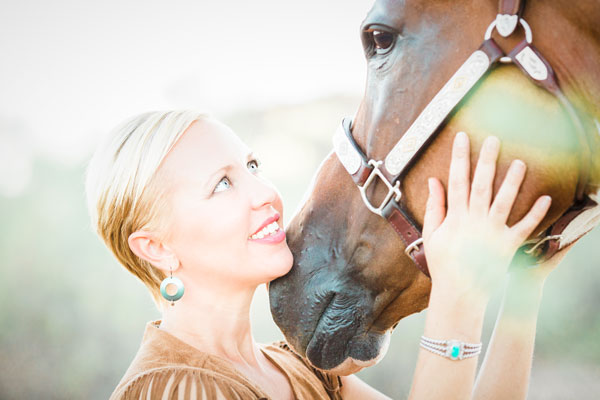 Carly Kade, the author behind the In the Reins horse book series, announces the launch of a new podcast called the Equestrian Author Spotlight. The weekly series, which is hosted and produced by Kade, features interviews with equine authors who love all things horses and writing about them.
In the Reins
, the first in Kade's series of novels inspired by the equestrian lifestyle, has been an Amazon bestseller for more than 10 weeks, is an EQUUS Film Festival Literary Award Winner for Best Western Fiction and has earned two Feathered Quill Book Awards in the Romance and Adult Book featuring Animals categories.
In each episode, listeners will meet a new equine author and hear writing advice and marketing tips to help them write their own horse book. If you are an author, aspire to be an author, or simply love horse books, then the Equestrian Author Spotlight podcast is the perfect place for you.
Kade is an award-winning equestrian author who says that creative writing makes her spurs jingle. She writes fiction about horses, horse shows, western pleasure, and a handsome cowboy or two. Her books are for people just like her—crazy about reading, horses and cute cowboys!
"This podcast is an expansion of my blog series," said Kade. "I've had so much interest from fellow authors that I'm backed up to over a year's waiting list. I want to be able to share their stories faster, and I am excited to be able to do that with the new weekly podcast format."
The Equestrian Author Spotlight podcast takes listeners behind-the-scenes to hear first-hand inspirational stories from equine authors and learn how they have transformed their skills and passions into horse books. Horse book lovers can tune in to watch the interviews on YouTube or listen in to the audio-only version on their favorite device. The first five episodes of the series are available now with all new episodes being released each Wednesday.
The First Five Episodes
Testimonials for Carly Kade and the Equestrian Author Spotlight Series
"Carly you made me so comfortable. What a fun experience. Thank you for hosting me on your podcast." — Rae Rankin, Children's Horse Book Author
"Carly does more than anybody to promote horse lovers who write! Thanks Carly!" — Katherine Kayne, Equestrian Romance Author
"Her passion is helping equine authors unite through her Equestrian Author Spotlight series." — Lisa Diersen, Founder of the EQUUS Film Festival
"I had a brilliant meeting with Carly Kade! I just adore her energy, honesty, experience & enthusiasm—all of which she shares so willingly. We talked writing, blogging, newsletters, social media, and a myriad other bits. Thanks so much! You are such a great person." — Janet De Acevedo Macdonald, Arabian Horse Travel
"Carly is one of those people who bursts with positive energy (interact with her on social media and you'll see what I'm talking about)." — Laura Wolfe, Writing with Laura
"I can't thank you enough for sharing your experiences with me. Your encouragement and suggestions have renewed my enthusiasm for returning to the book I started more than six months ago." — Debra Madden, Blogger
To listen to the Equestrian Author Spotlight, please subscribe to the podcast on YouTube, Apple Podcasts, Stitcher, Google Play, iHeartRadio, Spotify or via RSS, so you'll never miss a show. For information on being a guest, please visit www.carlykadecreative.com/podcast.html.
The In the Reins equestrian romance series is available now in Audiobook, Paperback and eBook on Amazon, Audible, Barnes & Noble, Apple iBooks, and Kobo. To purchase the books, please visit http://www.carlykadecreative.com/buythebooks.
​