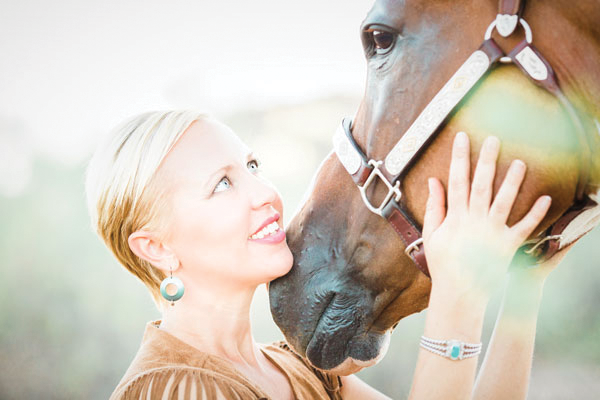 Within the horse community, horse lovers are embracing the latest in technology, and that includes listening to podcasts about horses. What could make the drudgery of stall cleaning or your morning commute better? Listen to a podcast and learn more about your passion, be entertained and get to know the amazing personalities within the equestrian world with the magic of audio entertainment, and for some podcasts, there is also a video version (not recommended while driving). New podcasts are launching all the time, so we're giving you a list of new podcasts and some of our favorite established podcasts, in addition to reader suggestions.
◆ EQUESTRIAN AUTHOR SPOTLIGHT SERIES:
This new weekly series is hosted and produced by Carly Kade, author of the In the Reins series. It features interviews with equine authors who love all things horses and writing. It is perfect for anyone who loves horse books or who is an author or who aspires to be an author.
www.carlykadecreative.com/podcast.html
◆ EQUESTRIAN PULSE PODCAST: This entertaining new podcast from international bloggers Heather Wallace of The Timid Rider (USA), Andrea Parker of The Sand Arena Ballerina (AUS) and Louise Dando of In Due Horse (UK/FRA) discusses a wide variety of topics, including confidence, horsemanship, health and trending events important to horse lovers across all disciplines. equestrianpulse.buzzsprout.com
◆ THE HUMBLE HOOF: Hoofcare provider Alicia Harlov created a podcast this year to help horses maintain strong, healthy, sound feet. Hoof care is critical for horse owners anywhere. Interview topics include nutrition and the hoof, hardworking hooves, rehabbing soft tissue injuries in the hoof, et cetera. www.thehumblehoof.com
◆ HORSES IN THE MORNING: This podcast has now been on air for 10 years and has become iconic within the horse industry. With more than 2,300 episodes, Horses in the Morning is the biggest podcast for the Horse Radio Network, which is the leading podcast network for horse lovers worldwide. The entire network has more than 8,000 episodes already pro- duced across 23 shows featuring a range of themes and disciplines. Horses in the Morning, with hosts Glenn the Geek and Jamie Jennings, became the horse industry's first live morning show. It's a light, lively, entertaining daily look at the horse world and the people in it. www.horsesinthemorning.com
◆ THE HORSE NUTRITION PODCAST: The Horse Nutrition Podcast with Purina Animal Nutrition's team of Ph.D. equine nutritionists is hosted by author and trainer Lisa Wysocky. From therapy horses and pack horses to Budweiser Clydesdales and trail horses, interviews are full of stories of extraordinary horses doing amazing jobs and includes advice and knowledge on how to best feed your horse. www.horseradionetwork.com/the-horse-nutrition-podcast
◆ BECAUSE OF HORSES: Each week, Elise Gaston Chand shares notable equestrians' personal stories, challenges, triumphs and expert insights, along with timely topics and event information from around the world. www.becauseofhorses.com
This article on equestrian podcast possibilities appeared in the February 2020 issue of Horse Illustrated magazine. Click here to subscribe!