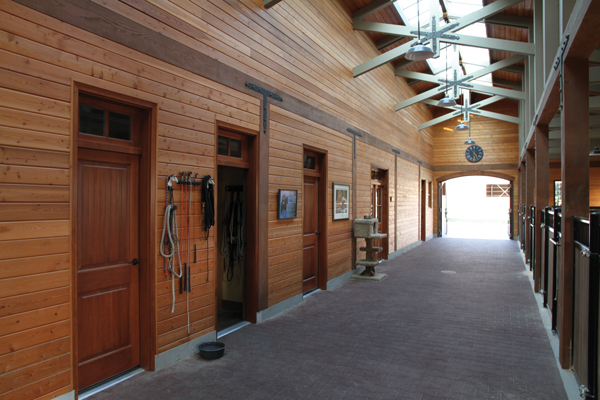 Nestled on a sizable 40-acre property in Abbotsford in British Columbia, Canada, is a stunning equestrian property. The facility embraces European style with fully shingled siding and artful arches. Private owners Mike and Merlin Heisey hired Quinis Design Works to bring their equestrian dreams to fruition.
It took about 18 months of meticulous planning and labor to bring the acreage to completion. The initial challenge began with leveling the terrain. The uneven ground needed a significant amount of excavation before building could kick off; there was a difference of 24 feet in elevation across the property.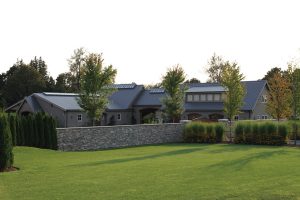 There are four substantial buildings situated behind the stone wall of this equestrian oasis. The 10-stall barn has a shop and office, which is connected by an exquisite porte-cochère to a three-port garage. Then there is the impressive indoor riding arena and a coach house with living quarters.
A Herd Approach
Natural horsekeeping practices played a considerable role in planning the layout and functionality of the barn. The individual stall and paddock runs can be opened to a courtyard for horses to congregate. From there, the courtyard connects to a trail, which circles the entire length of the property. This setup encourages the herd to freely roam the property when they are not out on pasture together.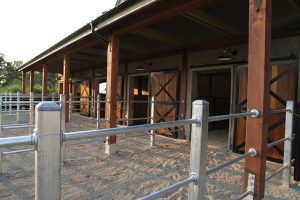 The stalls by Innovative Equine are free from traditional bar dividers in the middle. This is another way to encourage natural socialization among the horses, allowing them to reach into their neighbor's stall. From a design standpoint, it gives the barn interior a much more open feel.
Thoughtful Details
The single-floor barn features vaulted ceilings along with four sizable double doors at each end to encourage circulating airflow. Large windows and full-length skylights bring in plenty of natural light.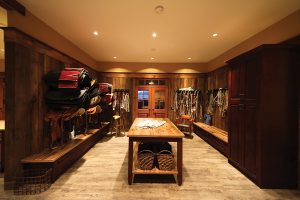 A set of custom double barn doors are paired with a weathered and distressed latch designed by the architects that secures the large doors with ease. Deliberate details like these marry function and style.
The stunning multifunctional tack room is also a lounge and office space. There are 12 saddle racks on the wall along with custom cabinets for optimal storage. The restroom and feed room are also located in the tack room, along with access to the blanket room. Hay, grain, and bedding storage are found on the ground floor in the main barn opposite the stalls for ease and safety.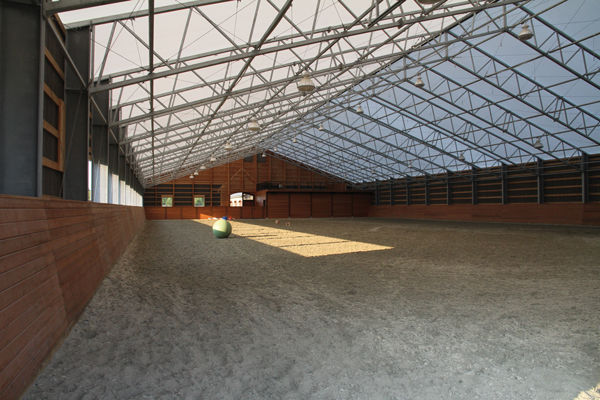 An indoor arena is a must for being able to enjoy an equestrian lifestyle year-round in Canada. The spacious 20,000-square foot arena is a horse owner's dream. The footing is composed of blended sand and geotextile mix by GGT Footing. The unique roof is a tension fabric structure, completely customized to size with a handy kit by We Cover.
Beyond the alluring buildings and fancy layout are abundant pastures and wide-open spaces for horses to flourish. This equestrian property showcases thoughtful design with the horse in mind.
This article on an equestrian property designed with horses in mind originally appeared in the September 2019 issue of Horse Illustrated magazine. Click here to subscribe!