Inside Philadelphia's Fairmount Park, the rush of the city falls away into the peaceful tranquility of wooded trails and open space. Tucked away on a dead-end road, Chamounix Equestrian Center has made its home inside the 2,000-acre municipal park. The stable is widely known for its sold-out summer camps, popular year-round lesson program and boarding opportunities, as well as a unique equestrian scholarship program called Work to Ride.
Work to Ride's Beginning
In 1994, Lezlie Hiner was at a crossroads. She wanted to carve out a niche in the horse industry that blended her equestrian background with a degree in psychology and women's studies. Launching the
Work to Ride
(WTR) program was the perfect intersection of those passions. The 501(c)(3) non-profit is a community-based prevention program that provides disadvantaged urban youth constructive activities centered on horsemanship, equine sports and education.
"We are serving low-income youth in the city by providing an opportunity to ride while also focusing on academic achievement," Hiner says. "We tie academic activities to being on the polo team. If they want to be a part of the team, they have to keep up their grades."
When designing WTR, Hiner looked closely at nationwide data regarding the after-school hours between 4 and 7 p.m. Research has shown that this is the prime time for kids to find opportunities to get into trouble or skip out on schoolwork. Participants enrolled in WTR are at the barn during those hours, which reduces the temptation to engage in less productive activities that can become appealing to unsupervised youth.
"All of the kids in Work to Ride are funded through scholarships," Hiner says. "We also have academic scholarships for those who want to go to college and need help. They can apply to us and when we have funding, we help them with college tuition. One girl graduated from Cornell and is in nursing school now, and we're covering her tuition."
A Place for Everyone
Riders are not dismissed from the program if they are struggling in school. Instead, they receive extra tutoring and academic support to bring their grades up. However, they are not allowed to travel to competitions until their schoolwork is satisfactory. Participants get paid to maintain the horse stables and receive after-school tutoring to help maintain grades and assist with college enrollment.
"We are a little bit different in that we have a lot of boys in our program, which is fairly uncommon in a lot of other equestrian sports," Hiner says. "Other [riding] disciplines have a hard time keeping boys after age 12, but polo is a sport that fills all the needs of teenage boys."
The Park is connected to two of the city's poorest communities: West and North Philadelphia. That makes it a convenient walkable distance for the nearly 60 kids who may not be able to afford transportation. Hiner estimates that Work to Ride has served hundreds of young riders since the program opened its doors 27 years ago.
From Wrong Turn to Ivy League
Shariah Harris became part of the program when she was about 8 years old. Her mom was driving in Fairmount Park and took a wrong turn onto the dead-end street and discovered the stable.
"We saw other Black children riding, and my mom wanted to figure out a way to get us involved in riding," Harris says. "We went inside and met Lezlie, and she gave us an application. A few months later, both my brother and I were accepted into the program. My older sister soon followed our path and joined the program, too."
Polo is the main focus of the WTR program, though some riders want to focus on jumping. Those who work hard, keep up their grades, and meet the program requirements travel across the country and around the world to play as part of the team. Harris quickly became a rising star in the sport.
As a high school senior, she was named the U.S. Polo Association's National Interscholastic Player of the Year. Her skills earned her a spot playing high-goal polo for Postage Stamp Farm at the 2017 Silver Cup tournament. She became the first Black woman to play in high-goal polo, the top tier of polo in the United States.
In just a decade, Harris has collected a lifetime of memories. She says one of her favorites was her first trip to Nigeria to play in the Unicef Cup tournament. Her sister went too, and it was the first time they had left the United States.
"It was amazing to experience the culture in Nigeria and meet the different people," she says. "I remember the excitement that I had to be able to go, because it was an annual trip that all of us in the program were anxious for a chance to experience."
The team won the tournament, which made it even more special for Harris. WTR influenced Harris's decision to attend Cornell University, where she played for the women's varsity team.
"WTR helped me build confidence in myself that took me a bit longer to discover. It taught me to believe in myself even when I was nervous or afraid," she says. "It also gave me an outlet and something to devote my complete attention to, which took my mind away from challenges in my life throughout the years."
Harris credits Work to Ride with preparing her for Cornell University on a social level as much as an academic one. Training and traveling across the country and around the world taught her skills for adjusting to new or even uncomfortable situations.
"During my time in the program, we were always playing teams, and as I got older, I was the only girl playing on an all-male team, so I learned from an early stage how to adjust to these situations," she says. "When I went to Cornell, a PWI [predominantly white institution] and being the only Black person on my team, I was already prepared in a sense for what that might entail for me. Work to Ride taught me how to adapt and how to make myself comfortable in situations where I was 'the only one.'"
The Horses
Hiner has 33 horses in her string. Just under half of the herd are polo ponies, while the others play a key role in the barn's lesson program. Given the locale, the horses eat a lot of hay—20 to 30 tons each month, since turnout is limited.
"We have a lot of off-track Thoroughbreds that the kids help train," she says. "We're very much into supporting the Thoroughbred industry and finding different uses for them. We also get polo pony donations from owners who have an older horse."
Harris fondly remembers many of the horses who taught her to ride at WTR. However, Jordan was the one who captured her heart. He was Hiner's personal horse, a Quarter Horse she purchased as a youngster and used in the program.
"I was drawn to his gentleness and tolerance for almost anything I did around him," Harris says. "He was so bombproof that I always felt completely safe in his presence and riding him, even when he would misbehave. It gave me confidence to try new things."
Philadelphia may be most well-known for the Liberty Bell, the Philadelphia Museum of Art, and the iconic statue of fictional boxer Rocky Balboa. But it's programs like Work to Ride that are making the most change in the residents' lives. The program gives children an outlet and safe haven from challenges that they might be dealing with at home, but it also exposes children to a world that they might never have known exists.
"Work to Ride has altered so many lives, and I'm glad that I stumbled upon it, because it's changed my life in ways I never would have imagined," Harris says.
Crossing the Line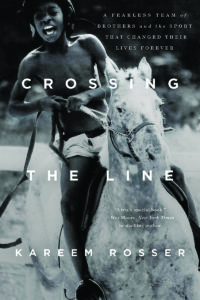 Kareem Rosser, an alumnus of the Work to Ride (WTR) program, recently released a book detailing the life-changing experience it provided for him and his siblings. In Crossing the Line: A Fearless Team of Brothers and the Sport That Changed Their Lives Forever, Rosser describes what it's like to be born and raised in West Philadelphia.
He worried he and his siblings would be stuck for life in "The Bottom," a community surrounded by crime and poverty. Riding bicycles through Fairmount Park, his brothers found Chamounix Equestrian Center. Lezlie Hiner offered them an escape, and sometimes a place to stay. By working at the stable, they could earn riding lessons.
That fueled a passion for polo, with the brothers committing to the sport with unmatched determination and discipline. WTR helped Rosser earn a polo scholarship to attend Valley Forge Military Academy in Wayne, Pa. After one year at a community college, he transferred to Colorado State University, where he was named the U.S. Polo Association's Intercollegiate Player of the Year in 2015. He also became part of the first all-Black national interscholastic polo championship team.
After college, Rosser moved back to Philadelphia for a career at a bank. Ironically, his boss was also a polo player. Today, he serves as the executive director of the fundraising arm, Friends of Work to Ride, where he uses his finance background to fundraise for the organization.
This article about Work to Ride's equestrian scholarship program originally appeared in the September 2021 issue of Horse Illustrated magazine. Click here to subscribe!