There's never a dull moment for barrel racer Fallon Taylor. From qualifying for the National Finals Rodeo (NFR) seven times and winning the Women's Professional Rodeo Association world title in 2014, to creating her own clothing line and launching a helmet line, Taylor gives all her endeavors a colorful flair.
Safety Never Looked so Good
Taylor credits a skull fracture and a desire to inspire the next generation of barrel racers as her motivation for turning in her cowgirl hat for a helmet. She feels there are many benefits that come with wearing a helmet. "I was able to see more and hear less, which is always an advantage," Taylor says.
Not long after she began wearing a helmet, Taylor started her #whatthehelmet campaign. "I won a go-round the second time I ever wore a helmet, and I walked up on stage, and I just said, 'What the helmet,' and everybody started laughing," she says.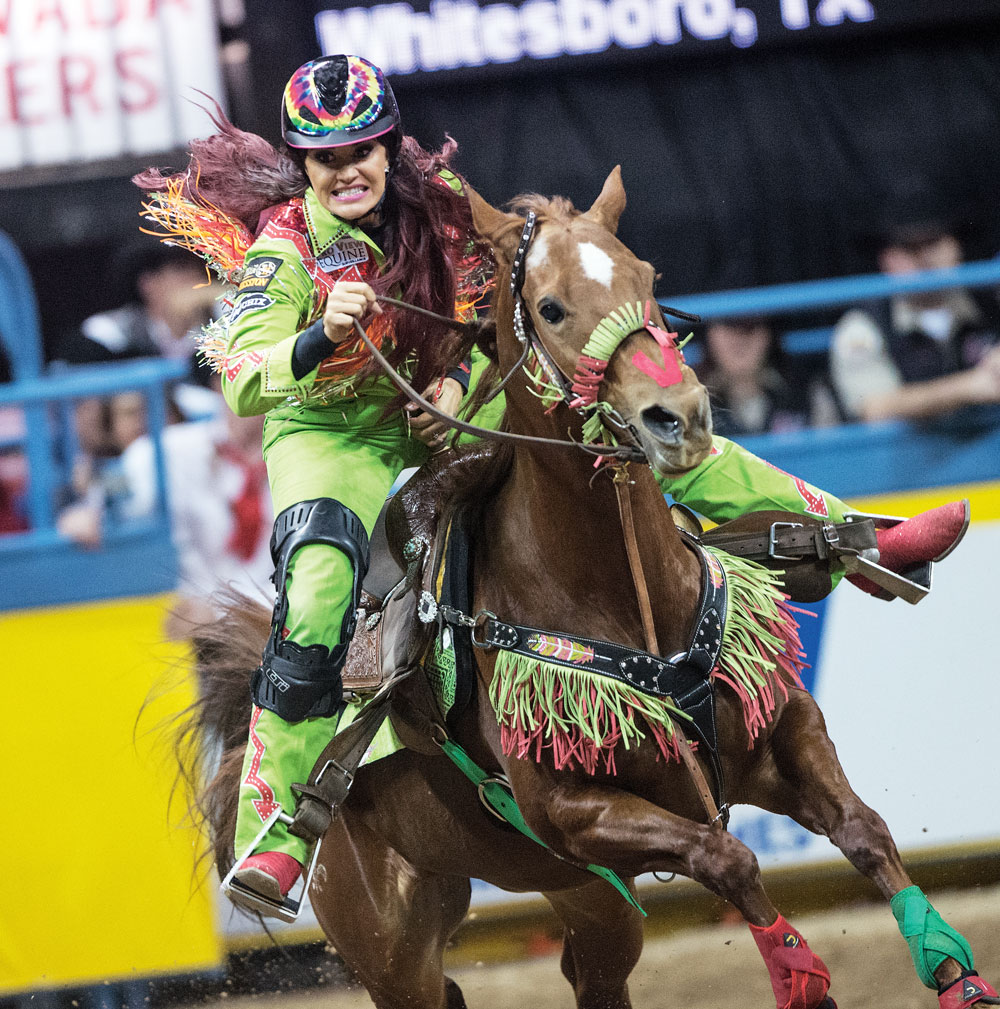 Photo courtesy Troxel Helmets
"It became a hashtag that went viral in Las Vegas, so we keep it up. I think a lot of young girls are able to connect to it, and I get stories day after day. My email probably has 10 stories a day of a young girl whose life was saved by wearing a helmet, or stories from people who have lost loved ones in riding accidents to head injuries.
"My helmet line is amazing," she continues, referring to her partnership with Troxel. "They made some really fun and unique [helmet] colors for people to add to their wardrobe. They go with my tack line and a lot of the things I wear. I wanted to have something that really spoke to young girls who want to show everybody that helmets are cool."
From Head to Toe
Taylor's bright and fearless fashion statements have made her famous on the circuit and are embraced by young barrel racers.
"I wanted to be identifiable to the fans and let them know how cool of a horse I was riding," says Taylor. She has a clothing and tack line, Ranch Dress'n, as well as a partnership with Gypsy Soule clothing.
"We offer the best of both worlds: The Gypsy Soule line is something that's a bit more subtle but still has style and flair. The Ranch Dress'n side is bright tie-dye and outlandish and outrageous.
"The Ranch Dress'n clothing line was where it all started—it's fringe rodeo shirts and really loud colored jeans that are super comfortable and offer some stretch."
Immortalizing BabyFlo
Breyer recently immortalized Taylor's famously fast mare, Babyflo.
"I've never cried so much as when I got that phone call," Taylor says. "I think that they did a fabulous job on the Babyflo Breyer. Having her in this moment where she looks like she's about to take off running is the perfect way to portray her, because nothing about her is slow!"
What's Next?
Taylor spent part of the winter recovering from surgery to repair her ACL and meniscus.
"I'm doing a whole campaign called #anotherone," she says. "I know that I'm going to be behind the eight ball as far as qualifying for the NFR. But I'm starting with #anotherone. I want another win, another arena record, another great month in rodeo and hopefully another gold buckle at the end of the year."
Advice for Up-and-Comers
"Winning is a consistency game—who can practice perfectly the most consistently," Taylor says.
If you're not the one being most consistent, "you'll get beat by someone who takes the time every single day to go toward their goal. No matter how great of a horse you have or how great of a rider you are, you will always get beat by consistency. So try to be the most consistent in your training. That's what will always get you to the pay window."
Taylor has managed to become one of the best barrel racers around, while also promoting safety and fashion within her sport—a winning combination for her success.
Micaela Myers is the author of The Horse Illustrated Guide to Trail Riding and KNACK Leg and Hoof Care for Horses.
---
This article originally appeared in the May 2016 issue of Horse Illustrated magazine. Click here to subscribe!