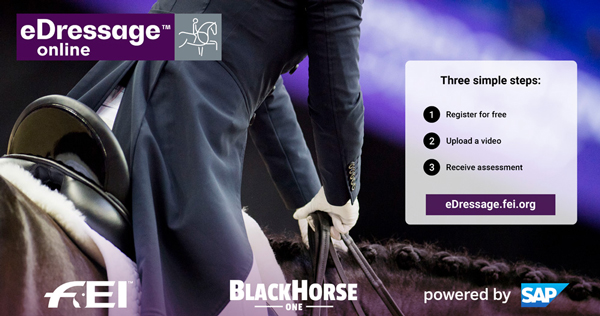 The International Equestrian Federation, (Fédération Equestre Internationale, FEI) has launched the FEI eDressage Online training platform in partnership with Black Horse One (BHO) and SAP, to provide a unique environment for FEI registered dressage and para dressage athletes to boost their training and development. The FEI is the world governing body for horse sport recognized by the International Olympic Committee (IOC).
Black Horse One stands for modern and creative high-performance software solutions with a strong focus on equestrian sports. eDressage, the revolutionary paperless judging solution for dressage, as well as Spectator Judging and the international Degree of Difficulty System belong to the diverse portfolio of the software developer Black Horse One. Since 2007 the young, innovative company is a partner of SAP, the market leader in enterprise application software who helps companies of all sizes in all industries run at their best.
FEI-registered athletes can upload videos to the FEI eDressage Online platform every week for their FEI dressage tests to be judged anonymously by a pool of FEI five-star level dressage and para dressage judges. In the first phase, a number of videos will be randomly selected and athletes will then be provided with feedback on their performance and given pointers for improvement.
"This new platform is yet another example of the ways in which technology can be introduced into equestrian sport to transform training techniques," FEI Commercial Director Ralph Straus said. "Athletes now have the opportunity to have their tests remotely evaluated by a group of top-level judges and to receive key insights that could benefit their performances.
"While the current pandemic highlights the value of a platform like this to athlete training when travel and competition restrictions exist, it can also be particularly useful to athletes residing in remote regions of the world, who would otherwise be unable to avail of the international expertise provided through this platform," Straus continued.
Although the platform has been designed primarily with the horse and athlete in mind, it has the potential to become a valuable source of content for training FEI officials in close collaboration with the FEI's online e-learning platform, FEI Campus. The user-generated content would allow the FEI to improve the video material used in training programs for FEI dressage and para dressage judges.
The FEI eDressage Online platform is not the first time software development company Black Horse One, and the market leader in enterprise application software SAP, have come together with the FEI to create unique technological solutions for the sport.
While previous initiatives have been created to enrich the competition experience for live audiences and judges, the FEI eDressage Online platform has been specifically created for a non-competitive environment. Tests will not be judged, and no rankings will be provided, but performances will be critiqued by an elite group of judges purely for training purposes.
"It is an absolute pleasure for us to launch the FEI eDressage Online platform together with the FEI and SAP, our close partner for many years now," said Daniel Göhlen, CEO of Black Horse One. "We at Black Horse One provide innovative, high-performance software solutions specialized in equestrian sports and see this new platform as a fantastic technological development to support athletes all over the world, especially during these current uncertain times. The FEI eDressage Online platform is built on the basis of our paperless judging solution eDressage and benefits from several of our other innovations, which have been supported by SAP and established by the FEI."
Henrike Paetz, SAP Director of Strategic Partnerships in Equestrian, also welcomed the initiative. "The launch of the new FEI eDressage Online platform is another milestone in our partnership with the FEI and long-standing cooperation with Black Horse One," she said. "Providing a virtual training and feedback environment for international athletes is an innovative way to stay connected and up-to-speed during these challenging times and beyond and reflects our ambition as the Official Analytics Sponsor of the FEI Dressage World Cup series. We are proud to once more help reinvent the athlete experience based on our SAP Cloud Platform technology."
Previously, the two companies combined their expert knowledge in technology and fan engagement to create the award-winning Spectator Judging app in 2017. The app enables audiences at FEI Dressage World Cup events to get into the judge's seat, with audience scores and rankings created in realtime during the competitions and then placed side-by-side with official results on the arena scoreboards. It's a dynamic way for live audiences to participate more actively in the sporting action provided by the world's top dressage athletes and their horses.
A further collaboration between SAP and Black Horse One in 2018 led to the development of the Dressage Paperless Judging software, a system allowing FEI dressage and para dressage competitions to be scored without a scribe having to write down each mark on an FEI Dressage score sheet. The Paperless Judging system was designed to deliver finished and signed scores and comments to athletes immediately after each test, and also maintain fan engagement by reducing the time between the end of a competition and the awards ceremony.
"The beauty of the FEI eDressage Online platform is that it has the potential to grow and develop over time and become something larger than we initially imagined," said Gaspard Dufour, FEI's Director Information and Sports Technology. "For developments like these to really impact a sport, it is necessary that our technological partners understand equestrian and the needs of our stakeholders. Long-term collaborations like ours show that having the time to grow and develop together can impact the industry in a meaningful way."
For more information, visit www.fei.org.