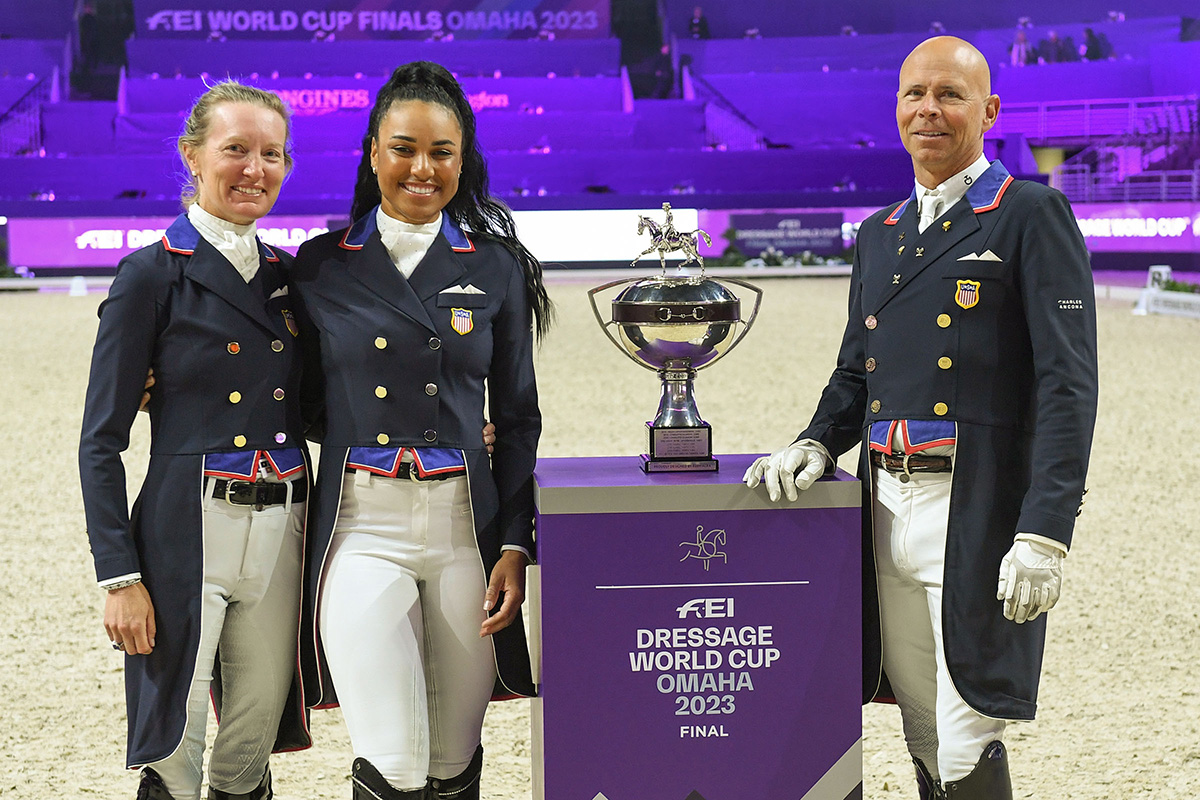 Competition finally began Wednesday at the 2023 Omaha FEI World Cup Finals! Wednesday's schedule included the Grand Prix test for the 16 dressage competitors and the first of three days of jumper classes with 40 entries tackling the course. The jumper class was a "speed and handiness" class where rails down were converted into time which was added to the total time the horse and rider took to complete the course. Course designer for jumping is Bernardo Costa Cabral from Portugal. 
Dressage Report
This year's Omaha FEI World Cup Dressage competition is sponsored by Betsy Juliano's Havensafe Farm. The dressage horses will compete again on Friday evening, April 7, in their Grand Prix Freestyle to music class, a crowd favorite. But Wednesday was all about wowing the judges in the Grand Prix test. FEI rider, USDF L Program graduate and past president of the Midwest Dressage Association Nancy Bryant watched each test from the stands and gave her perspective on the day, "There were many mistake-free tests and it was an enjoyable afternoon."
She touched on the US riders' tests, "Steffen Peters and 'Mopsie' [Suppenkasper] had a very clean, consistent ride landing them in 5th place. Anna Buffini and her mare also presented a lovely test highlighted by Anna's radiant smile throughout; they are in 9th place. Alice Tarjan and Serenade MF were having a very nice test and then an unfortunate miscue caused a blip in the piaffe-passage tour. However, Alice made a smooth recovery and they finished well."
The German contingent came ready to seize the day in Omaha. First after the Grand Prix test was Germany's Jessica von Bredow-Werndl and the 16-year-old  Trakehner mare TSF Dalera BB, who also won the World Cup last year in Leipzig, Germany. Isabell Werth (GER) and the German Sport Horse gelding Quantaz DSP finished second. Nanna Skodberg Merrald of Denmark and the Oldenberg gelding Blue Hors Zepter placed third. Rounding out the top four was Ingrid Klimke (GER) on the Hanoverian stallion Franziskus FRH from Germany.
One moment of disappointment was the withdrawal of Dinja von Liere and Hermes N.O.P. (NED) right before the start of the Grand Prix class.
"Today the horse was not fit to compete. Horse welfare is always our number one priority so to respect the horse, he was withdrawn," reported Iris Boelhouwer, Director of High Performance and Foreign Affairs/Secretary General Royal Dutch Equestrian Federation.
Jumper Report
Forty competitors took to the main arena in the CHI Health Center in the evening and raced the clock to see who could finish in the lowest time. Fifteen of the 40 riders rode clear and the top four finished the course in less than 60 seconds. 
The FEI number-one world ranked rider Henrik von Eckermann from Sweden and his 2022 World Championship gold-medal partner King Edward crossed the finish in the fastest time to capture the top spot and 23,000 Euros. Great Britain's Scott Brash and Hello Jefferson stopped the clocks in second place and Germany's Daniel Deusser guided Scuderia 1918 Tobago Z to third. 
Americans Hunter Holloway on Pepita Con Spita, Aaron Vale on Prescott, and McLain Ward on Callas had quick rounds to put them in 8th, 10th and 11th out of 40 respectively. Canadian Erynn Ballard and Hero are in 19th with a clear round. Hunter is from the neighboring state of Kansas and says she loves showing at the Omaha venue where she is greeted enthusiastically by the home crowd every time she enters the ring. 
The other American riders currently sit in 21st (Devin Ryan and Eddie Blue), 28th Nicholas Dello Joio and Cornet's Cambridge, 31st (Ailish Cunniffe and Vivaldi du Theil, 34th (Natalie Dean and Acota M), 35th (Elisa Broz and Kardenta van 't Meerhof), and 39th (Simonne Berg and Cooper). At 18 years old Broz is the youngest jumper rider in this World Cup Finals. Her horse Kardenta van't Meerhof has brought her up all through the ranks and she's gaining valuable experience in this World Cup Finals.
Since this was only day one of three for the jumpers, so much can change by the time the ribbons are awarded on Saturday night. So, stay tuned for more jumper excitement on Saturday evening, April 8, when they will jump two final rounds to determine the overall 2023 Longines Omaha Jumping World Cup Finals Champion. 
Around the World Cup
Attendees were treated to a full schedule of demonstrations and educational events Wednesday. The Omaha Mounted Patrol performed and there were Western dressage, sidesaddle, reining, and vaulting demonstrations and the Highland Pony was showcased, among other things. Horsemanship lessons and a nutrition lecture were also featured. School children on field trips continued thronging through the venue, too. 
Wednesday's World Cup "Wows"
◆ Seeing the great Trakehner mare TSF Dalera BB perform with her long-time rider Jessica von Bredow-Werndl was very special, especially when you factor in that von Bredow-Werndl took most of last year off for pregnancy leave. They are not only the reigning Olympic Champions, but also won the World Cup Finals last year. They are such an elegant pair!
◆ In the dressage press conference, it was pointed out that Isabell Werth has competed in 24 World Cup Finals! (I erroneously reported in my World Cup Preview that she had competed in 18, but the number was even greater! Often referred to respectfully as "The Queen," Werth is an absolutely wonderful horsewoman and is well liked by her fellow riders and her fans. Last year at the World Championships in Denmark she actually gave helpful pointers to one of her competitors―Charlotte Fry who rode Glamourdale― which helped Fry win the Championship.) 
◆ For our associate photographer and accomplished sport horse breeder Shelley Higgins, the "wow" moment for her Wednesday was seeing how elegantly and empathetically Alice Tarjan handled the moment when she and her mare Serenade MF misread each other and had to stop midstream in the piaffe and passage part of their test. "Alice didn't get flustered and didn't try to force her mare forward. She sat quietly and asked her again. When the recovered, they had a beautiful rest of the test!"
◆ On the jumper side, a big wow was witnessing the continued success of Sweden's Henrik von Eckermann and the brilliant, yet unassuming chestnut gelding King Edward. They came first in the speed class, but before that they were key members of the Olympic gold-medal-winning Swedish Team in Tokyo in 2021. Then, they garnered individual and team gold in the World Championships in Denmark last summer. King Edward was "discovered" hidden away in the barn of an amateur rider before von Eckermann took over the ride and to top it all off, the horse has competed barefoot for a number of years now!
On Thursday, the vaulters begin their quest for World Cup Finals medals with the individual women and men's technical tests and the first of two free tests for the pas-de-deux pairs. And, the jumpers continue with a "Table A competition with jump-off" class. Find starting orders and results at to the 2023 FEI World Cup Finals Longines Timing website.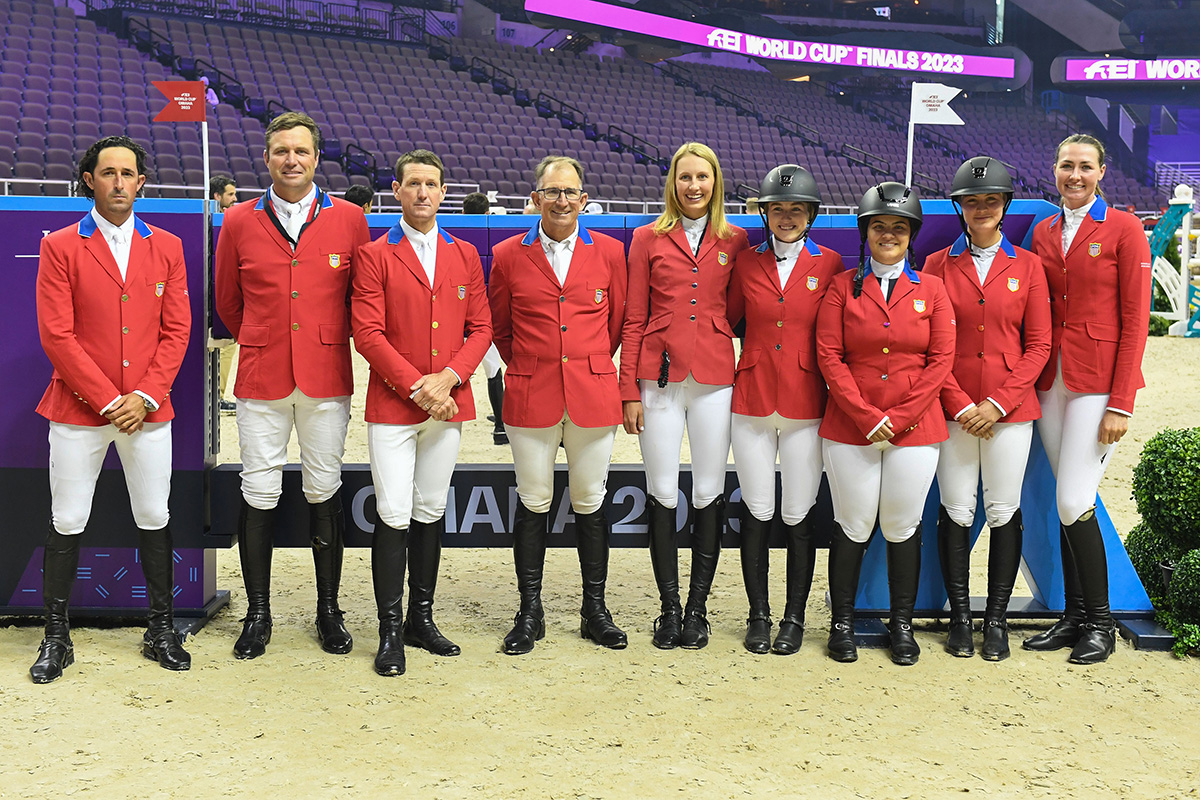 For the complete coverage of the 2023 FEI World Cup in Omaha, click here.
This recap of the first day of competition at the 2023 FEI World Cup Finals is a web exclusive for Horse Illustrated magazine. Click here to subscribe!