At the end of the first day of dressage at the Land Rover Kentucky Three-Day Event CCI5*-L, the leaderboard is competitively stacked, with only 12 points between first place and tenth.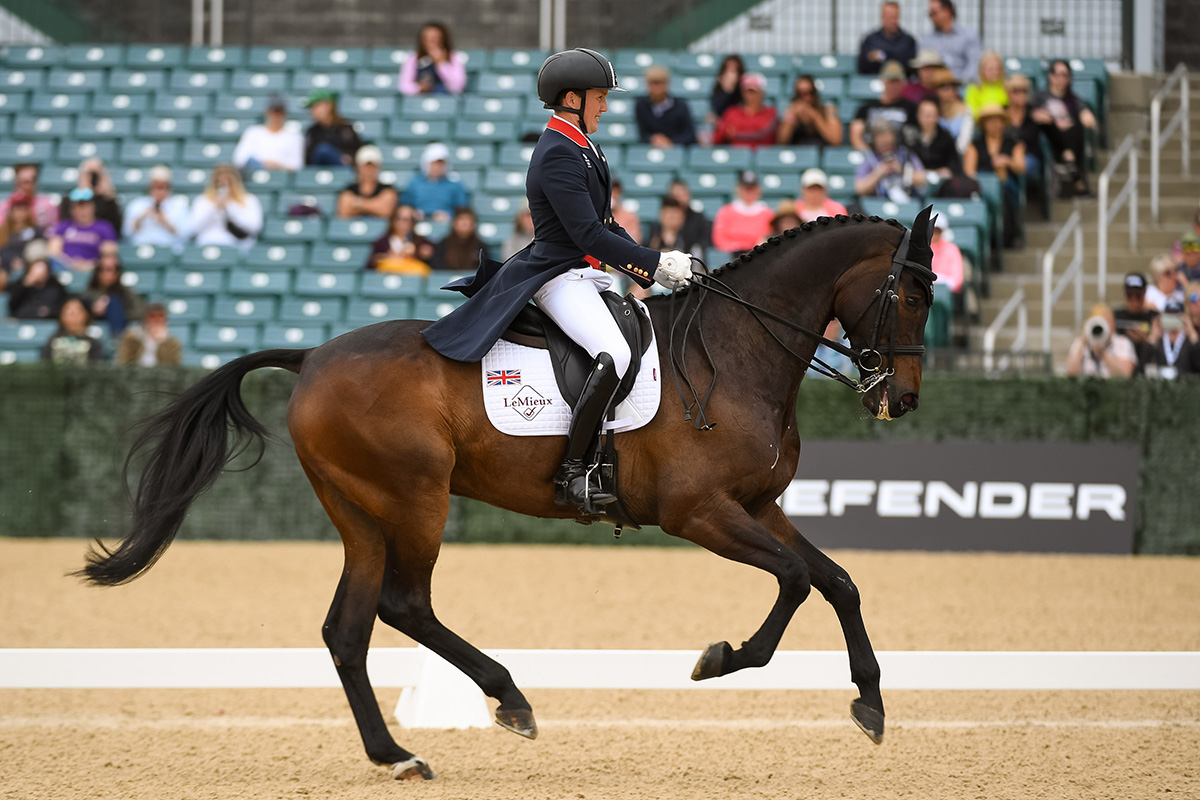 Tom McEwen (GBR), aboard JL Dublin, is sitting in first on a 22.6. Tamra Smith (USA) and Mai Baum trail closely behind on a 24.2, and Elisabeth Halliday-Sharp (USA) and Deniro Z received a 29, putting them in third. 
McEwan recently took over the ride on JL Dublin, after a lengthy partnership with Nicola Wilson. "Over the winter we've built a partnership and are getting to know each other and it has really shown today. There's still a little more polishing to be done between the two of us," McEwan said. 
When asked what McEwan was told about Lexington prior to his arrival, he stated "racehorses, bourbon, and tobacco." 
"It's been a pleasure to be able to come… everyone is so super friendly… I was told to enjoy every minute, and we are for sure doing that."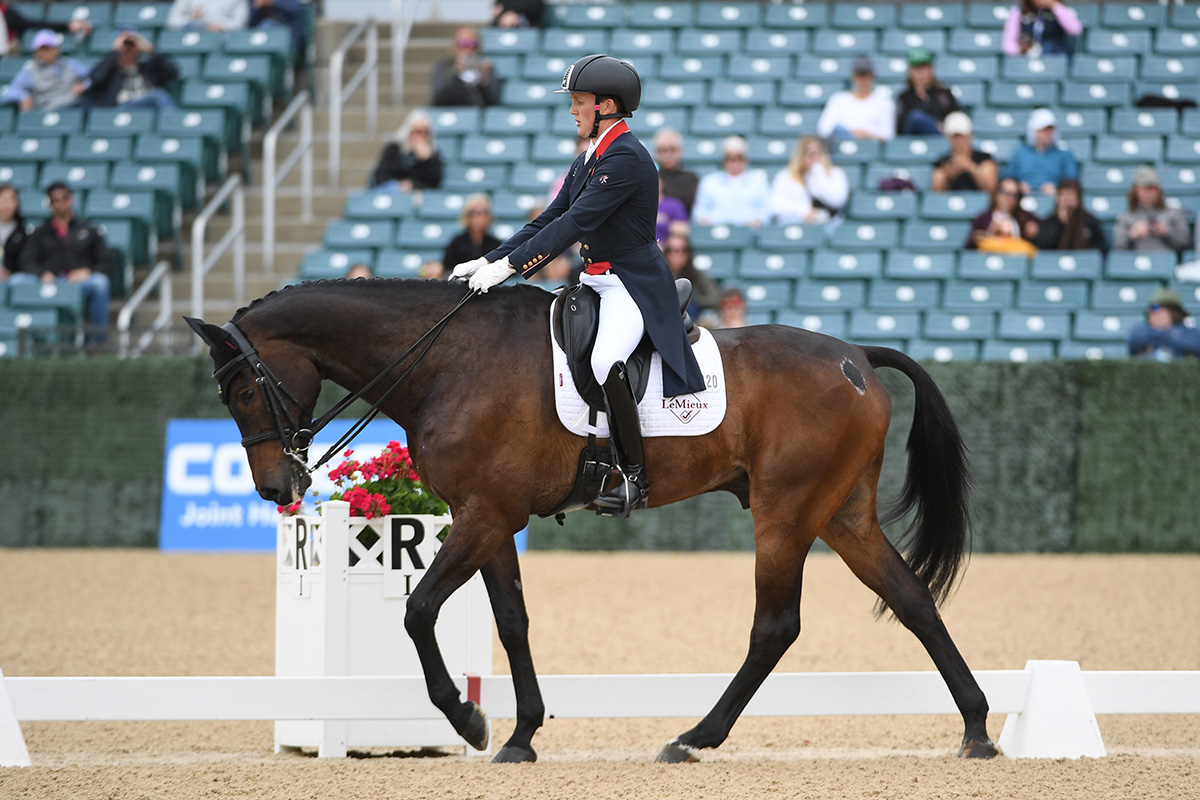 Tamra Smith is currently sitting in second in both the CCI4*-S and the CCI5*-L.
"I think it was one of his best tests to date. We've been working on getting him stronger and in self carriage and being more in front of my leg… I really couldn't have asked him to be better."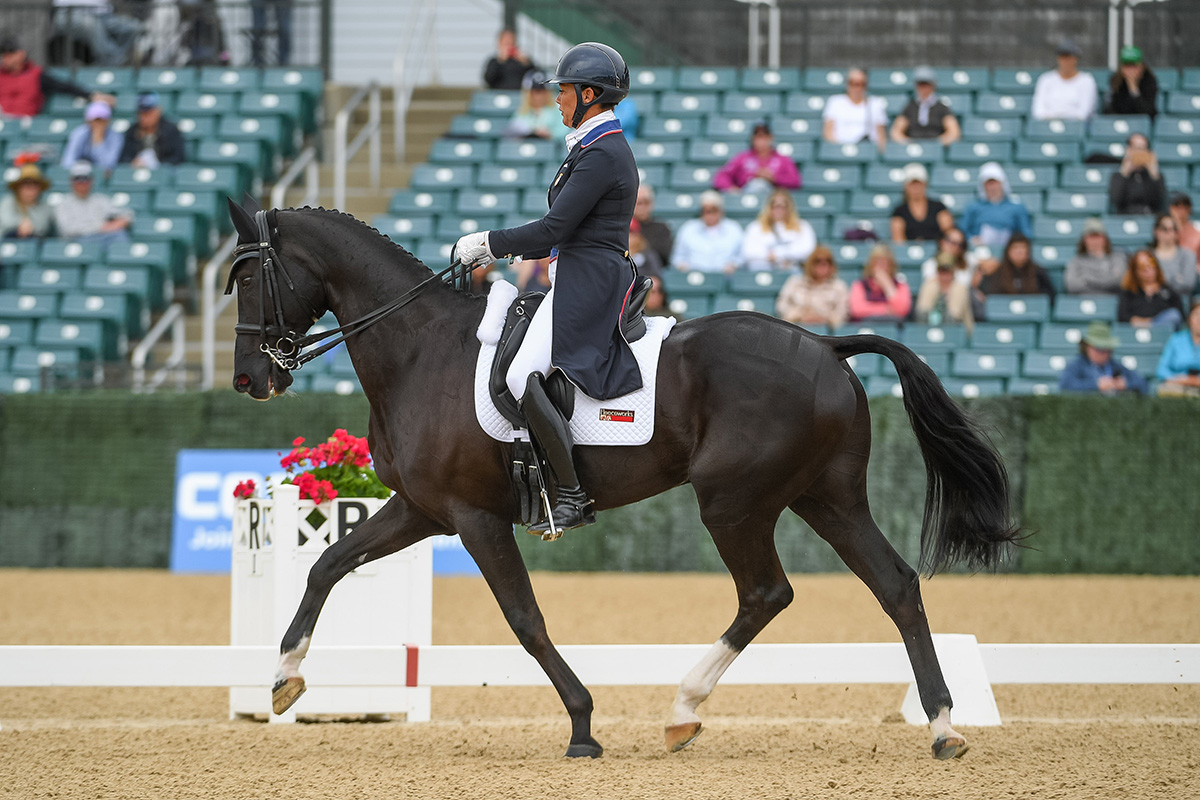 Smith described her relationship with Mai Baum as "hand-in-glove."
"With any horse, as time goes on, you hope to develop a very good trusting partnership. His confidence and strength for both of us has grown." 
"He's actually really weird. He's a weirdo— in a good way," she added.
For cross country day on Saturday, her goal is to "try to go double clear and stay in the saddle."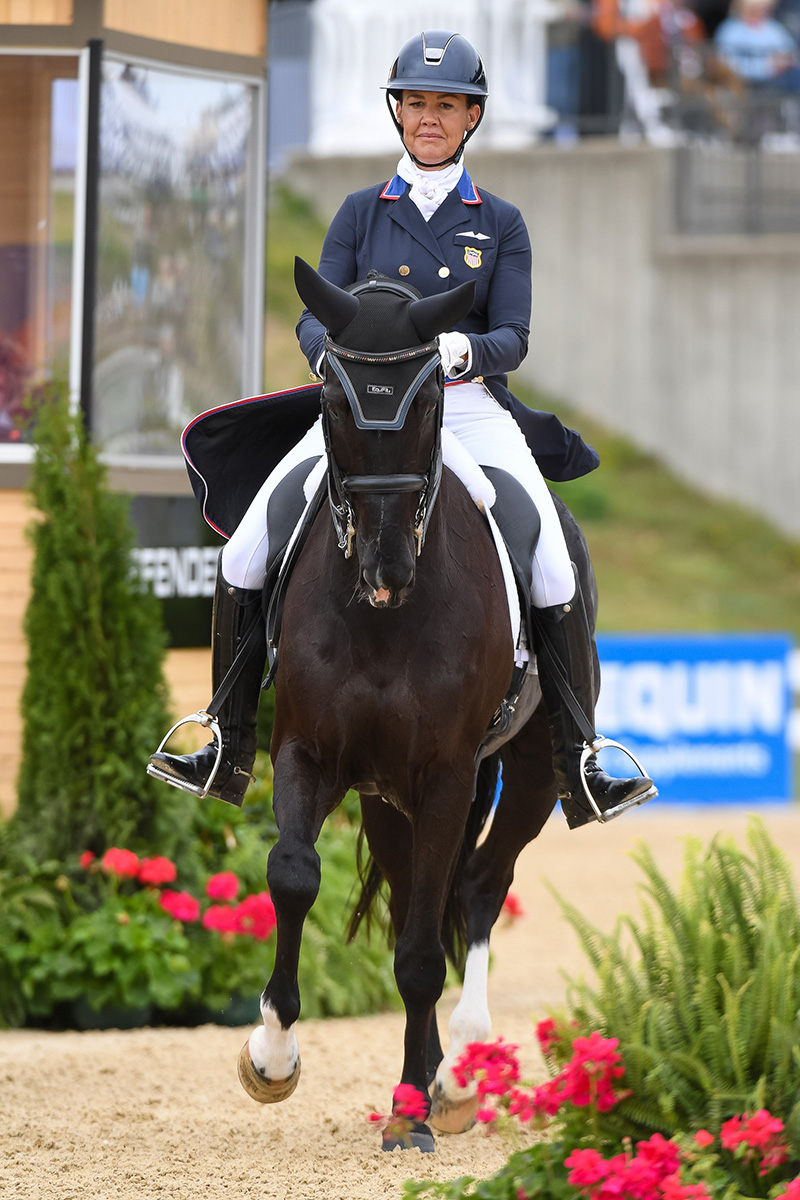 Elisabeth Halliday-Sharp has an exceptionally busy weekend, competing three horses in the CCI4*-S and two in the CCI5*-L.
"I'm just not stopping if I'm really honest. I've done nothing but ride and walk today and I have a great group of girls that are helping me out," Halliday-Sharp said.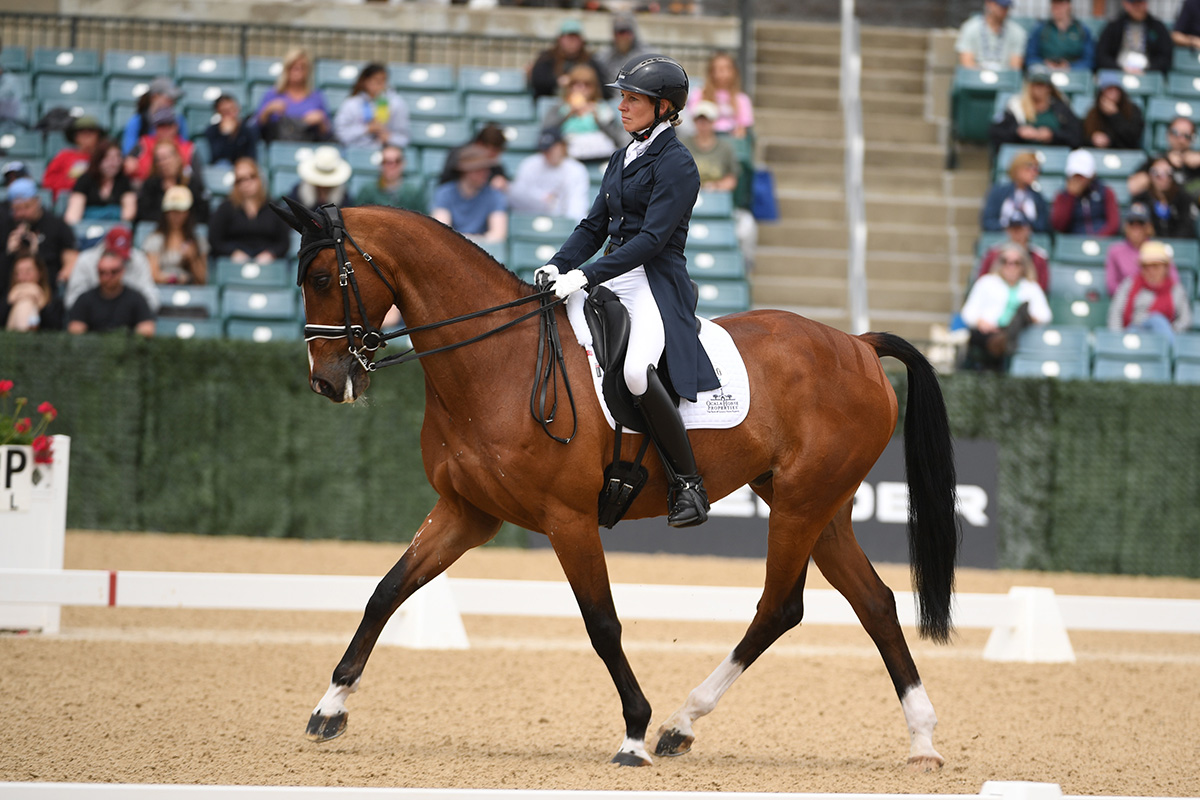 She is also very happy with Deniro Z's changes today. "I owe a lot of that to the training I've done with Shelly Francis lately." She said he is definitely still learning, but is thrilled with his progress.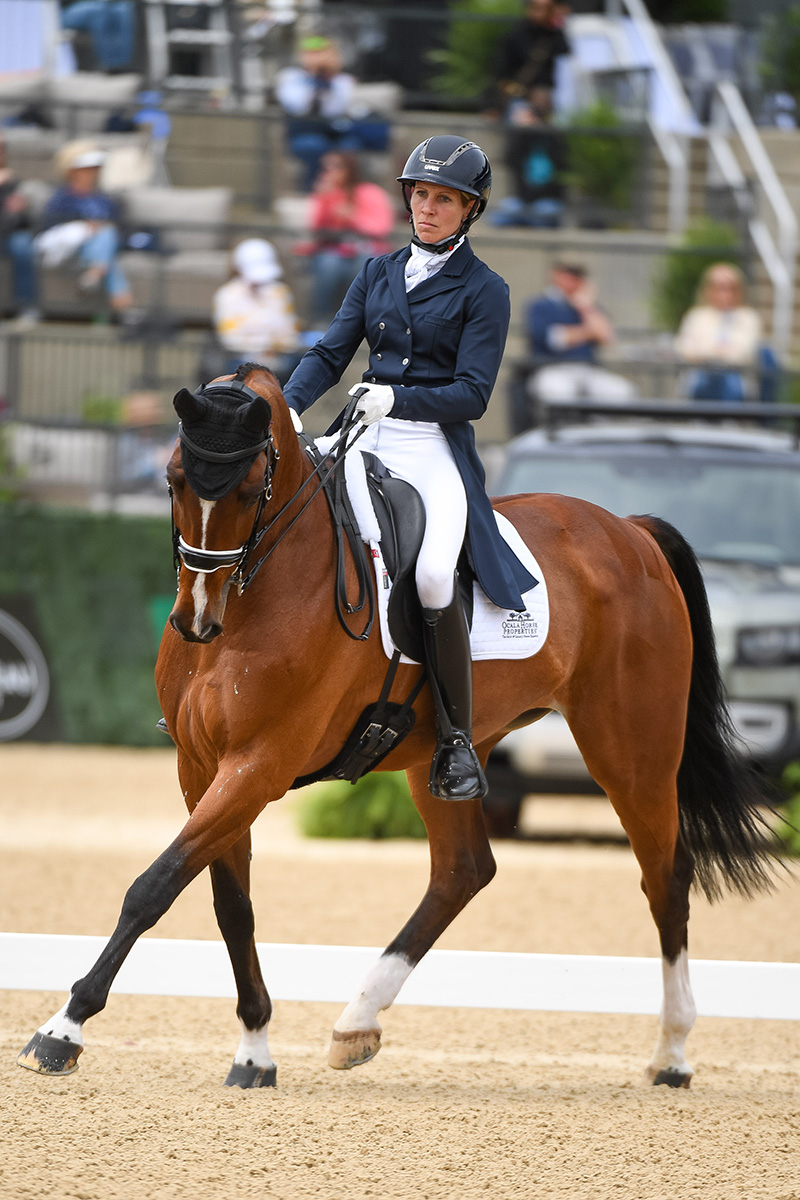 The second half of horses and riders will complete their dressage tests tomorrow for both the CCI4*-S and CCI5*-L.
CCI5*-L Top 10 After Day 1 of Dressage:
1. Tom McEwen and JL Dublin (22.6)
2. Tamra Smith and Mai Baum (24.2)
3. Elisabeth Halliday-Sharp and Deniro Z (29.0)
4. Sandra Auffarth and Viamant Du Matz (30.4)
5. Woods Baughman and C'est La Vie 135 (30.6)
6. Alina Dibowski and Barbados 26 (30.7)
7. Kirsty Chabert and Classic VI (30.8)
8. Phillip Dutton and Z (31.9)
9. Zara Tindall and Class Affair (32.6)
10. Lauren Nicholson and Landmark's Monte Carlo (34.6)
CCI4*-S Top 10 After Day 1 of Dressage:
1. Elisabeth Halliday-Sharp and Cooley Nutcracker (24.5)
2. Tamra Smith and Solaguayre California (27.6)
3. Colleen Loach and Vermont (29.8)
4. Alexandra Knowles and Business Class (30.0)
5. Jenny Caras and Trendy Fernhill (30.5)
5T. Sydney Elliott and QC Diamantaire (30.5)
7. Dan Kreitl and Carmango (31.0)
8. Mia Farley and Phelps (31.4)
9. Doug Payne and Camarillo (31.6)
10. Ariel Grald and Leamore Master Plan (32.7) 
This recap of the first day of dressage at the 2023 Kentucky Three-Day Event is a web exclusive for Horse Illustrated magazine. Click here to subscribe!