How horses can help improve mental health.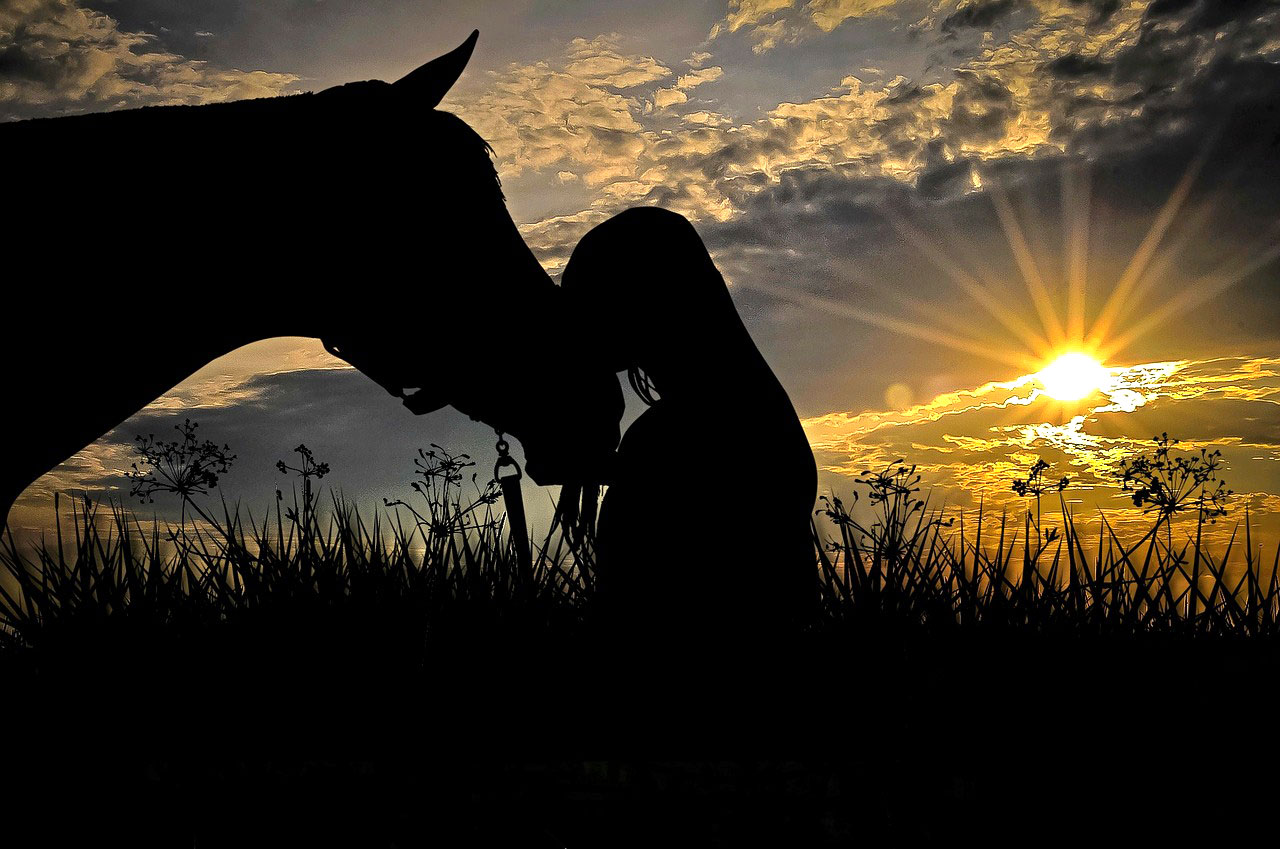 When equestrians grow up and move on to adult life, they might find that it doesn't necessarily include the horses they grew up loving. And that can be a harsh reality. For Barbara Jenkins, while she was moving to still work in the horse industry, she was leaving her horses behind in Arkansas.
"For the first time in my life, I couldn't just walk outside and pet a horse," she recalls. "When I up and moved to Ohio as a 24-year-old after having access to horses basically my whole life, it was a shocker. My job was horses, my passion was horses, my interest was horses, my hobby was horses, and I had nothing."
The homesickness was hard to take, until she started to make connections that allowed her to breathe in that familiar cologne of hay, leather and horsehair. Trainer friends, such as NRHA Six Million Dollar Rider Shawn Flarida, invited her to come out to the barn and ride.
Those doses of horse therapy helped her reconnect to her lifelong passion and helped remind her of her true identity and happiness until she could have her horses back in her life on a daily basis.
So while it's something all horsewomen and horsemen already know, horses not only have the power of being dedicated listeners and tear catchers, but they also possess a special ability to help even the darkest days.
More Serious Healing
However, what about those suffering from more than just a bad day, but from depression or another mental illness? While the physical benefits of a life with horses have been touted by many, the psychological benefits of being an equestrian haven't necessarily been nailed down.
"The inclusion of animals in the healing/therapeutic process has been around for a long time, but their systematic use is generally increasing worldwide," says Jennifer Speisman, PsyD, HSP, CMPC, a clinical psychologist and Certified Mental Performance Consultant with the Association for Applied Sport Psychology.
"More and more, we're seeing non-traditional approaches to therapy and psychotherapy, as well as healing in general. Clinicians and patients/clients alike are seeking out creative and innovative ways to address mental health concerns, particularly as the stressors of the modern world continue to increasingly overwhelm our coping systems."
Equine-assisted psychotherapy (EAP) is a type of experiential psychotherapy that uses horses to help humans grappling with psychological and behavioral issues. There has been an increase in the use of horses for psychotherapy mostly because of their nature. Because horses are prey animals, they have an innate ability to perceive human feelings and experiences, and are constantly aware of everything and everyone around them.
And, unlike humans, horses are naturally nonjudgmental and authentic, meaning they can't lie. Their feedback is based on your interactions together in those moments.
Who Can Benefit?
According to Speisman, while the use of EAP isn't well documented, yet, patients with issues related to trauma, interpersonal relationships, depression and anxiety (among others) are likely to be encouraged by their psychologists and psychiatrists to use it. And, when conventional methods may have fallen short, those with behavioral issues might benefit from the use of EAP as well.
"As EAP provides an opportunity to attain insight via observation and growth, it can help people gain self-awareness regarding both inter- and intra-personal domains," she says. "The horses' nonjudgmental nature is incredibly powerful and is harnessed by this approach."
Jannee Pugliani runs a program near Chicago for veterans to help them deal with their struggle for proper reintegration. Horses work best for her program because they trust their human partners without question, while for some humans, the rigors of war have made trust something that is hard to give. But slowly the horse will teach the human to trust, and to love, without hesitation.
Speisman explains that horses are naturally inclined to seek out relationships, whether they are with other horses or any creatures around them, including people. "Their openness and willingness to trust and respond to us, along with the provision of immediate feedback (given the right approach and commands) are powerful tools that can help individuals learn to communicate much more effectively."
The Office
Psychotherapy sessions involving horses are vastly different from the usual ones in the doctor's office or on the couch. Depending on the program itself, patients/clients will spend an hour, two hours, or even a whole day at the barn working with psychologists and specialists. And while the idea of a boundary-free trail ride seems appealing to us, EAP is not like hippotherapy in that most sessions are performed solely with groundwork and not on horseback.
"It's different than therapeutic riding because it's all based on groundwork—they don't ride the horses," Pugliani explains. "Usually the horses are at liberty in the arena and there are various groundwork activities that psychologists can use in dealing with certain issues."
Exactly how horses help humans with mental health issues has not been thoroughly studied, which might explain why growth in the use of EAP is slow.
"Seemingly, there is a lack of evidence," explains Speisman. "This is because experiential therapies are difficult to quantify into statistics, not because they are ineffective. There's no question that there is significant anecdotal evidence that EAP is a powerful, effective tool that can be used to combat a vast spectrum of mental health concerns.
"This process can facilitate trust, openness, comfort, and numerous wonderful skills/needs that enable these clients/patients to better facilitate their own mental health and wellness."
While there are human psychologists, Pugliani feels the horses used in EAP are the actual therapists during the entire process.
"It's still mind-boggling to me, and I've been doing this for many years," she says. "What we find with this type of treatment is that the horses really serve as mirrors. I've seen the horses react and act in ways that are unique to each situation and each person. It's almost like they know what's going on with a client."
Secondary Benefits
It's not just the humans that benefit from the use of EAP. Most horses used in these types of therapy programs are on their second, third or even fourth career.
"This is also a great way to rehome horses that are no longer equipped to handle the job they previously had," says Speisman. "They still have much to offer and can provide that bond and relationship that is so integral to the process of healing. As a horseperson, I appreciate that these organizations are able to serve humans and equines alike, and I feel that this contributes to the increasing popularity of these programs."
Emily Wygod Bushnell, an avid equestrian in the hunter/jumper world, runs one such program. Her program, Endeavor Therapeutic Horsemanship, based in Bedford, New York, serves a wide variety of needs for EAP and equine-assisted therapy patients and clients. A large part of the inspiration behind the organization is to help not only humans in need, but horses as well.
For more information, visit Equine-Assisted Growth and Learning Association (EAGALA) at www.eagala.org, Equine Connection Counseling at www.equineconnectioncounseling.com, and Endeavor Therapeutic Horsemanship at www.endeavorth.org.
MEGAN ARSZMAN is a freelance writer based in Indiana, where she's learning to balance motherhood with horses, dogs and writing.
---
This article originally appeared in the February 2018 issue of Horse Illustrated magazine. Click here to subscribe!