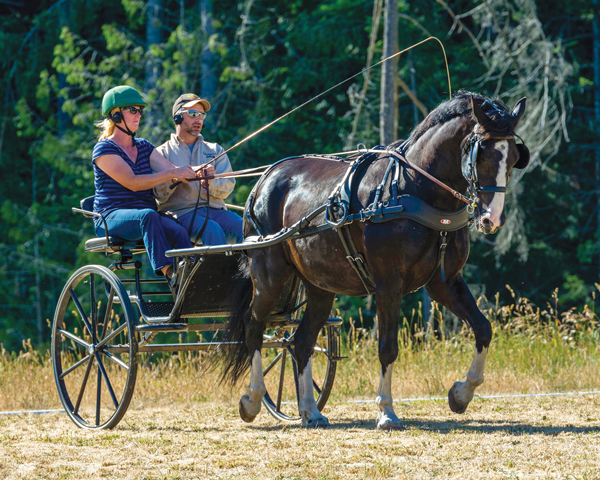 Learn from the experts what it takes to get started in the sport of driving horses.
The sight of a horse-drawn carriage conjures up thoughts of power and elegance. It's a nod to history for equestrians and non-equestrians alike. While the prospect of learning to drive may seem intimidating to some, it shouldn't be, according to driving instructor and judge Andy Marcoux of Coachman's Delight, Inc. in Massachusetts.
Marcoux teaches students, trains horses, and competes in combined driving through Advanced level and pleasure drives with singles, pairs and four-in-hands.
"It's really kind of interesting in carriage driving—there are many who come from riding to driving certainly, but there are also a lot of people who are new to horses," says Marcoux.
Martha Custis Merry of Lebanon, Ohio, an amateur adult dressage rider who now also drives her 8-year-old Percheron/Friesian/Dutch Harness gelding, Lancer, shares that the sport is something that can be enjoyed as a pleasure driver or competitive driver. She likes the team aspect of working with her husband, Dave, who serves as her navigator in combined driving. Together the Merrys successfully completed their first combined driving event (CDE) at Training Level last fall, and they look forward to doing more.
Where to Start
Both Marcoux and Merry advise finding a local driving club as a very important first step, as well as reviewing the resources available through the American Driving Society (ADS), the Carriage Association of America (CAA), and the United States Equestrian Federation (USEF). There are carriage driving clubs in just about every region in the country; lists of clubs can be found on the ADS and CAA websites.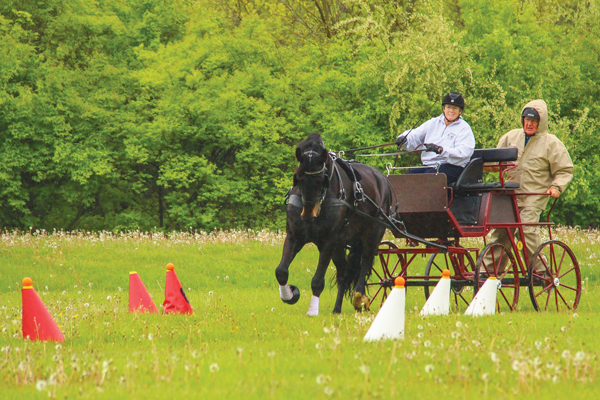 These are good resources to find local instructors, learn safe practices, get advice on selecting equipment, get help with training or purchasing a horse, and to enlist experienced drivers to lend a hand to newbies.
Those interested in driving will find a very welcoming group, according to Merry.
"The driving community is loaded with wonderfully generous folks. Most driving clubs embrace knowledge-sharing and invite potential drivers to join for a free trial period and to ride along in their carriages."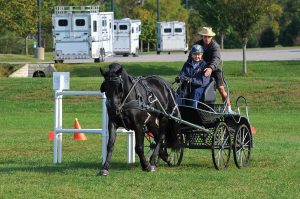 Marcoux offers this logical progression in learning to drive:
■ Gain experience and confidence by riding along with a driving instructor and
other experienced drivers, with the goal of eventually taking over the reins while still having them at your side for guidance as a co-pilot. After doing this for a time, they will let you know when it's time to solo.
■ Use an experienced horse while learning to drive. After learning with a seasoned horse, then the person can work on training their own horse for driving with the help of experts.
■ Learn the parts of the harness and vehicle (cart, carriage, wagon, sleigh, et cetera). Marcoux says that the harness can often look like a "bucket of squids" to beginners, but it really is no different than learning the parts of a saddle.
■ Learn how to safely harness a horse and hitch them to a vehicle.
■ Learn ground driving and long lining.
■ Learn by volunteering and watching, help at shows and meetings, and shadow experienced drivers.
Merry adds these tips:
■ Do your homework by reading and watching videos. Study the rulebooks. Ask questions.
■ Spend plenty of time doing groundwork with a horse to develop a rapport and communication before climbing into the carriage.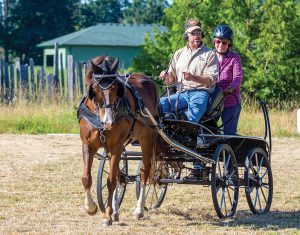 Riding Versus Driving
The view between the ears of a riding horse is much the same in driving, but from a slightly different angle and with communication through a few new aids.
"I was accustomed to feeling and influencing my horse with legs, seat, hands and balance," says Merry. "Driving takes that communication to a whole new level. I still needed to accomplish the same type of tasks, but now using voice, reins, whip and brakes when applicable [not all horse-drawn vehicles have brakes]."
Your riding horse could also make a great driving horse, even if he needs to be retired from riding in some cases.
"Driving can be a fabulous second career for a horse because it's very low-impact compared to riding," says Marcoux. "When you get horses that have conditions such as kissing spine or navicular—conditions that make them not appropriate for ridden work—they may still be fantastic horses for driving if they have a decent head on their shoulders."
Try Driving Now
Marcoux encourages those interested not to wait to try driving.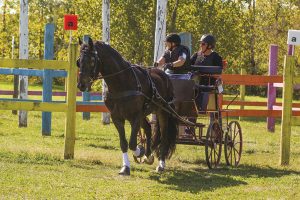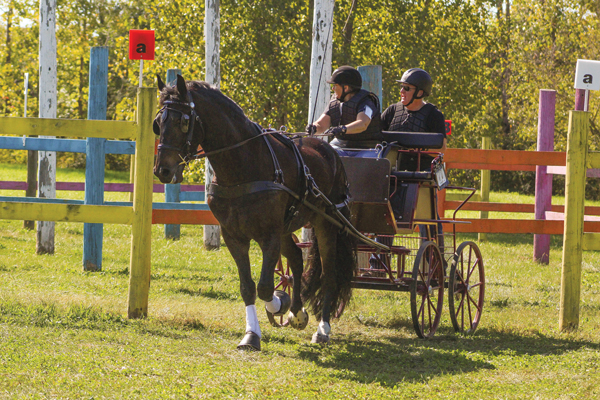 "The biggest thing I see is that most often people have a tendency to wait too long before trying the sport," he says. "They think it looks like fun and maybe they'll do that when they get older and can't ride anymore. Then you know what happens? They feel like they have cheated themselves once they start driving. They say, 'Wow, I absolutely should not have waited!'"
This article about how to get started with driving horses appeared in the July 2020 issue of Horse Illustrated magazine. Click here to subscribe!
Driving Activities
The options for having fun and doing work with driving horses are many. In
addition to combined driving and pleasure driving competition, drivers can
participate in antique coaching, roadster classes, draft horse hitch shows
and plow days, parades and exhibitions, road and trail driving, and historical re-enactments, as well as driving classes in breed-specific shows.
The ADS and CAA both offer lists of trails that can accommodate driving horses. The National Drive is a non-competitive annual event that brings drivers from across North America together and offers both social and educational activities.
Further Reading
■ The Right Stuff: How to Choose a Driving Horse
■ Scurry Driving: Your New Favorite Equestrian Sport
■ Driving Mini Horses
■ Driving Lessons from the Show Ring