My mentor and friend Dr. George Platt had been an equine vet for 43 years. I was in my third year of practice and had just confirmed a 13-hand pregnant pony had accidentally been bred to an 18-hand Belgian draft horse. I needed his advice.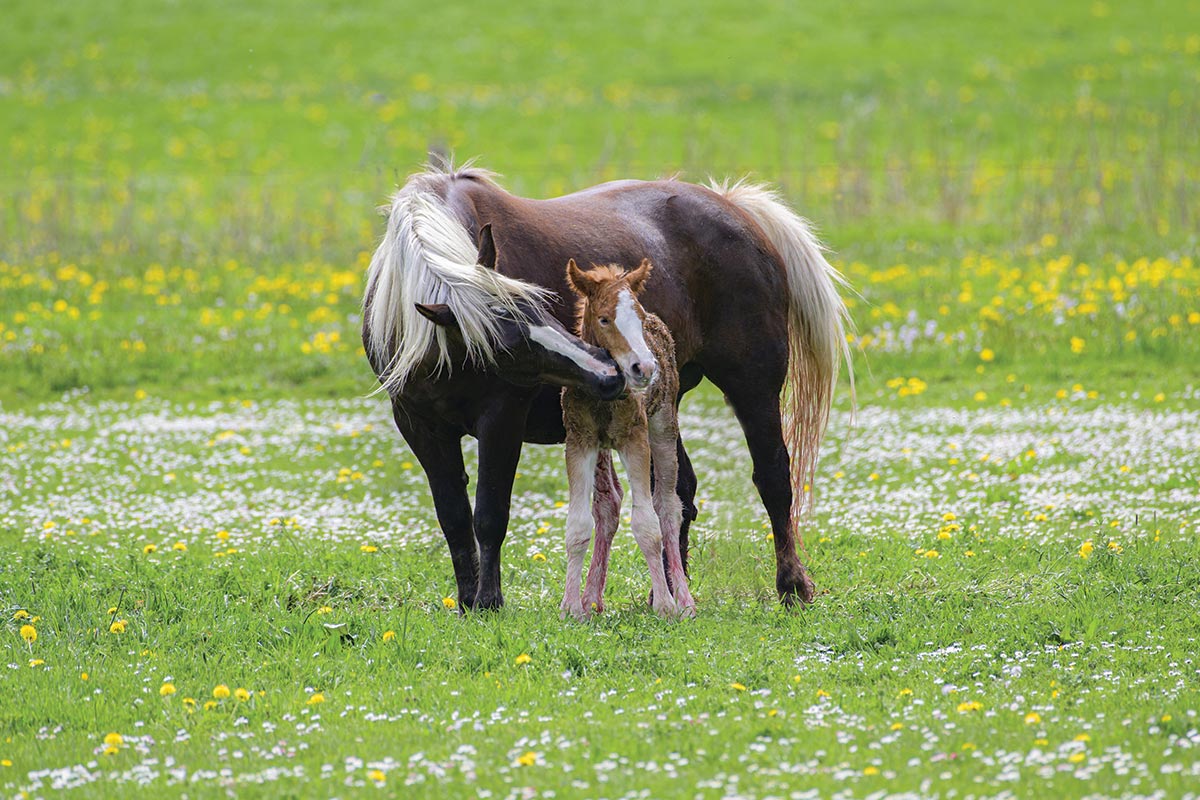 George still hadn't quite gotten used to talking on cell phones, and I winced as he answered his phone at his usual volume. It increased twofold when he realized it was me.
"WELL, HOWDY COURTNEY, WHAT DO YOU KNOW?!"
I held the phone away from my ear.
"Hey, George! if you're not busy, I have a quest—"
"IT'S SUNNY HERE RIGHT NOW, BUT I SEE CLOUDS MOVING IN, AND DANG IT, I'VE GOT COLTS TO GELD!"
"GEORGE, I NEED TO ASK YOU A MARE QUESTION," I bellowed.
Once in a while, George remembered to put his hearing aids in, but today was not one of those days. I explained the situation at the top of my lungs and asked if it was safe to allow the pregnancy to continue.
"THAT FOAL WILL GROW TO THE SIZE OF THE UTERUS. IT'LL BE BORN NORMALLY, AND THEN WHEN IT HITS THE GROUND, IT'LL REALLY GROW!" George boomed. "AND TELL LONNIE TO QUIT FEEDING THAT MARE ALL THOSE DANG SUPPLEMENTS—ONLY THING THOSE'LL DO IS MAKE HER FAT!"
George knew that Lonnie was an indiscriminate user of feed supplements, and her barn shelves were lined with every possible product, powder, granule, additive and oil. He made his opinions clear to Lonnie, and he liked to joke that she probably used a supplement dartboard to guide her protocols.
Incessant Calls about the Pregnant Pony
Lonnie was still worried about her pregnant pony, although she was grateful for George's advice, and the waiting game began. We had an estimated four months to go, plus or minus.
Looking back, I think it might have been the longest foal watch of my career. Lonnie made sure the pregnant pony stayed on my radar with many helpful evening and late-night calls informing me that the mare had lain down twice and groaned several times, or that her udder wasn't tender yet, or that she hadn't finished her alfalfa hay in the same time frame that she'd finished it the night before.
I liked Lonnie, but I started letting the calls go to voicemail after a while, as having my dinner interrupted to be told that the mare was scratching her butt on the fence was getting old. When Lonnie couldn't reach me on the phone, eventually she started paging me.
"Lonnie, what is it this time?" I asked wearily after my pager had gone off three times in a row.
"You need to come right out, Doc! I think she's bleeding from her birth canal!"
That got my attention.
"How much blood? When did it start?"
Lonnie wasn't sure, and when I arrived, she was holding a towel to the pony's backside.
The towel was black, so I couldn't tell how much blood there might have been.
I gently removed the towel and inspected the little mare. Nothing seemed to be out of the ordinary. Lonnie had a chair ready for me, and we watched the pony for about 20 minutes, but there was no sign of any bleeding or leaking fluids.
"Well, she was wet back there, and it seemed red," said Lonnie defensively. "But the towel was so dark I couldn't really tell."
I stared at her. "Lonnie, I'm going to say this once. The pregnancy is progressing normally, and you need to leave her be and get some rest. Don't call me again unless she's showing actual signs of labor!"
The Wait is Over for a Pregnant Pony
My phone was quiet for the next few weeks. Finally, early one morning I finally got the call that I was waiting for. The pregnant pony had given birth during the night. Her foal was nursing well and the mare was up and eating. I didn't see any reason to cancel my morning calls, and I told Lonnie I'd be along in a few hours.
Her number popped up on my cell a few times, but I was busy and didn't answer. Then my pager went off.
"Where are you?!" Lonnie demanded. "The baby's down, and she's twitching!"
"Lonnie, she's sleeping!" I said in exasperation. "I told you, I'll be along when I finish my calls. Don't page me again!"
Lonnie was sulky when I finally arrived, but she cheered up when I examined the mare and her huge foal and pronounced them perfect. The filly had the largest knees I'd ever seen, the mare was bright, and she hadn't even torn during the delivery. I was charmed by the big filly with her whiskery, milky muzzle, and Lonnie was beaming when I drove off.
Growing Like a Weed
When the foal was a week old, her back was level with her mother's hip bone, and by one month of age, she had to squat down to nurse. It was comical to see the pony with her huge gangly baby, and soon the filly was taller than her mother. Lonnie was much calmer now that the pregnancy was over, and my phone stayed fairly quiet.
One day, Lonnie announced that she was still hoping to find her driving team and was planning a trip to the horse sale.
I stared at her. "No more auction mares, Lonnie!"
She grinned. "Oh, don't worry, doc! I've got my hands full with this elephant out in the field, and I'm sorry to have been such a pain about the whole thing."
We gazed out at the enormous filly, now six months old and dwarfing her mother. Lonnie winked at me.
"Doc, make sure to ask Dr. Platt what supplements he recommends for the filly to get her ready for weaning."
If you missed the first part of this story, click to read it now.