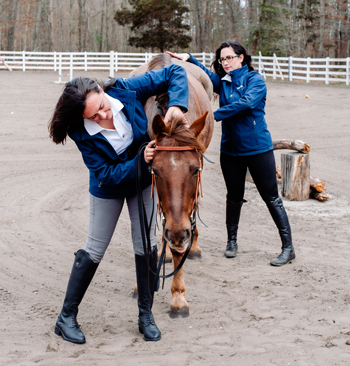 Lameness brings out many emotions, including fear and frustration, particularly when its cause is a mystery and the horse doesn't heal. Those are just some of the emotions that Barb Robinson, an avid trail rider from Aston, Penn., felt when her partner, an 18-year-old Icelandic gelding named Ari, went mysteriously lame.
Ari was performing well in the months leading up to his lameness. Uncertain but considering possible causes, Robinson relayed that she had taken him on a 10-day trail riding trip to Hocking Hills, Ohio. When she arrived, she found the conditions less than ideal. "It was a deep, slogging mud," she says. "But he came out fine."
She rode Ari all summer and fall without issue, even taking part in the League of Maryland Horsemen's Fall Roundup in November 2019. "His gaiting was awesome!" she adds.
After the Roundup, she began to notice small changes. "He started resting his left hind leg [while in crossties] here and there," says Robinson. "He never did that before. He used to always stand square."
He was also laying down more than usual. Still, she was able to continue riding without issue, including the day after Christmas with a friend. It was on this ride that she noticed that Ari felt a little off while she was posting. Then, bringing him in from the pasture the next day, he was off at the walk and on turns while being led. Robinson called her veterinarian out to investigate.
"I was convinced it was the left hind," Robinson says. "He flexed positive in the left stifle and the hock."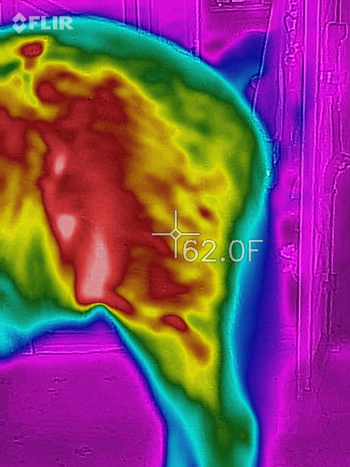 Ari was placed on a COX-2 inhibitor for several weeks, and Robinson stopped riding, but unfortunately she didn't see any improvement. Her next step was to have an osteopath visit. "The osteopath felt the right stifle was sticky," she continues. " She got it working properly."
The osteopath also gave her the green light to start riding again. "But when I rode him, he really didn't want to put weight on the left hind."
Because of its prevalence it was at this stage that she had her veterinarian also test for Lyme disease. It was negative. By this time, Ari was exhibiting a level five lameness on the American Association of Equine Practitioners' scale, meaning that he was minimally weight-bearing whether in motion or at rest. At her wits end, Robinson began appealing to others for help.
Healing Hands for a Mystery Lameness
"One of our associates reached out to me about a fellow Icelandic Horse owner having trouble with a mystery lameness," said Heather Wallace, ESMT, CCMT, an equine and canine sports massage therapist.
Wallace owns Animal Bodywork and Aromatherapy based in Red Bank, New Jersey, and has partnered with human and animal chiropractor, Madelyn Rauch, DC, AVCA.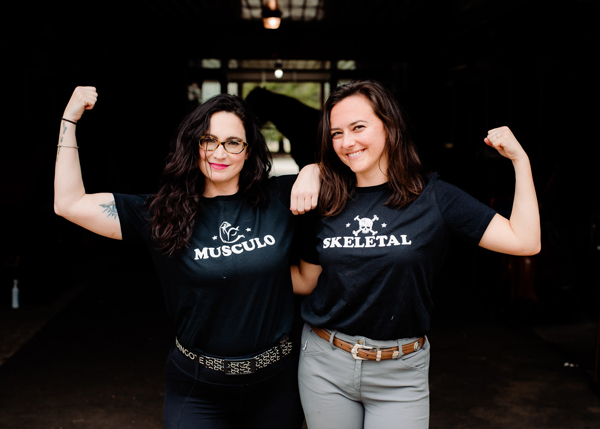 "She called me up and asked if there was something, we could do to help," says Wallace, and she and Robinson were able to make the connection. "That was in January of this year."
On their initial visit, Wallace and Rauch (who is known as Dr. Madi) took thermal images. "We could immediately see that there was a lot of heat in the left stifle and hip," Wallace says. "There was some compensation in the front as well. Once I got my hands on him, he had a knot the size of a grapefruit in his groin. I started to unlock it."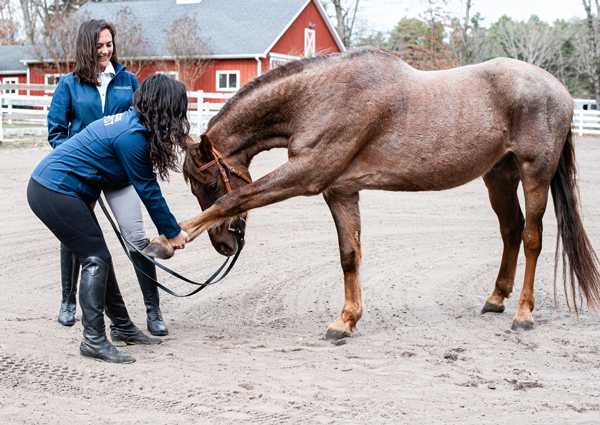 The team's efforts are a true partnership. It starts with Wallace loosening and adjusting the muscles, a benefit in and of itself. Then Rauch removes the interference to the central nervous system, which is housed within the spine and accessory osseous (bone) structures, to create more ease in the skeletal system.
"I'm looking at the way the horse's body moves," says Rauch. "If it is locked and not moving the body cannot get messages to that area as efficiently.
She then works to remove any interference. "I was able to get more motion into all of these segments, so that they would fall back into alignment and start progressing," she adds.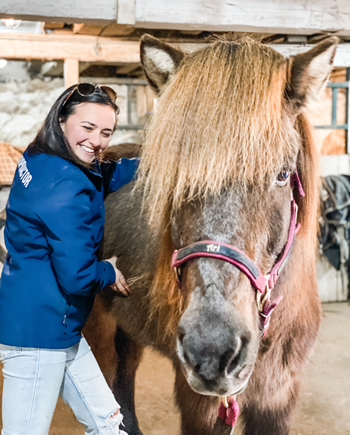 Rauch uses a specialized technique, Bio-Geometric Integration (BGI), which is largely fascial-based (related to the tissue covering the muscles). This technique minimalizes the effort that it takes to move a bone. Coupled with Wallace' s massage, the combined treatments make for a gentle but effective adjustment.
Wallace and Rauch worked on Ari for a total of three sessions at one and three weeks apart after the initial visit. "We started seeing results immediately," Wallace said.
Ari was still lame, but he was able to stretch the leg and bear weight. The lameness was reduced by 60% after the first visit.
The team pointed out that it's important to note that Ari's other caregivers were not wrong. "There was definitely something going on in the right stifle, because he was compensating and putting so much pressure on that right stifle, because he physically could not put weight on and stretch that left hind leg," said Rauch.
Ari's long-term prognosis is very good, and his owner is thrilled. He's currently 100% sound and back to trail riding. He's now on a maintenance plan with Wallace and Rauch to ensure his future soundness, which both recommend for all horses as a preventative measure.
Sometimes it is more about adding other members to a horse's healthcare team so that issues can be evaluated from a variety of perspectives.
Have you ever had a health issue with your horse that required a team of experts to work together? If so, please share your story in the comments below.