Horses don't naturally lie down to be mounted, much less stand back up with a rider, on cue. But horse trainer Nadia Heffner has trained a couple of horses to perform this difficult maneuver. And the mobility this move offers disabled riders has allowed her to facilitate remarkable human healing with horses.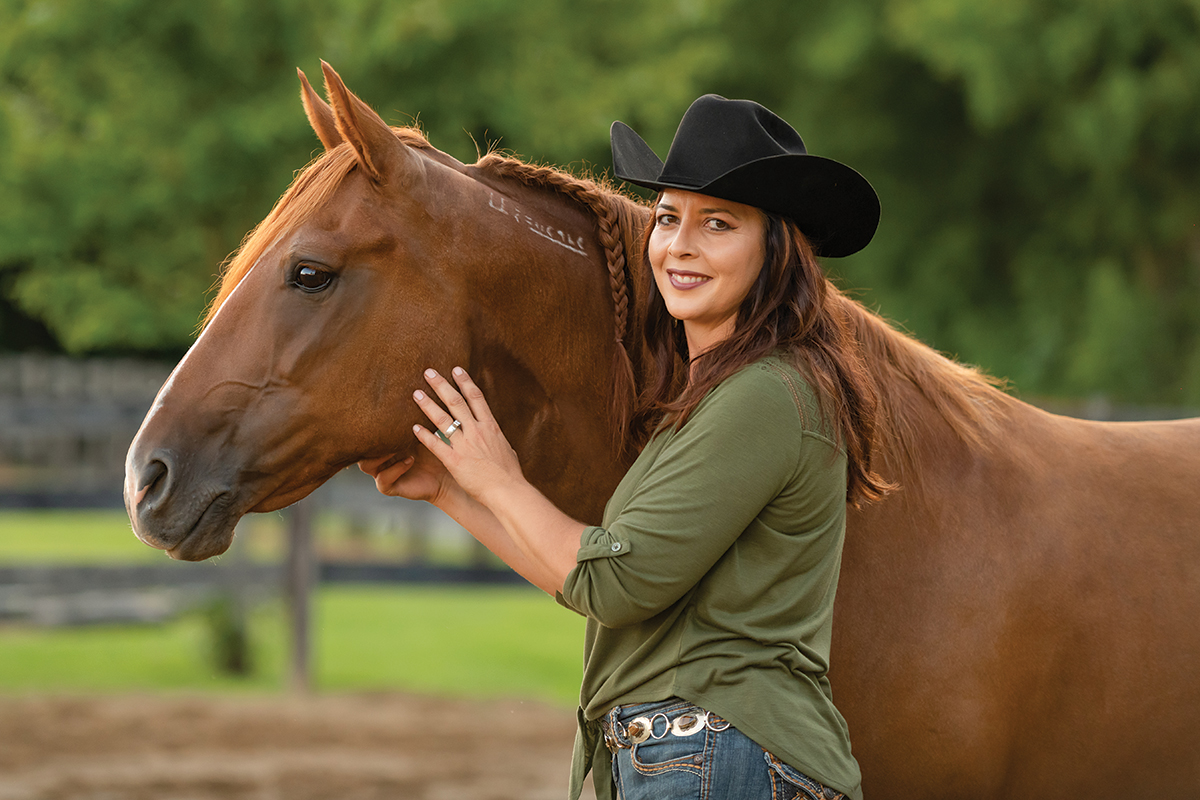 Lloyd Hayden, who is a double amputee, has been able to ride his Percheron-Friesian cross gelding, Bo, in the fields around his farm. For Cathy Florman, riding Heffner's Mustang, Grace, gave her a wonderful escape from debilitating amyotrophic lateral sclerosis (ALS) symptoms.
Building a Foundation
Heffner grew up on a horse training farm in New Jersey. Passionate about horses, she started taking lessons at age 7 and got her first horse at age 9.
"I would ride all summer and learn how to ride all different types of horses," says Heffner. "That was probably the best education I could have gotten—learning that every horse is different."
Heffner learned from Dottie Orzechowski how to ride in a variety of disciplines, "learning something well before you skip to the next thing." She's done everything from western and English pleasure to barrel racing, pole bending, team penning and other events—many of them on her horse, Clay.
"I try to stay really well-rounded," Heffner says.
When she moved to Indiana in 1996 at age 20, she immediately got plugged in with horse people, starting with a woman named Sandy Blackburn. Blackburn was pregnant and needed someone to get her horses ready for a youth to show at the local 4-H fair. Heffner was able to get the horse prepared, and it was the start of a great training relationship, as well as friendship.
Blackburn helped Heffner buy her first small property, and the former massage therapist soon started her horse training business. She has since moved to a bigger equine facility, called Double H Horse Farm.
Mustang Makeovers
In 2008, Heffner learned about Extreme Mustang Makeover events. Horsemen take an untrained Mustang, and within 100 days, train the horse to ride, go over trail courses, and load in a trailer. The top 10 finishers also perform reining maneuvers and a freestyle. Heffner was intrigued and saw it as a great way to promote her colt-starting training.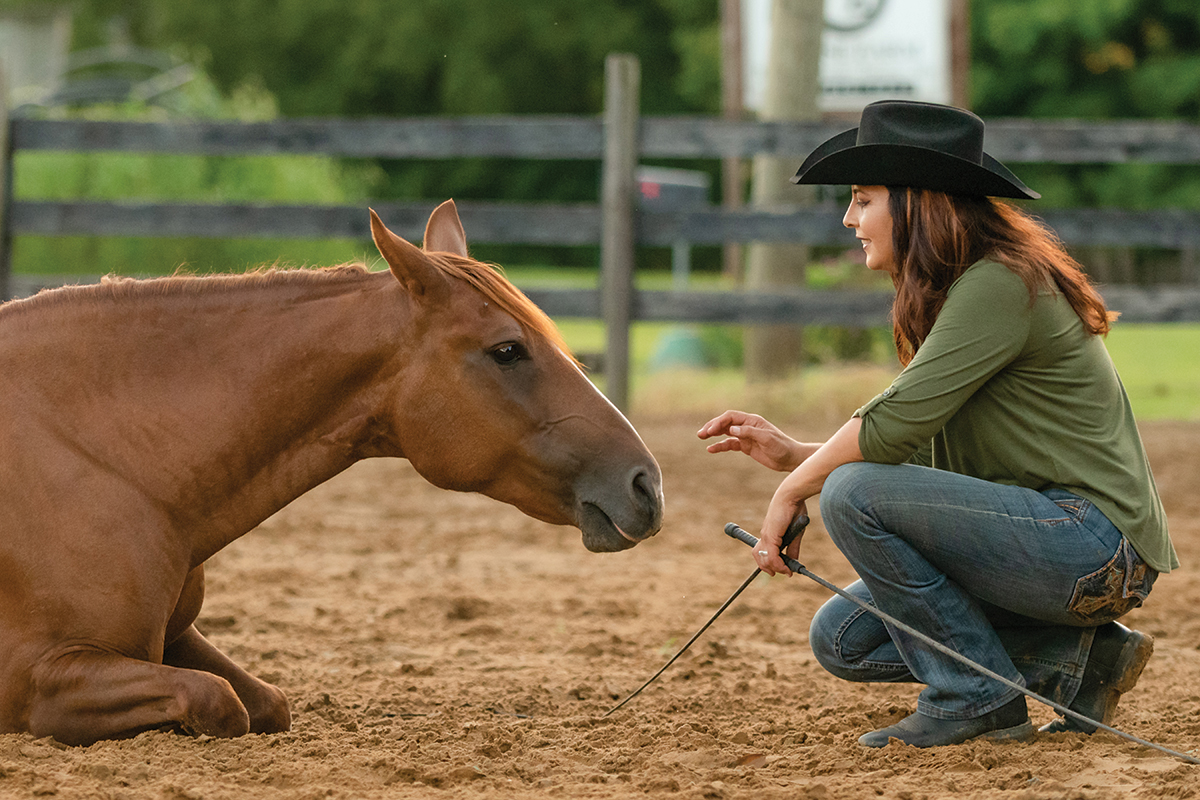 Heffner has now done three Mustang Makeovers. The mare she worked with for her second event in 2012 was Grace, who placed fourth. Thanks to the mare's talent and temperament, Heffner says Grace is her training ambassador.
"She does all kinds of tricks," Heffner says. "She's done western, English, barrels and poles. She has been in my house—she's just amazing. I trust her with a lot of things. She performs at liberty, too. She's taught me a lot."
Special Training
 Leads to Healing 

with Horses

Drawing on skills she gained as a massage therapist, Heffner's intuition has helped her sense when a human or an animal is in pain—and help them find healing together.

"With horses, I can look in their eye or see the way they're moving and try to fill in the holes of their backstory," she says. "I can see when something isn't right. It's been a learning process. I used to think training maneuvers had to work if done right; now I know a horse has to be able to do them physically, just like we can't all be gymnasts."

Heffner believes groundwork and a good foundation set a horse up for success under saddle. Grace is a great example of the kinds of horses Heffner enjoys bringing along in her program.

"The horse has to be kind and forgiving, and gentle," she says. "I'm not saying my Mustang doesn't make mistakes, but if she knows that I'm calm too, she'll stay that way."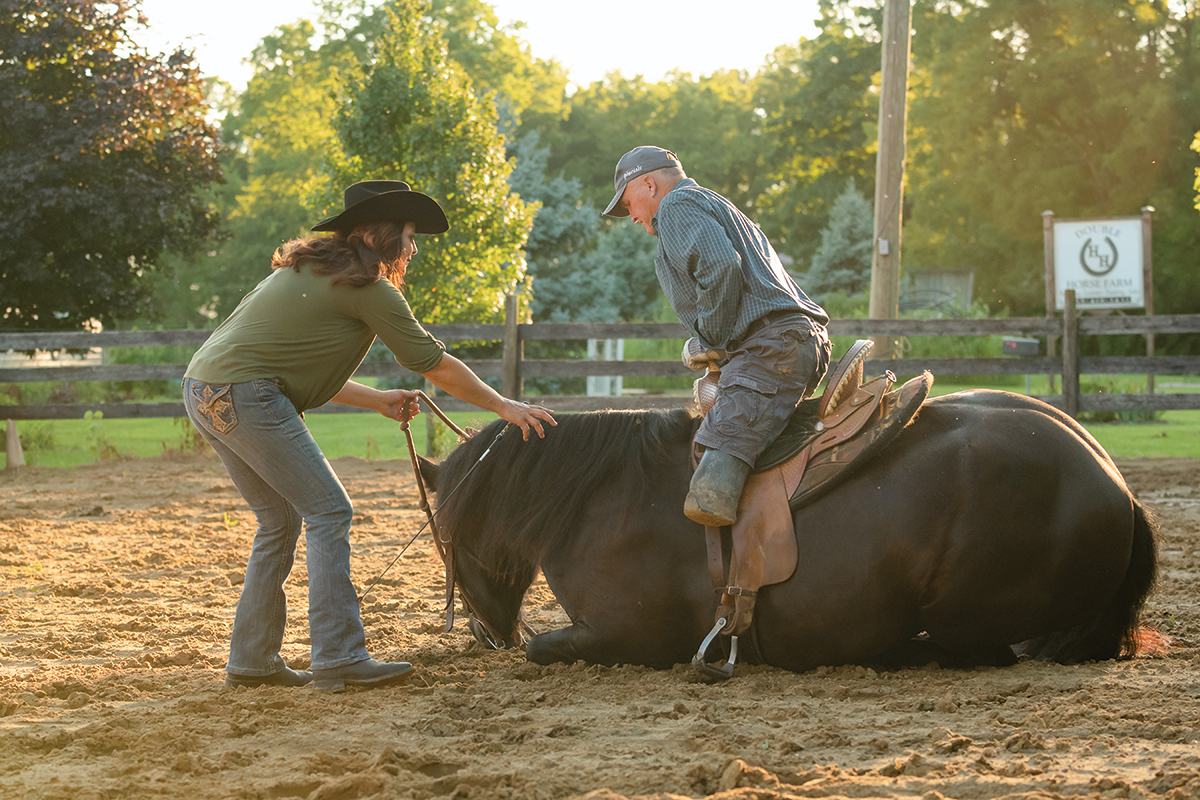 Because of her experiences with the Extreme Mustang Makeover, Heffner also trains Mustangs and burros for the Bureau of Land Management.
"Through the makeovers, I saw what great horses the Mustangs really are, and how they need their stories to be told," she adds.
Back in the Saddle
Lloyd Hayden has ridden horses and farmed all his life. After retiring from ironworking, for the last decade, he has managed his farm in Thornton, Ind. 
In October 2018, he lost both his legs below the knees in a combine harvester accident. But the loss has not kept Hayden from caring for his land—or from riding. He's able to walk on his knees and use track vehicles around the farm. And by the following spring, he was back in the saddle, regularly trail riding in his fields or nearby state parks with his wife, Sue.
The Haydens raise Friesians and Friesian crosses. Four-year-old Percheron/Friesian Bo was bred and raised on their farm, and the couple trained him to ride prior to Hayden's accident. He's been able to ride Bo, but would need to get on from the bed of a truck, and it was difficult.
Knowing she'd taught Grace to lie down on command during the Extreme Mustang Makeover, Heffner was approached about training Bo to do the same thing. Because every horse is different, Heffner did not give a timeline and said the maneuver couldn't be forced. 
It was a challenge for both horse and rider over 30 days of consistent training. Bo went home with the Haydens as they continued to practice, trying to get the mechanics right. Heffner worked with Bo a few more days, and finally, he was ready. She says the key is doing the maneuver in soft arena dirt.
"It's a very vulnerable position for a horse to be in," Heffner says. 
Heffner began training horses to lie down on command after watching John Lyons training videos; he told a story of how he taught his horse to lie down after breaking his leg on the trail when he couldn't get back on. She thought it would be a neat trick—she didn't realize it would be so helpful in allowing healing with horses.
"I always remember that story and how this skill may come in handy," says Heffner. "Lying down has been mostly a novelty until now."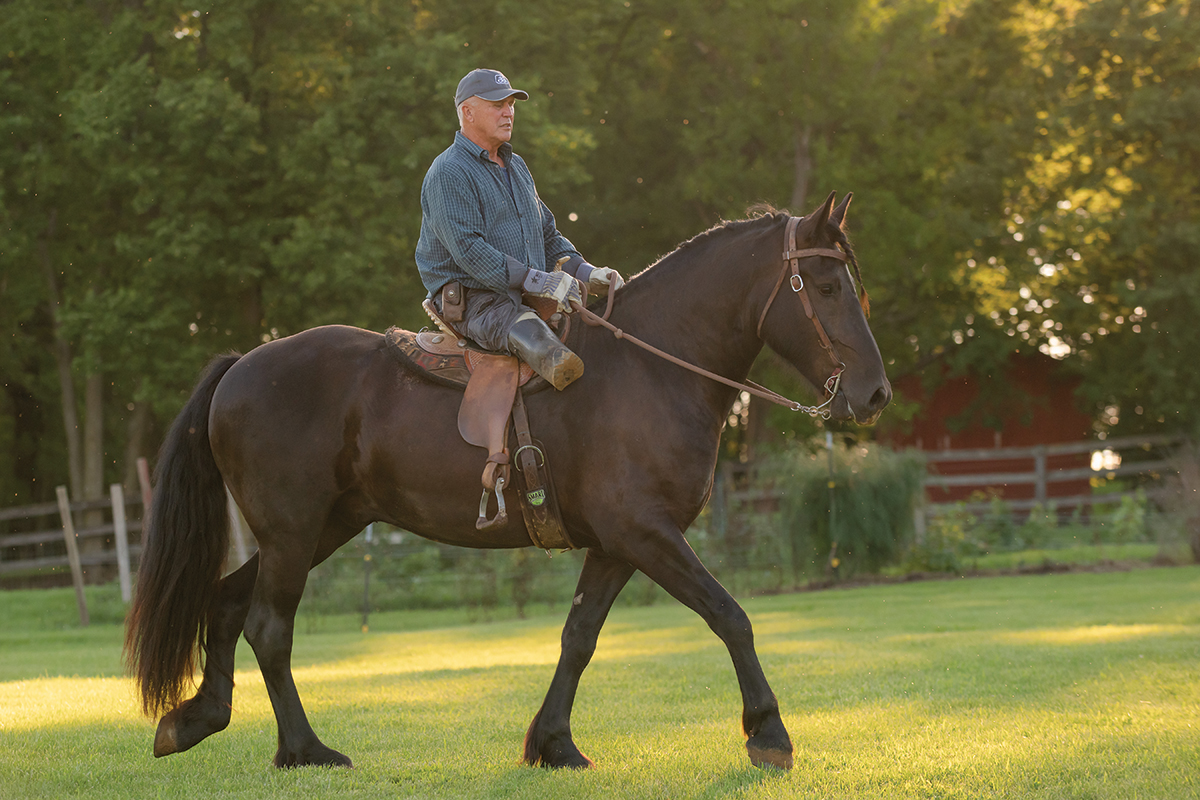 Hayden says Bo's new skill has made riding much more convenient.
"We're thankful she did that for us, and we really enjoy riding," he says. "[Bo lying down on command] really makes things easier for me."
Amazing Grace
Cathy Florman grew up on a farm and owned her own horse as a teenager. She got back into horses when her daughter, Rachel Griffin, became interested as a child, and last rode about six years ago. Griffin is a lifetime horsewoman and has taken lessons from Heffner in the past. 
When Florman began declining after her diagnosis with ALS—a progressive disease affecting the nervous system—Allison Sherrill, a Florman family friend and Heffner's best friend, suggested a riding opportunity for Florman. Talking through mobility challenges (ALS depletes muscle strength and other important functions), Heffner knew that Grace's ability to lie down and stand up on command would be essential.
"We made sure that [Cathy's] head was safe, and we were supporting her," Heffner says. "Once she was on, she couldn't believe how much more mobile she felt than when she was walking on the ground. She had the greatest time."
With Grace able to lay down, the last barrier to Florman being able to ride was removed.
"It was a great joy to go to the barn and see the horses," says Florman. "It was so precious to me to be able to ride. I couldn't believe it. I didn't know I would be able to do it, and I didn't know how wonderful it would be to ride."
Once in the saddle, Florman remembered her years of riding and felt renewed, despite her debilitating illness.
"She just had that easy, familiar rhythm from walking," Florman says of riding Grace. "There's nothing that moves your body so naturally like moving with a horse. Before I got sick, one of my greatest pleasures was riding a horse. So being back [in the saddle], it felt normal. Like I wasn't sick anymore. I could sit up taller. I could do it, just like I used to."
Florman says her experience was truly life-changing.
"Something happens when you get on the back of a horse," she continues. "Anybody that rides knows this. If you've had a bad day and you go ride, it transports you away from those problems. It's just you and the horse at the rhythm of the walk. There's something transformative about that."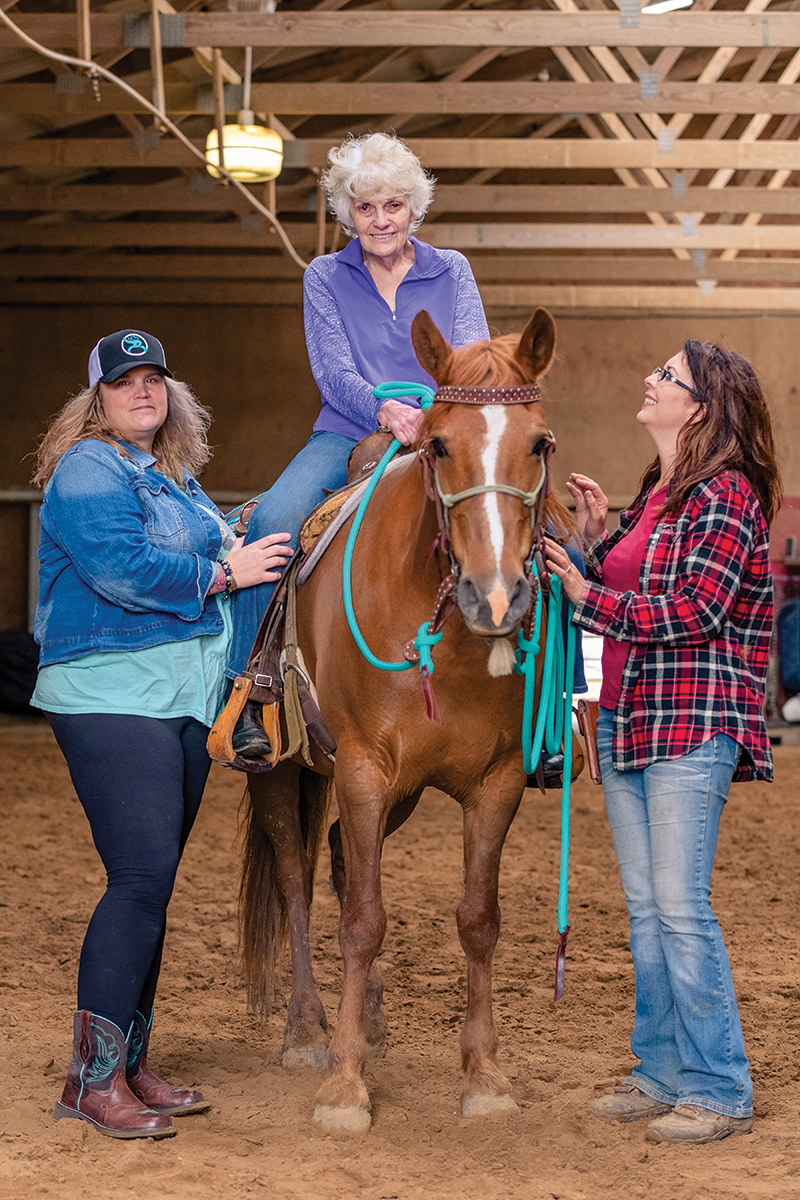 While she was on Grace, with Heffner and Sherrill beside her, Griffin rode another horse, and mother and daughter enjoyed each other's company as they rode together.
"It was really nice to be above the ground, above my problems, riding beside Rachel, just walking and talking," Florman says. "It was like life was how I wanted it to be."
Dismounting was also a challenge, but Grace was up for it. Florman says Heffner's calm personality helped her feel safe during the process. 
Florman also says training a horse to perform these maneuvers is an incredible gift for a disabled rider that can enable healing with horses.
"Teaching your horse to do this is one of the most loving and kind things you can do—it's very much appreciated," Florman adds. "There was no other way for me to be able to get on the horse. I am so grateful."