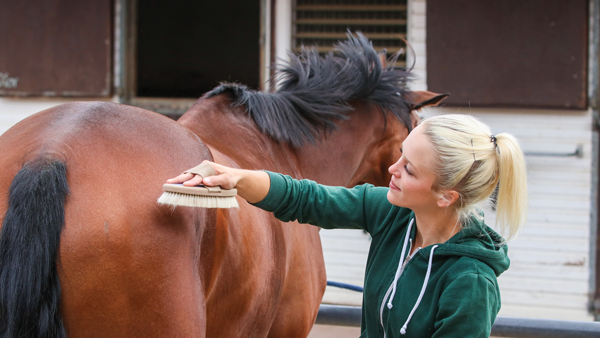 Most of us seek to do good in the world, especially when it comes to helping horses in transition. But if you're short on funds or live too far away to help a local equine rescue in person, it can sometimes seem impossible. The following are a number of ways you can help out, with something to suit anyone's situation. Where there's a will, there's a way!
Volunteer to Help a Local Equine Rescue
Almost every rescue is in need of volunteers, and there are usually jobs to fit a variety of skill sets, ability levels and time commitments. If you have experience handling horses and a solid understanding of equine behavior, you may sign up for mucking stalls, grooming, socializing horses, or completing groundwork.
If groundskeeping is more your style, you could help with fencing, weeding, painting and general repairs, or even equipment maintenance. Indoor-types may prefer jobs such as answering phone calls, completing paperwork, or helping to organize special events and open houses.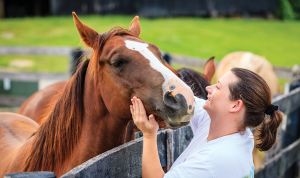 However, there are sometimes age requirements.
"Volunteers must be at least 16 years old, and some positions require individuals to be at least 18," says Garret Leonard, director of Dumb Friends League Harmony Equine Center in Franktown, Colo.
Volunteers at Leonard's facility must also be able to make a time commitment of approximately three hours a week for three months.
If you are interested in helping a local equine rescue, applications are often available via an organization's website. Once the application process has begun, expect to attend an orientation, which can help to match your skills with specific needs.
Some rescues also require an interview and a training class. Groups of volunteers are also welcome with larger projects, such as putting up new fencing. Group leaders should contact individual rescues for specific opportunities.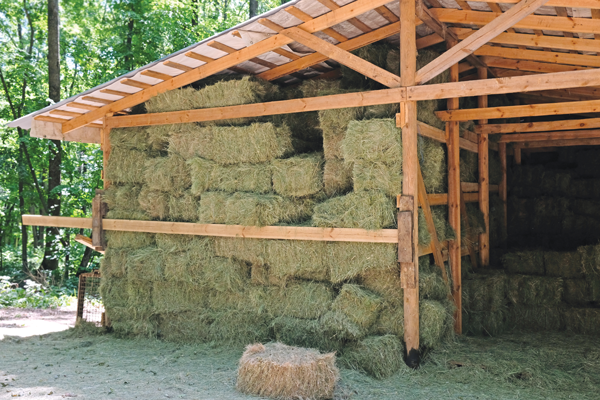 Donate Feed
Donations of feed and hay are always valued by rescues. Because rescues often serve a variety of different types of horses ranging from foals to drafts and in-shape horses to emaciated ones, it's important for facilities to have a wide range of feeds and hay types available. Be sure to inquire whether square or round bales are most needed if donating hay. Some horses will also require supplements, such as fat or biotin.
"Donated funds are the easiest way to help so we can keep using the same feeds," says Heidi Garbe, director of Equine and Livestock at the Humane Society of North Texas in Fort Worth.
Donate Tack and Supplies
Lightly used, clean tack is another welcome resource. Frequently requested items include halters, lead ropes, saddle pads, bridles, saddles, fly spray, masks, sheets, stable forks, muck buckets, shampoos, brushes, and fans for cooling.
If items can't be used by the facility, they are often made available for donation to the public. Donations can go to fulfill other needs, such as the care of the horses. Rescues can make their needs known in a variety of ways.
"We use an Amazon wish list as a way to advertise current needs," says Garbe.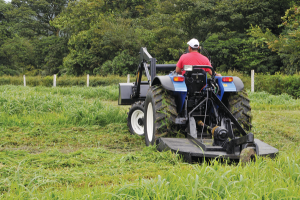 Donate Farm Equipment
"Donations of farm equipment go a long way toward keeping up our grounds," says Rita Hoch, president and CEO of Nexus Equine in Oklahoma City, Okla.
Donation needs range from small to large. Some examples from Hoch's list include weed eaters, hoses, T-posts and smooth wire for fencing, concrete to stabilize fencing, and panels to make extra turnouts.
A tractor can be useful for mowing pastures. Gifts such as these are typically dropped off during business hours at individual facilities. Fuel to operate equipment is another need, and gift cards to purchase fuel can be mailed.
Provide Professional Services
As with all horses, equines in transition have ongoing needs for dental exams, vaccinations, deworming and farrier work, along with other veterinary care. Many professionals offer organizations either discounts or donations of their time. Monetary donations are the best way to help an organization to cover any additional expenses.
Other Ways to Help
If you can't physically volunteer or donate money, one easy way to help is by following your local rescue's social media pages and sharing their posts. This simple gesture can allow the organization to reach more horses in need and potentially people in a position to offer assistance.
Other monetary contributions, small and large, can go towards sponsorship of a pasture or a horse, or community service programs that ensure equine welfare for people that may have temporarily limited resources to provide for their animals. Corporate sponsorship opportunities are often also available.
"Financial donations are the lifeblood of organizations," says Hoch. "Typically, organizations are only funded through grants and private donations, and without them, organizations cannot stay viable. Any amount is so appreciated. Our programs need to stay open so that we can offer the lifesaving assistance we are called upon to provide. If we can't stay open, horses that need a place to go will become at risk."
Leonard says the biggest need at his facility is finding good homes for adoptable horses.
"Our horses have been professionally trained and are ready for the adventure that lies in front of them," he says."Consider adoption when looking for your next horse."
This article about how to help a local equine rescue originally appeared in the August 2020 issue of Horse Illustrated magazine. Click here to subscribe!
Further Reading