Nine years ago, national dog and cat advocate Christy Counts got her first horse.
"It was kind of an adult passion," she says. Counts had always loved horses from a distance, but she'd never had the opportunity to have one of her own. Not long after she bought Chili, a young Friesian-Gypsy cross, her passion for horses inspired her to expand her animal welfare work to include equines.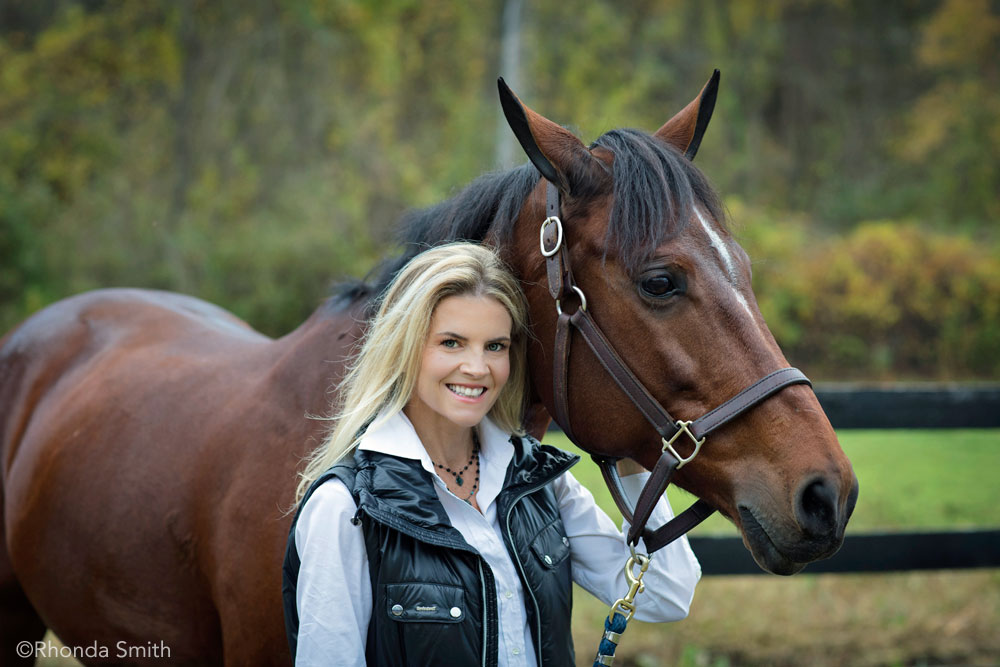 As president of both The WaterShed Animal Fund (a division of the Arnall Family Foundation) and the horse welfare group it funds, The Right Horse Initiative, Counts works for what she hopes will be lasting change that the entire horse world can support for at-risk horses in the United States. Her goal is to improve horse welfare on a scale similar to companion animal welfare.
"Incredible progress has been made nationally in the dog and cat welfare world," says Counts, who is originally from Oklahoma City, where she founded the Central Oklahoma Humane Society in 2007 and still works for dog and cat welfare via the WaterShed Animal Fund.
"We can't really say the same for horses. There aren't fewer horses at risk each year now than there were 15 years ago." The group hopes to change that.
The goal of The Right Horse Initiative is to reduce the number of unwanted horses through adoption and to create a support network for at-risk horses. But getting horse industry organizations on board hasn't always been easy.
"As an outsider, there was an immediate distrust of me," she says of when the organization first started in 2017. "I think people thought I must be a fanatic, or an activist. I got a lot of shut doors."
Spreading the Word
But Counts dug in and hit her stride. These days, she spends most of her time traveling the country spreading the word about The Right Horse Initiative and its work, meeting with potential donors and building connections to create tangible solutions.
"It took a lot of time to build trust and have people understand that I'm someone who can help bring structure to what is often seen as the insurmountable number of problems related to at-risk horses," says Counts. She defines an "at-risk" horse as one susceptible of falling into an "inhumane transition." That could be a horse neglected in a pasture, a horse being transported to slaughter in Canada or Mexico, or even just a horse whose owner can't afford to keep it.
"By working together, we—the horse industry and the horse welfare industry—have the potential to solve these problems together," says Counts. "We created the Right Horse Initiative so that at-risk horses in this country have safe places to go."
Innovative Programs
To date, the group has funded more than $5 million in equine programs. One of these was a partnership with the Maryland Horse Council formed in 2018. This pilot program for a mobile ambulatory assessment unit, called the Maryland Equine Transition Service (METS), is funded by the Initiative and operated by the Council. Now any horse owner in Maryland can call METS if they have a horse that needs help. "METS will investigate and connect that owner with a way to get the resources they need," says Counts.
In 2018, the group also funded the Kentucky Humane Society to create a pilot transportation network called TROT. TROT is modeled after the success of companion-animal relocation programs that increase adoptions nationwide.
"One of the biggest barriers for adoption groups is often the cost of transporting horses from one area to another," Counts explains.
Another ongoing project involves working with The Unwanted Horse Coalition, the ASPCA and the American Association of Equine Practitioners Foundation to collect and analyze data related to horse rescue on a national scale to streamline and improve care of at-risk horses.
Thriving on Challenge
In some ways, the challenges Counts has faced professionally have mirrored the ones she's overcome with her horse. She was a beginner rider at the time, and bought him on impulse while she was seven months pregnant.
He was an eye-catching yet untrained 2-year-old, a beautiful bay that she calls a "Fabio horse," with his flowing mane, a tail that dragged the ground and extreme feathers. "I waddled into the barn and the lady selling the horse said, 'This is a terrible idea,'" Counts recalls. "I like to make things hard. I did what we tell everyone not to do."
But she has learned a lot along the way.
"If I had gotten a nice, older, well-trained horse, I wouldn't have learned nearly as fast," she says. "Chile kept me on my toes from day one." Eight years of lessons later, Counts considers herself proficient in the saddle. Chili lives on Counts' farm in Bedford, N.Y. , along with his stablemate Rosie, Counts' husband and three kids, and a menagerie of pets.
The same determination, grit and optimism she applied to her relationship with her horse applies to her work creating solutions for at-risk horses.
"All the programs we're trying to build are risky endeavors, but we have to be willing to take risks and be uncomfortable," says Counts. "If we're not uncomfortable, we're not growing and doing great things."
For more information about The Right Horse Initiative, visit therighthorse.org.
---
This article originally appeared in the January 2019 issue of Horse Illustrated magazine. Click here to subscribe!