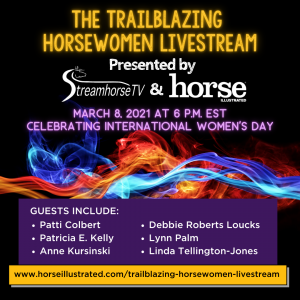 International Women's Day is Monday, March 8. As part of the worldwide celebration of women's achievements and 2021 theme, #ChooseToChallenge, Horse Illustrated magazine and StreamHorseTV are partnering to present a 90-minute livestream Q&A at 6 p.m. EST that evening with six extraordinary equestriennes who will be featured in L.A. Sokolowski's article, "12 Trailblazing Horsewomen." The article will appear in the upcoming May issue of Horse Illustrated, which hits newsstands April 20.
With such an abundance of stories from these featured horsewomen, the conversation with six of the women continues beyond the article during this special event. Livestream guests will include: Extreme Mustang Makeover founder Patti Colbert; Ebony Horsewomen, Inc. founder Patricia E. Kelly; five-time Olympic show jumper Anne Kursinski; Debbie Roberts Loucks of The Movement and Horsemanship Radio podcast; four-time AQHA Superhorse trainer Lynn Palm; and Tellington TTouch Training founder Linda Tellington-Jones, PhD(H).
"With so many amazing women in the horse industry, it was really hard even narrowing it down to 12 women trailblazers for the article," says Horse Illustrated Editor Holly Caccamise. "We're so excited to be able to celebrate International Women's Day with this livestream event and with a partner like StreamHorseTV. We know many in the horse industry look up to these icons."
A salute to female influencers of the horse industry was already on their docket when StreamHorseTV Director of Content Natalie Mayrath presented the idea for a livestream "sneak peek" and Q&A with some of the feature's trailblazing women. Mayrath is a former digital producer on women and money at Yahoo Finance and series producer on "The Vanguard," an Emmy-nominated documentary series about influential women in the media world.
"Our mission is to build a community across equine sports, and getting this powerhouse group of women together in conversation embodies that spirit of breaking boundaries," said Mayrath. "They represent so many different equine industry sectors, all joining in celebration of the woman, and ultimately the horse."
The host of the livestream will be award-winning writer, L.A. Sokolowski, whose Best Feature Single Article at the 2020 AHP Media Awards marked her fourth win in equestrian journalism. "We are all hungry for connection and perhaps more keenly aware than ever about the need to share, nurture and encourage young women—and people—who will be next in taking the reins to our industry," says Sokolowski. "The women I had the privilege of interviewing have much more to say about where our horse industry has been and where it is headed."
For more information on the livestream, presented by Horse Illustrated and StreamHorseTV, and to find out how to tune in, go to www.horseillustrated.com/trailblazing-horsewomen-livestream. The event will be directly accessible on StreamHorseTV's Facebook and YouTube at 6 p.m. EST on Monday, March 8. No tickets or RSVP are necessary.
If you can't attend the livestream, don't worry—a recorded video of the event will be available at www.horseillustrated.com/trailblazing-horsewomen-livestream and www.StreamHorse.TV.
About Horse Illustrated
EG Media is a leading publisher whose titles include the award-winning Horse Illustrated. The magazine for people who are passionate about horses, Horse Illustrated won the 2019 American Horse Publications General Excellence award for Self-Supported Print Publication (circulation 15,000 and over). Learn more at www.horseillustrated.com and follow us on Instagram, Facebook, Twitter, and Pinterest.
About StreamHorseTV
StreamHorseTV, where horse enthusiasts can join to expand their horizons, is the premier centralized livestream, replay, entertainment and education community for all international equestrian disciplines, sports and breeds. Learn more at www.StreamHorse.TV and follow on Instagram, Facebook, Twitter, and YouTube.
About International Women's Day
International Women's Day has been observed since 1911 and is a global day celebrating the social, economic, cultural and political achievements of women and marks a call to action for accelerating gender parity. The 2021 campaign theme is Choose To Challenge, because a challenged world is an alert world and from challenge comes change. #ChooseToChallenge