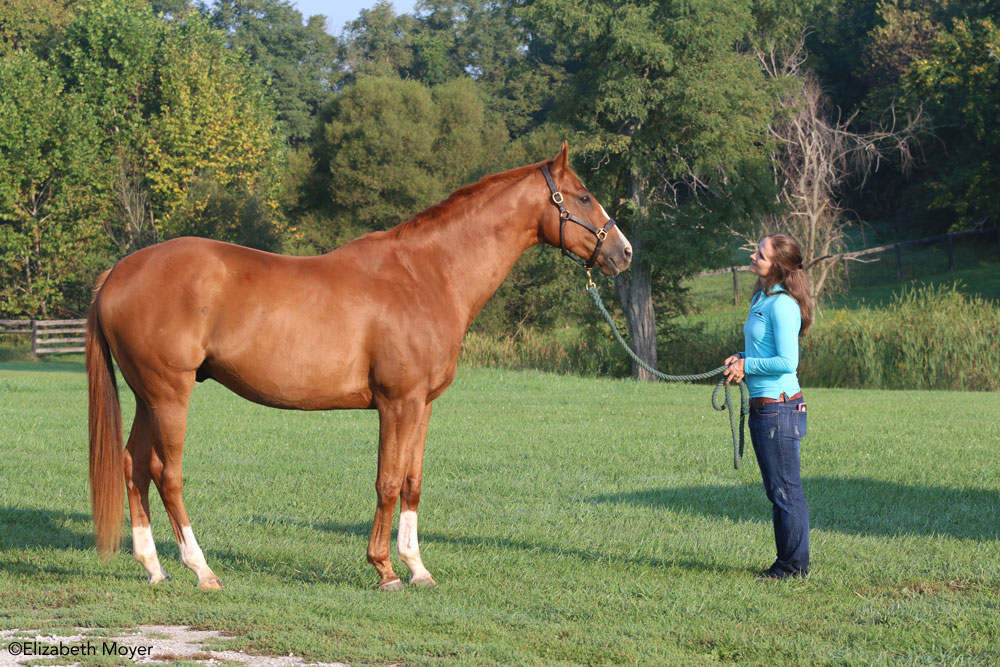 Somewhere between the first day of spring on the calendar and the first day of true spring weather lies the dream of a clean horse. If the reality of the shaggy, dirty beast in front of you is far from the sleek, shiny horse you know he can be, don't despair. Start your horse's spring transformation with a spa day overhaul to get back on the road to his best and brightest.
Get Your Groom On
Before you embark on your horse's spa session, gather the items you need to give your horse a thorough cleanup.
Grooming Tools
Hoof pick; curry combs, including a small, soft curry for sensitive areas; shedding blade, block or similar tool; stiff body brush; soft body brush; mane and tail comb or brush; towels
Grooming Products
Hair polish/shine spray; detangler; conditioner/moisturizer; light body oil; shampoo (pH balanced for horses)
Clippers
No. 10 blades or equivalent; clipper lubricating and cleaning products
Fleece Cooler
Optional Upgrades
Immersible water heater (heats a bucket of water if it's too cold for a full bath or you don't have access to hot water); hair dryer; horse vacuum (handheld vacuum or shop vac)
Hair, Hair Everywhere
If the spring thaw is underway, your noble steed has probably celebrated with a glorious mud bath. Vigorous currying helps remove the mud and lift deep-down dirt to the surface, plus it loosens hair to assist in the shedding process. Be careful to use a soft curry on your horse's sensitive areas, or use a towel.
Follow up with your shedding tool of choice. If you have access to a vacuum, this is the time to use it. Vacuum or not, next use the stiff body brush with short strokes, flicking the brush at the end of each stroke. Then use the soft brush with the same technique. This will help distribute the natural oils that currying brought to the surface.
Now grab a towel, spray it with some of your hair polish/shine product, and go over the entire body again, spraying the towel frequently. Be careful around the saddle area if you're using a product that makes the coat slippery.
Mane & Tail Maintenance
Next it's time to tackle the mane and tail. If there are knots and snarls, first apply a detangler and give it a few minutes to soak in. For both the mane and tail, but especially the tail, start at the bottom and use your fingers to gently separate the hairs and work through the knots. Only use a comb or brush after you've worked out all the tangles with your fingers. If the hair is particularly dry, you can apply a leave-in spray conditioner.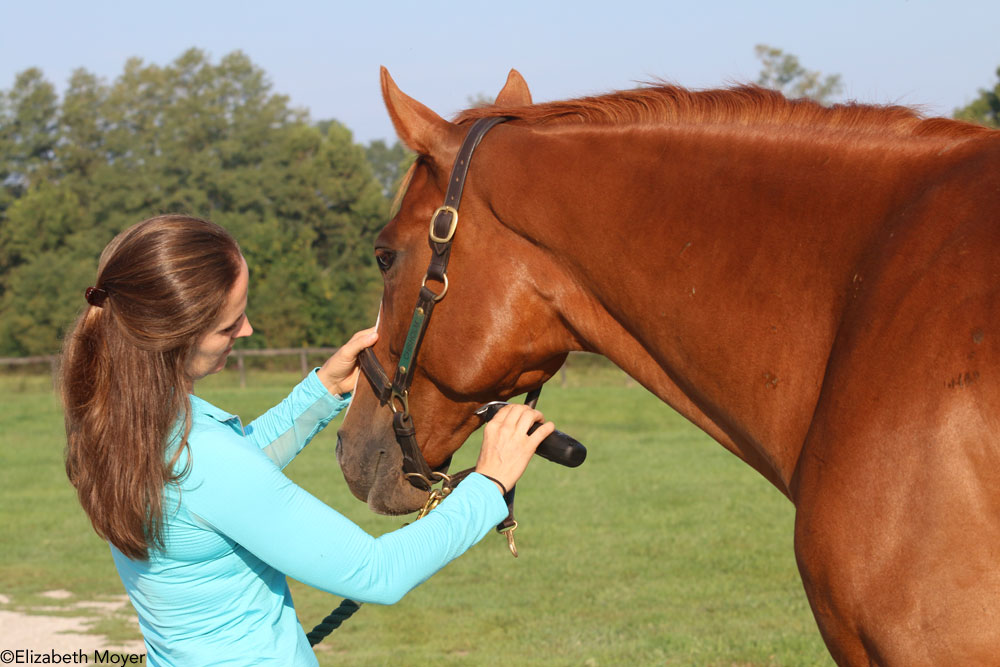 Time for a Trim
By now your horse should be starting to look a little more presentable, but attention to a few small details can make a big difference. Does your horse have a goat beard under his jaw and a mohawk for a bridle path? There's probably long hair around his fetlocks and down the backs of the cannon bones, not to mention "old man" hair tufts coming out of the base of his ears. Time for the clippers!
Because of the still-existing long hair on the rest of your horse, it's best to use No. 10 blades. Anything that clips closer will be too obvious, so save the closer shave for later in the season. Be extra careful to introduce the clippers slowly if you haven't clipped all winter, as even the most experienced horse can take a few moments to get used to the noise and feel of the clippers again.
You can start with the legs or the face, ears and bridle path. Clip in the direction of the hair, and remember, less is more—if you take off too much hair, those areas will look scalped in comparison to the rest of the horse. You simply want to neaten up at this stage.
Peek at the Pedicure
Pay extra attention when cleaning your horse's hooves. If you've been rushing through this in the cold weather, take a moment to give them a thorough inspection. The spring mud can help thrush thrive, and it's easier to deal with if you catch it early.
Bathing Beauty
The decision whether to give a full bath or not depends primarily on the air temperature and whether you have access to hot water. Keep in mind that all that long winter hair will take longer to dry than a summer coat. Plan accordingly, including having a cooler on hand to cover and help dry your horse. If conditions are right for you to wash your horse, by all means go for it. For best results, use a bath mitt or curry that lets you give a deep scrubbing. Rinse and rinse again, making sure there are no suds left.
Wash the mane and tail, using your fingers to get to the roots of the mane and down to the tailbone. Use facecloths or towels and plain water for the face and under the tail.
Weather or Not
If it's still too cold to give a full bath, here's an alternative that works well.
Fill a wash bucket with water as hot as you can stand it (this is where an immersible bucket heater comes in handy). Mix in a couple of ounces of your favorite liniment, a couple of ounces of your favorite hair polish/shine product, and an ounce or so of light body oil.
Dunk a facecloth or small towel into the bucket and wring it out. Starting behind the poll, work your way down and over the horse's body. If it's a chilly day, do both sides of the front of the horse first, using a cooler to cover the back and hindquarters, then pull the cooler up and do the back half of the horse.
The key here is not to soak the hair down to the skin; you simply want to lift the top layer of dirt and dander left even after all that vigorous brushing.
You can use a bucket of plain hot water to dunk the tail, then use a blow dryer (if your horse is used to it) to dry the tail more quickly.
Now that your spa day is complete, your horse should be looking more like the handsome beast you remember.
Molly O'Brien owns two Morgan mares and competes at Morgan shows in the New England area.
---
This article originally appeared in the March 2018 issue of Horse Illustrated magazine. Click here to subscribe!