Americans have been molding the bodies and minds of horses for hundreds of years, breeding for specific traits and qualities to perform a job. But one horse has been bred by Mother Nature to survive in the harshest of environments. That horse is the American Mustang.
Known for its hardiness, versatility and loyalty, the Mustang has recently taken the horse world by storm. Once rarely seen under saddle, Mustangs are now popular for trail riding and starting to be seen in competitive arenas across the country.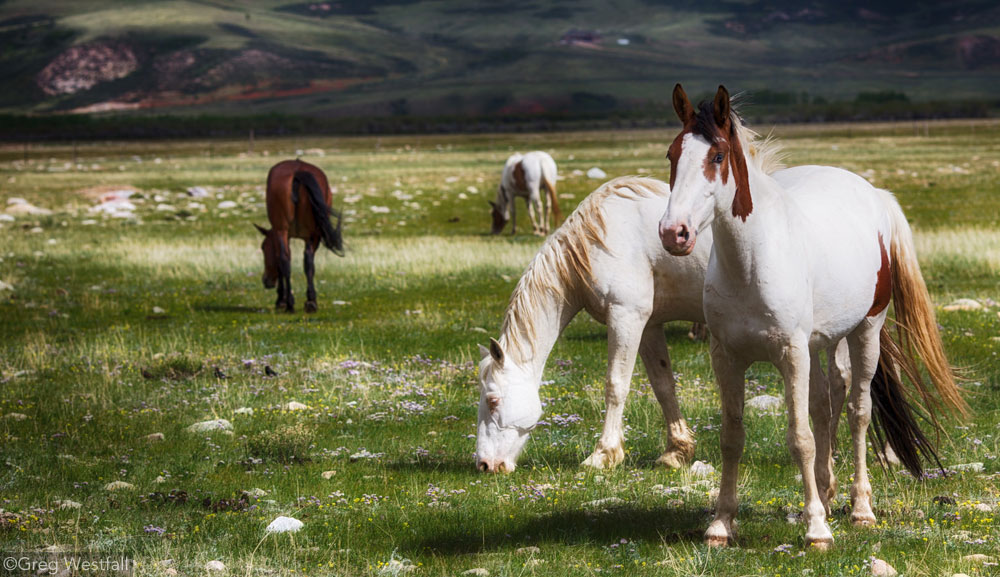 wild horses by greg westfall on flickr.com/CC BY 2.0

Origins
Horses grazed on the North American continent until about 10,000 years ago, but disappeared due to either climate change, hunting by humans, or a combination of the two. Fortunately for humankind, the horse also existed on other continents before going extinct in North America.
In the 1500s, Spaniards brought horses to Central America. In the centuries that followed, the horse made its way north, with escaped domesticated horses forming feral herds that eventually reclaimed North America.
The distant descendants of these New World horses are today's Mustangs. They can be found in the mountains and deserts of the West and the shores of the Southeast. Made up of a conglomerate of breeds, American Mustangs come in many sizes, shapes and colors.
When the first cowboys of the 18th century started working cattle with horses they had captured from the wild, nearly 2 million of these wild horses roamed the West. Today, according to the Bureau of Land Management (BLM), 58,000 horses still live on the range. They are managed by the BLM under the provisions of the Wild Horse & Burro Protection Act of 1971, which calls for the protection, management, and control of wild free-roaming horses and burros on public lands.
The BLM oversees 179 Herd Management Areas (HMAs) and performs periodic roundups in most of these areas to manage the wild horse population. Horses deemed adoptable are made available to the public after they are rounded up. For $125, adopters with suitable housing for a horse can take home an American Mustang.
Finding Homes
Over the past decade, there have been more horses removed from the range than homes available. Formerly wild horses are currently residing in holding pens, off-range pastures, and sanctuaries, costing taxpayers $43 million per year to care for, according to the BLM.
In an effort to increase adoptions and reduce the number of horses under their care, the BLM has been working to promote the American Mustang as a riding horse.
"We routinely promote our animals as athletes that are loyal and sure-footed," says Debbie Collins of the BLM National Wild Horse & Burro Program in Oklahoma City, Okla. "There is a wild horse for all disciplines."
As an example, Collins points out that many adopted wild horses are involved in endurance riding.
"Adopted former wild horse Robin Hood was inducted into the American Endurance Ride Conference Hall of Fame a few years ago," she says. "For every person that loves to ride a wild horse solely for recreational purposes, there is a person competing in open shows, competitive trail rides, team roping and more."
The Extreme Mustang Makeover gives trainers 100 days to get an unhandled Mustang ready for competition. The freestyle portion can include cattle work, bareback or any other special talent.

Mustang Makeovers
In 2001, a non-profit organization called the Mustang Heritage Foundation was formed to support the BLM's Wild Horse & Burro Program and to increase the number of successful adoptions of America's Mustangs and burros.
In 2007, the Foundation created the Extreme Mustang Makeover in order to generate excitement and awareness about Mustangs by showcasing their talents and trainability, according to Kyla Hogan, marketing director for the Mustang Heritage Foundation in Georgetown, Texas.
"The events were also designed to serve as an outlet for the public to adopt a Mustang that has been gentled and has a solid training foundation to build upon," she says.
Since then, approximately 50 Extreme Mustang Makeovers have been held in the U.S. Their purpose is to showcase the beauty, versatility and trainability of the horses housed at BLM facilities. The events give trainers a chance to work with an unhandled Mustang, then offer a showcase for them to present the results of their work. Trainers compete for cash and prizes while displaying the trainability of American Mustangs in hopes of finding a suitable adopter.
"Mustangs are very intelligent," says Hogan. "Nature has selected them to be hardy horses with strong structures, lots of bone and good feet. Many of the Extreme Mustang Makeover trainers will tell you once they earn a Mustang's trust, it becomes the most willing horse they have ever worked with."
After being selected to compete at an Extreme Mustang Makeover event, a trainer is assigned an American Mustang that has been virtually untouched by humans. With approximately 100 days to gentle, halter break and saddle train the horse before the competition, each trainer must build trust and develop a relationship with the horse to ensure the best performance.
In each Extreme Mustang Makeover, horse and rider teams compete in preliminary classes. The horse's ability to maneuver through patterns and/or trail courses is evaluated.
After the preliminary classes are tallied, the highest-placing horses are chosen to compete in the finals. Each finalist has to present a four-minute freestyle performance to showcase their horse's abilities and talents.
Mustangs presented in Extreme Mustang Makeover finals have been ridden bridleless, have stood completely still as their rider stands atop the saddle, have ridden past noisy obstacles without flinching, and demonstrated other training accomplishments. At the conclusion of each event, participating horses are made available for adoption by competitive bid.
"Mustangs that have graduated through Extreme Mustang Makeovers have gone on to compete in dressage, mounted shooting, eventing, stock horse events, roping, endurance racing and more," says Hogan. "They also make excellent trail mounts.
"Because of the number of breeds represented in these horses, adopters can select a horse that is suited for any discipline they choose."
Loving Mustangs
Many of the trainers who have participated in Extreme Mustang Makeovers have become huge fans of these horses.
"Mustangs make great mounts because of their loyalty," says Bobby Kerr, a trainer in Hico, Texas, and frequent competitor in Extreme Mustang Makeover events. "Once they bond with you, they are very trusting. And they are the best trail horses. Most of the ones I've had are easy keepers, good-footed, and are just great using horses."
Kerr owns several adopted Mustangs that he uses in rodeo specialty acts based on his freestyle routines from Extreme Mustang Makeover competitions.
"I now do more than 100 performances a year, showing crowds how trainable and amazing these horses are."
Trainer Nate Eicher, of Eicher's Performance Horses in Reinholds, Penn., first became involved with the American Mustang several years ago and began competing in Extreme Mustang Makeovers.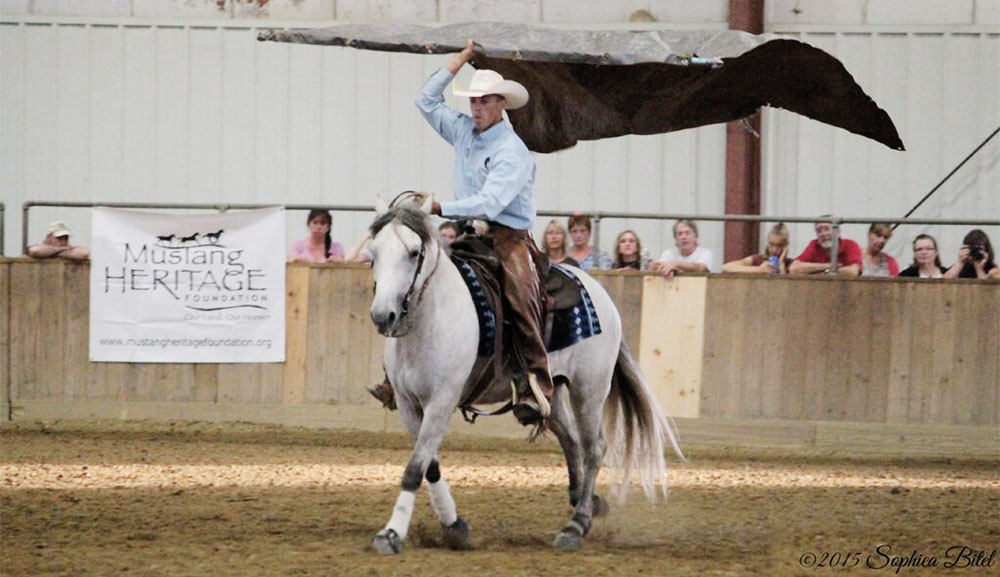 Nate Eicher shows off the unflappability of this Mustang at an Extreme Mustang Makeover competition.

"To prepare the horses for these events, I start them in the round pen," he says. "Through focused ground work, I get their trust and respect. Throughout the training process, I build their confidence by pushing them out of their comfort zone. It's just enough to get them thinking and trusting, but not too much where they lose confidence. With that foundation of trust, respect and confidence, it really is amazing what you can eventually do with these horses."
Once a trainer has worked with an American Mustang and given the horse a good start, the possibilities for that horse are nearly endless.
Terri Tuccillo-Smith of Acton, Calif., sought out an American Mustang when she was looking for her next trail horse.
"I had read that Mustangs can make good trail horses, and that was what I was looking for," she says. "I also wanted a barefoot horse and read that most Mustangs can go barefoot. I'd heard that they are very hardy, have good conformation and are easy keepers."
Tuccillo-Smith found a trained American Mustang mare for sale, purchased her, and named her Annie. The two bonded quickly.
"She is very level-headed, calm, and always willing to do what I ask her to do," says Tuccillo-Smith. "She is great in a herd environment and gets along with other horses. Her feet are great, and she goes barefoot even on the rockiest of trails. She also doesn't require a lot of hay to keep her shiny and in good weight. She never gets into trouble when turned out, and keeps herself safe. She is a great trail horse; she's sure-footed and can go up and down steep hills with ease."
Recently, Annie received certification by the North County Mounted Assistance Unit in Los Angeles, where she and Tuccillo-Smith patrol county parks and events.
"She does very well with crowds and children," says Tuccillo-Smith. "Sometimes busloads of school children come running up to us to ask questions and pet her. She is always steady and polite."
For Tuccillo-Smith, owning an American Mustang has been a unique experience.
"I have never bonded with a horse more than I have with Annie," she says. "I really love her."
Resources:
Bureau of Land Management: www.blm.gov; www.americasmustang.com
Mustang Heritage Foundation: www.mustangheritagefoundation.org
U.S. Wild Horse & Burro Association: www.uswbha.org
AUDREY PAVIA is a freelance writer and the author of Horses for Dummies. She lives in Norco, Calif., with her two registered Spanish Mustangs, Milagro and Rio.
---
This article originally appeared in the December 2015 issue of Horse Illustrated magazine. Click here to subscribe!