Quarter Horse owners are passionate about their horses, and the reason behind their passion is no mystery. The breed's success in various disciplines speaks for itself.
The American Quarter Horse has been famous for years for many things, including its versatility, heart and mind. The legends like Wimpy and Zippo Pine Bar are celebrated and revered, and the famous freestyle rides of horses like Roxy and A Ruf Gal boast universal popularity.
The modern stars of the breed have proved that the Quarter Horse can excel at just about anything. The four horses profiled here are currently or recently at their peak, and there's no doubt that their amazing achievements will be remembered for generations of Quarter Horse lovers to come.
Harley D Zip
One way to know that a horse is making history is when he becomes a Breyer model horse.
Harley D Zip, known as "Harley" at the barn, is now 19. Kerry Papendick and her husband Lew own Highview Ranch Quarter Horses just south of Rapid City, S.D., where Harley is now happily retired.
Harley is the all-time leading point earning horse in the American Quarter Horse Association (AQHA) and the all-time leader in Incentive Fund earnings, with well over $100,000. He has won 16 world championships and has nearly 6,000 AQHA points, with 2,300 being western riding points. It's an undeniably impressive résumé.
Harley has been in training with Jason Martin and Charlie Cole of Highpoint Performance Horses since he was 4 years old.
"Harley and Jason both truly understand what the other is asking and have always seemed to get along," says Kerry. "I truly think that is why Harley has lasted so long at the top of his career."
The Papendicks bought Harley from Joetta Bell for their daughter Kristina in 2003. Bell was an AQHA amateur exhibitor that both of Kerry's daughters, Kristina and Ali, looked up to.
"We will always feel thankful to Joetta for giving us the opportunity to own Harley," says Kerry.

While the majority of Harley's points are from his time in the show pen with Jason Martin, Kerry and her daughters have all had the opportunity to achieve AQHA/AQHYA world championships, multiple Congress championships and multiple National Snaffle Bit Association (NSBA) championships with Harley.
"Harley is so versatile," says Kerry. "He has taught us more about showing Quarter Horses than I can even start to express."
Kerry believes the No. 1 reason Harley is so successful is his correct conformation, and that his presence in the show pen is what makes him so memorable.
"He is built to work," she says. "And in the show pen, his eyes are always alert and looking ahead, and his trademark lead changes are beautiful."
Kerry's description makes it easy to understand why Tom Persechino, executive director of marketing at AQHA, told Kerry that Breyer was interested in using Harley as a model.
"It's surreal," Kerry says about her horse becoming a Breyer. "I used to play with Breyer horses as a child. My daughters would spend hours playing with Breyers. It was very hard to keep it secret until the model was ready for the public."
Kerry says Harley is like family. "He's smart, kind and is truly the best horse I have ever had the pleasure of sharing my life with. We love him."
Honey Bright Dream
In 2009, Honey Bright Dream made a name for herself in the dressage and Quarter Horse worlds. Teamed up with owner and rider Patrick Marley, the two successfully competed in dressage at Grand Prix, the highest level offered in this Olympic sport.
Standing only 14.3 hands, Honey Bright Dream, known as "Honey" or "Queen" around the barn, came to Marley in North Carolina in 2003. When Marley and Honey's relationship first began, it was anything but perfect.
"She's been with me since the summer of 2003, and I purchased her in April 2004," he explains. "We didn't like each other at first. I had an ego—I thought she should know who I was. She thought I should know who she was."

Once the two understood each other, their success steadily grew. In 2006, Honey won All-Breeds Award recognition with the United States Dressage Federation (USDF) at the Prix St. George level, one of many noteworthy achievements. In 2008, Marley decided the pair was going to do Grand Prix.

"Her growth in the dressage circuit was so successful," he says. "It was blind ambition." In addition to cultivating the desire to succeed, Marley really focused on correct training and a strong foundation.
"Honey is a worker," says Marley. "She wanted it as much as I did. She really speaks to the versatility of the breed. Quarter Horses don't quit."
Honey and Marley worked with trainer Tami Batts to finesse their skills.
"Patrick and Honey came to me with most of the Grand Prix already there," says Batts. "I got to do the finessing work and show-ring preparation."

Batts says Honey didn't have a huge lift in her piaffes, but they were really technically correct—always in diagonal pairs and very on the spot.
"Diagonals were one of her super qualities, and canter pirouettes were very easy for her," explains Batts. "She was just special.
"Honey has Quarter Horse written all over her," adds Batts. "There was no denying that. She surprised me. When you saw them coming around the ring, you smiled. It was real dressage and it was really good."
"Tami gave us a lot of confidence and was so respectful with how she trained my horses," says Marley.
Honey, now happily retired, has inspired dressage and Quarter Horse enthusiasts around the globe.
"I've never had a horse touch me the way this horse has," says Marley. "I want to express my gratitude to her."
Lil Ruff Catalyst
Ranch pleasure is growing in popularity, and a shining star in the ranch pleasure world is Lil Ruff Catalyst, known at the barn as "Stud." Stud, owned by Mozaun McKibben and Hillary Zimmerman of Whitesboro, Texas, is a black stallion who commands attention.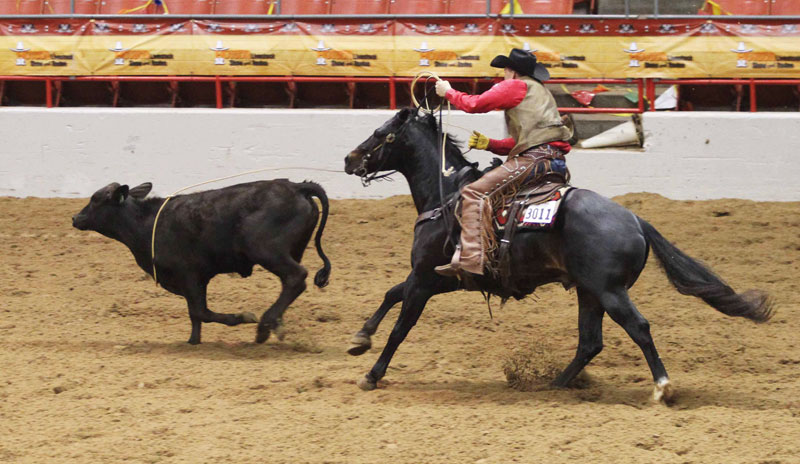 Stud has won money in cow horse competitions, earned several world championship titles in the Stock Horse of Texas (SHOT) open world championships and also won championships in the Ranch Horse Association of America (RHAA).
Additionally, the 8-year-old is a three time AQHA World Champion in versatility.
"He's so honest," says McKibben. "He's just one of those great show horses."
To compete in versatility, a horse needs to be talented in seven disciplines: reining, roping, cow horse, trail, ranch pleasure, halter and cutting.
"It takes a super talented horse," says McKibben. "He's the most versatile horse I've ever had. He's just a great horse. It doesn't matter what you do—he's good at it."
McKibben bought Stud as a yearling and started and trained him.
"He taught me a lot about horses," McKibben explains. "Horses like him are really smart and trainable. I have to push him, but I want to push a horse in the show-ring. I can win pushing, but I can't win pulling."
McKibben says Stud can be taught anything. He knows how to sit down like a dog just on a voice command, and he'll come and stay. He's been used at ranch rodeos and team roping.
More shows are in Stud's future, and you can be sure he'll command the attention of any ring he enters.
"Stud has a big, soft eye," McKibben says. "He's balanced and pretty. He's a really nice horse."
Spooks Gotta Whiz
With a score of 233.5, Spooks Gotta Whiz (aka "Baby Spooks") and renowned reiner Shawn Flarida won the individual gold medal in August at the 2014 Alltech FEI World Equestrian Games (WEG) in Normandy, France.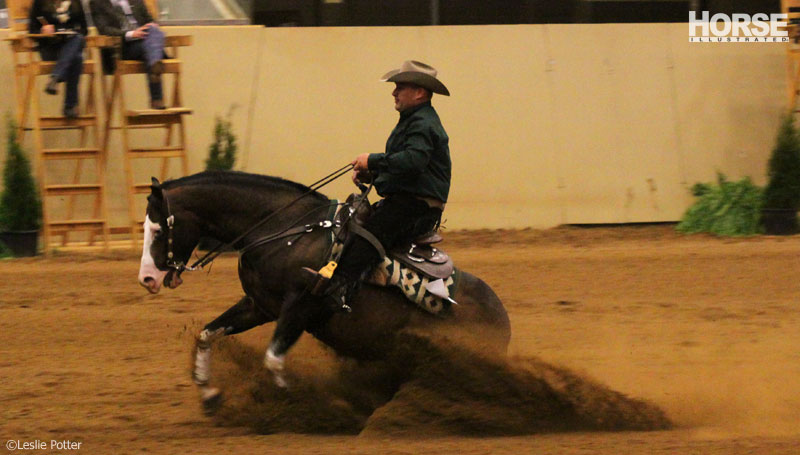 When owner Michell Anne Kimball brought Baby Spooks to Flarida to ride, she told him, "I'll let you ride my horse, but you've got to get me to France." It's clear that Flarida and Baby Spooks quickly became a successful match; the pair helped the United States win gold in the team reining competition as well.
Kimball didn't grow up in the Quarter Horse world. In fact, she spent many years as a successful hunter/jumper rider before buying her first Quarter Horse in 2008. She purchased Baby Spooks in 2009.
"It wasn't an accident to pick him out," Kimball says. "It was something I was looking for. He's absolutely stunning in the way he's put together."
Baby Spooks won his first futurity in 2010, and at that point, Kimball set her sights on WEG. Flarida and Baby Spooks have been working together since January 2012.
Baby Spooks is double registered—he's an American Quarter Horse and an American Paint Horse.
"He's a shining example of the best Quarter Horse pedigrees in history," says Kimball. His movement, disposition, athletic ability and conformation are classic examples of what a Quarter Horse should have.

Kimball's goal of getting to WEG wasn't easy. She had to make tough decisions for Baby Spooks. She had to trust her horse, his ability and Flarida. And it paid off.
"Baby is the culmination of a 30-year equine career for me," says Kimball.

Flarida and Baby Spooks will continue to work together after their WEG success. Kimball says that while Baby Spooks is a breeding stallion, his riding work isn't done. During the off season, Flarida will keep him in shape, try to earn his AQHA superior award, and do the occasional exhibition.
Kimball describes Baby Spooks in one word: "Awesomeness."
ALLISON GRIEST is a freelance writer based in Texas. Follow her on Twitter: @allisongriest.

---
This article originally appeared in the December 2014 issue of Horse Illustrated magazine. Click here to subscribe!