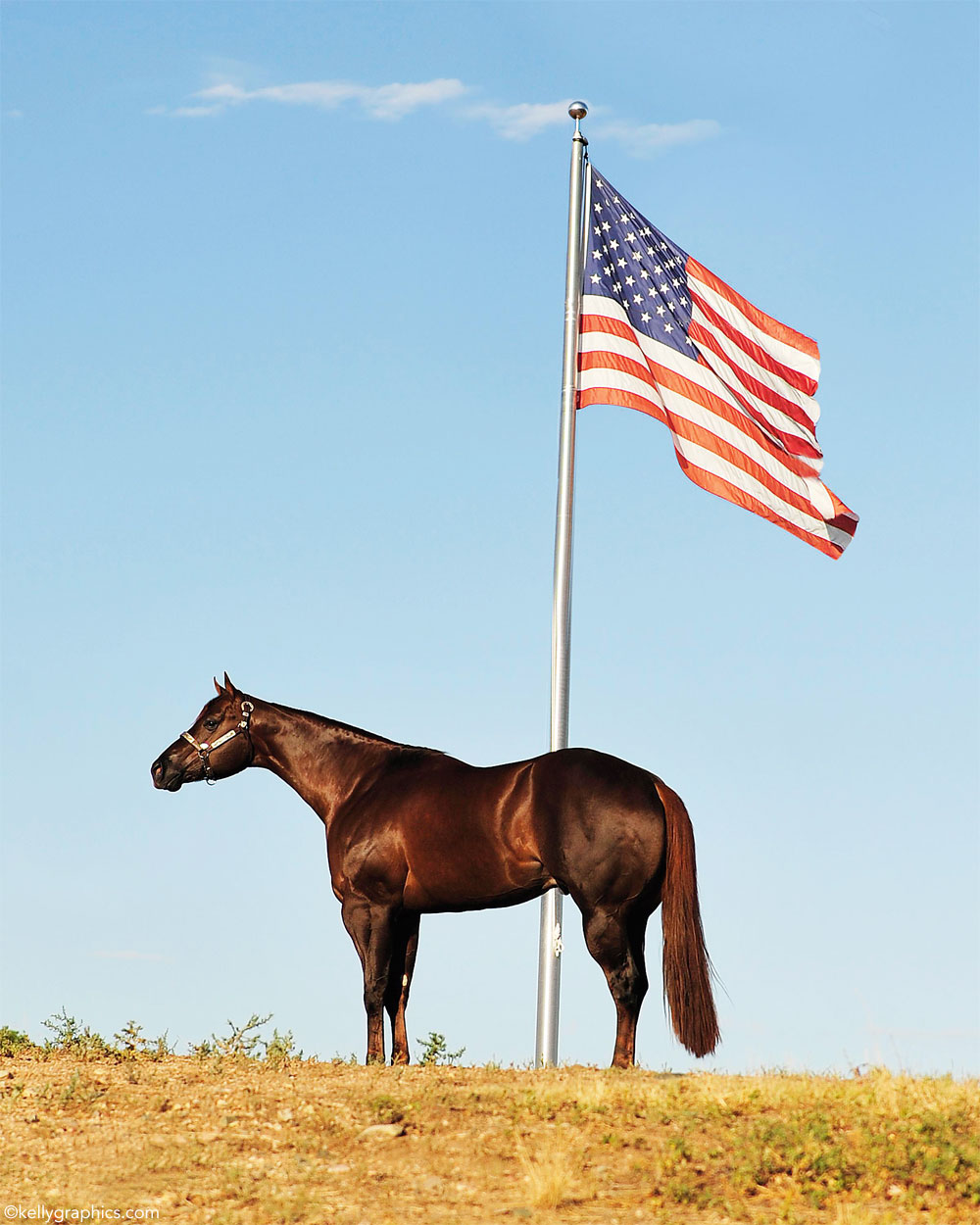 Photo: kellygraphics.com/Courtesy Parkinson Quarter Horses
The American Quarter Horse might be synonymous with cattle ranching, reining, barrel racing and many other western disciplines, but his list of talents doesn't end there. From maintaining his namesake quarter-mile racing prowess to English riding and driving, the American Quarter Horse's résumé is well diversified.
"With all of the different bloodlines, [American Quarter Horses] can go in many directions, from pleasure, racing, ranching and hunter/jumpers, just to list a few," says Lainie DeBoer, an American Quarter Horse Association (AQHA) Professional Horsewoman, and specialized judge, and owner of DreamField Stables in Minnesota.
"I think it's because they are naturally athletic horses with a good mind. They tend to be 'good guys,' and that type of horse appeals to many types of people.
"The Quarter Horses in my barn show in working hunter, equitation over fences, hunter hack, hunt seat equitation, and pleasure driving," adds DeBoer, who has earned 16 AQHA world championship titles in hunter/jumpers, and trained clients to a combined 50 world championships and multiple All American Quarter Horse Congress championships.
Photo courtesy Lainie DeBoer
Quarter Horses Can Jump
Modern breeding has expanded the breed's type spectrum to suit different riding sports, but DeBoer ultimately believes the Quarter Horse excels in many activities because of its trainability.
She attributes the Quarter Horse's hunter/jumper success to its athleticism, sensibility and expressiveness. "Their movement is balanced and sweeping, and their conformation lends itself to jumping in a beautiful style," she explains. Thanks to the Quarter Horse's combination of talent and a pleasing temperament, DeBoer finds the breed easy to work with and suitable for riders of all levels, from youth to adult amateurs.
Photo: KC Montgomery/Courtesy Lori Bucholz
The Heart to Drive
One of DeBoer's clients, Lori Bucholz, emphasizes the Quarter Horse's kind demeanor and dedicated work ethic as the foundation of the breed's versatility. Bucholz has competed Quarter Horses in just about every class offered, but she focuses primarily on over-fences classes, hunt seat equitation, and pleasure driving, in which she trains with Kevin and Melissa Dukes.
"For the driving events at the Quarter Horse shows, a horse must have a great mind to tolerate pulling a squeaky cart and being passed by horses he can't always see, and to perform with only minimal cues from his driver," says Bucholz. "Quarter Horses excel at this event, as they do all their classes, because they love their people and just want to please."
A Racehorse, of Course
Jessica and Jordan Hadley, a husband-and-wife team that breeds and trains American Quarter Horse racehorses in Utah, have seen their athletes retire from the track to take on many different jobs. Jessica attributes the breed's flexibility to its even temperament and physical prowess.
"In our business, their speed [makes them successful], but their mental and physical ability are also very sought after," says Jessica. "Afterwards, we are able to resell or rehome our horses to a new career because the Quarter Horse is such a versatile breed.
"Our racehorses typically go on to be barrel horses or roping horses after the track," adds Jessica. "Some have even made handy ranch and using horses. The American Quarter Horse is just plain nice to look at, too."
Jessica believes there are no limits to what the Quarter Horse can do. "We have dead-broke kids' horses all the way to high-powered racehorses—all American Quarter Horses," she says.
To learn more about the American Quarter Horse and all it can do, visit www.aqha.com.
Kim Klimek is a freelance writer based in Kentucky.
---
This article originally appeared in the June 2016 issue of Horse Illustrated magazine. Click here to subscribe!