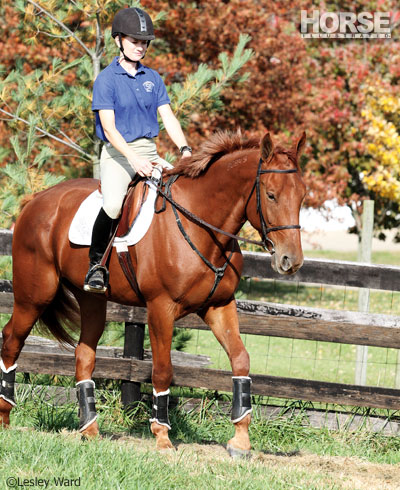 Standardbreds are best known as harness racers. But when their trotting or pacing days are over, they're forging new career paths in other equestrian sports.
The United States Trotting Association's (USTA) Standardbred Equine Program works with national equestrian sport organizations to establish awards for people who participate in nonracing pursuits with Standardbreds. Regional Standardbred pleasure horse organizations across the country promote the breed for nonracing sports as well. The USTA maintains a list of these groups on
its website
.
If you're in the market for a horse and have considered adoption, you might want to look at an off-the-track Standardbred. Why? Dot Morgan, executive director of New Vocations Racehorse Adoption Program, offers several reasons these horses make good companions in other equestrian activities. New Vocations retrains and re-homes off-the-track Thoroughbreds and Standardbreds in several locations across the country.
1 Tolerance. Standardbreds put up with mistakes people tend to make in handling, riding and driving them.
2 Durability. These horses are selectively bred for conformation that can withstand thousands of miles of training.
3 Confidence. In harness racing, the horses go to the track alone (without a pony horse). They are equally as happy to go out on the trails on their own.
4 Great mind. On the track, Standardbreds must trot or pace as fast as many Thoroughbreds can gallop, without breaking stride. A Standardbred puts forth a lot of effort under intense pressure from his driver and the other horses without losing the presence of mind to stay in gait.
5 Strong feet. The breed's thick hoof walls can withstand many miles on hard surfaces. The typical Standardbred that has raced for two to three years has over 2,500 miles in harness. It's common for a Standardbred to race seven to 10 consecutive years, adding up to over 10,000 miles in harness.
6 Willing attitude. Historically, the Standardbred served his family as a means of transportation. Therefore, the breed is generally very conscientious and wants to please.
7 Endurance. Initially bred to travel long miles at some degree of speed, the Standardbred is very similar to the Arabian in endurance. According to a Cornell University study, Standardbreds that were trained for racing will have a residual level of conditioning superior to other breeds.
8 Obedience. Standardbreds do what you ask of them without fussing. They typically have excellent manners and don't develop bad habits because of their professional handling.
9 Training and Experience. It takes one to two years of solid training six days a week to develop a Standardbred into a racehorse. In addition to conditioning, this training includes frequent shipping, countless shoeings and plenty of baths, along with time spent on the cross-ties.
If you're considering an off-the-track Standardbred as your next show, recreation or companion horse, read "Adopting a Standardbred," below, for some helpful resources.
Breed History
In the 19th century, it became a favorite pastime to race the family horse along country roads. Villagers held friendly trotting races against one another using the horses that normally carried them to and from town. Eventually, competition grew serious and horses were selectively bred to be faster. The Standardbred traces its lineage to one of these horses, Hambletonian 10, born in 1849. The English Thoroughbred, Norfolk Trotter, Narragansett Pacer (now extinct), Canadian Pacer, Hackney and Morgan also made their mark on the Standardbred.
The first harness racing tracks were developed in the mid-1800s, but it wasn't until 1879 that the name "Standardbred" was officially used: Trotters had to complete a mile within a standard time to be registered as part of this new breed. (Pacers didn't enter the picture until later.) At the time, the National Association of Trotting Horse Breeders maintained the studbook. Today, the United States Trotting Association oversees it.
For more information about the Standardbred, visit the United States Trotting Association at www.ustrotting.com.
Adopting a Standardbred
The United States Trotting Association has a list of adoption organizations by state at lifeafterracing.ustrotting.com/find-a-standardbred.cfm.
Further Reading
Teaching Your Off-Track Standardbred to Canter
Win*Win Program from the SRF
---
This article originally appeared in the January 2014 issue of Horse Illustrated. Click here to subscribe.