A Lipizzan competing at the 2014 U.S. Dressage Finals.
From the days of royal courts with ornate livery and riding halls to today's no-frills arena, enter the reign of the new Baroque horse. Today, riders of all types can enjoy a talented mount that's not only easy to sit, but safe, sane, and smart as well.
With intrinsic ties to the past, Baroque breeds bring a certain glamour to the modern horse world. Aficionados tend to be devoted fans, sold on the ease of training and riding these horses are famous for. This tractability and athleticism is the result of centuries of focused breeding. Increasingly, Baroque horses are garnering top honors in a multitude of disciplines as riders realize their exceptional combination of talent and trainability.
Among the most popular Baroque breeds today are the Andalusian, Lusitano, Friesian, and Lipizzan. In fact, past infusion of bloodlines from one Baroque breed into another has resulted in many mutual influences, while still maintaining each breed's own distinctions. Historically, many Baroque breeds descended from Iberian horses and were developed into their own breed types within their respective countries. Typically these horses were first developed as war mounts, and later were bred for the ruling families of Europe to ride and for ceremonial use. To this day, these horses are closely linked to their countries' culture and heritage.
The Horse as Art and Culture
The extravagant style characteristic of Baroque horse breeds is linked with the similarly ornate style of art, ornamentation and music that flourished in the Baroque period, a time when these horses first enjoyed their heyday. Baroque style dominated Europe after the Renaissance in the 17th and 18th centuries. Baroque artwork often features these breeds; in fact, horsemanship and riding were cultivated as an art form in their own right. The "Baroque horse" descriptive refers to the majestic nature of these horses and the era in which they were originally developed and celebrated.
Haute école, the "high school" of classical dressage known for extreme lightness, collection, and airs above the ground, took center stage among the nobility of the time. The ruling class held equestrian pursuits in high esteem and established riding schools that refined the equestrian arts.
Today that grandeur can be experienced at one of the classical riding schools founded by the ruling class of the Baroque period, such as the Royal Andalusian School of Equestrian Art in Jerez, Spain, and the Spanish Riding School in Vienna, Austria, whose name reflects the strong Spanish influence seen in horse breeding during the Baroque period.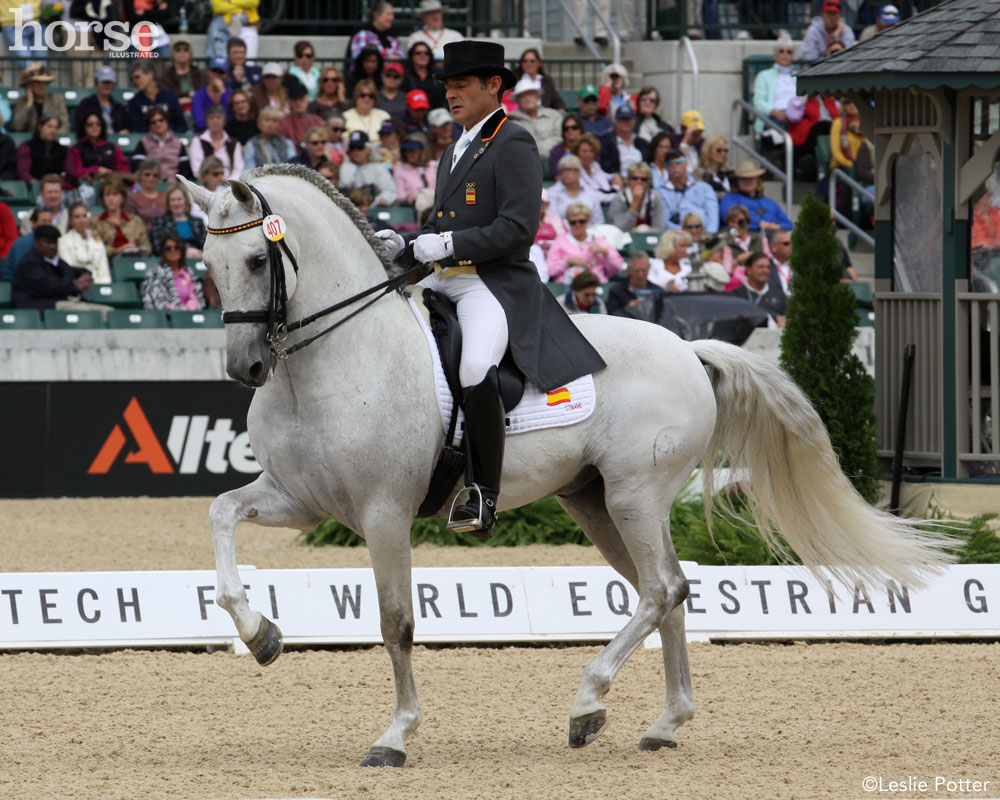 Iberian horses are highly regarded dressage competitors. The PRE horse Fuego XII with rider Juan Manuel Muñoz Díaz captivated the audience at the 2010 Alltech FEI World Equestrian Games.
Iberian Horses
The two most well-known Iberian breeds are the Andalusian (Pura Raza Española, or PRE) from Spain and the Lusitano (Puro Sangue Lusitano, or PSL) of Portugal. These horses are often collectively referred to as Andalusians here in the United States, although their home countries refer to them according to their specific lineage, explains Julie Alonzo, president of the International Andalusian and Lusitano Horse Association (IALHA).
"Iberian horses are renowned for their athleticism, incredible minds, and great beauty," says Alonzo. "They are sensitive horses with great natural aptitude for collection and naturally smooth gaits. Andalusians and Lusitanos make terrific riding horses, but also excel in driving disciplines. Along with their physical beauty, a well-bred Andalusian or Lusitano should be smart, easy to work with, and quick to learn."
Unlike some breeds of horses that require the rider to work hard to maintain impulsion, the Iberian horses are typically very responsive. With most Andalusians and Lusitanos, you merely have to think "go" and the horse will be there, says Alonzo.
These strong, compact horses can be any color, but, particularly in the case of the Andalusian, are predominantly gray.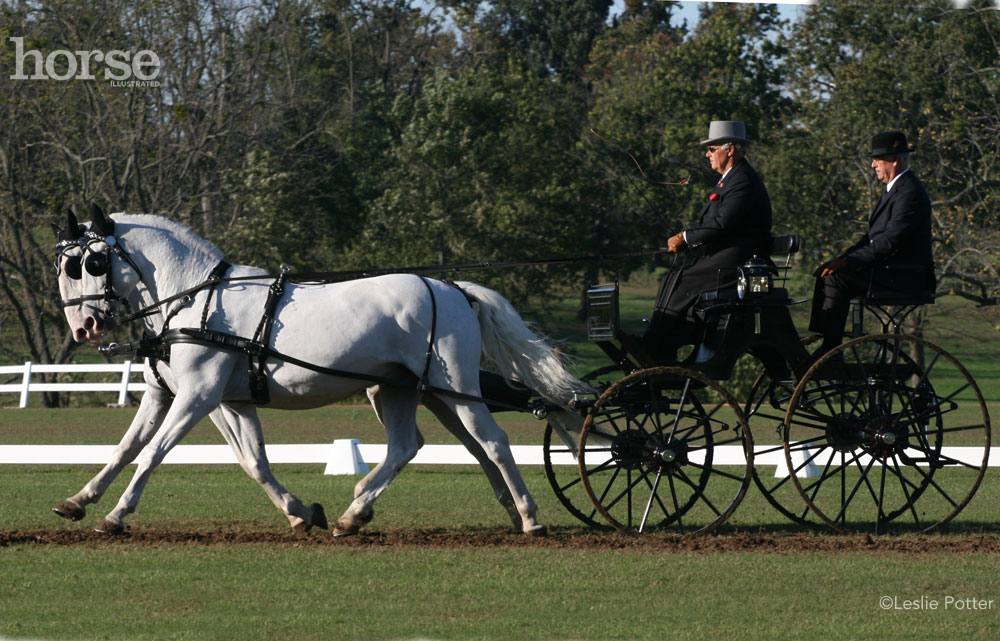 The Lipizzan and other Baroque breeds are also used for driving. Shown here: driver Rae Fischer with a pair of Lipizzan horses at the 2009 Kentucky Cup CDE
The Lipizzan
Austria and Slovenia's Lipizzan traces its roots to the Hapsburg empire, and over 400 years later, is still in the spotlight as part of the famed Spanish Riding School of Vienna. The strong, compact, and predominantly gray Lipizzan horses are used for both riding and driving, although these horses are notably exceptional at dressage, especially haute école and airs above the ground.
After three decades of competing, FEI-level dressage trainer and USEF 'r' dressage judge Kate Phillips of Mississippi View Farm in Minnesota moved from breeding and riding warmbloods to Lipizzans. After huge success with her first Lipizzan, Phillips was sold on the breed, finding them perfect for the rider looking for a smaller, more manageable mount that's still capable of advanced dressage.
"Lipizzans are easy to ride but sensitive enough to be reactive for a good rider, as well as a size that's not physically difficult to manage," says Phillips. "They are innately smart, forward without being hot, and learn really quickly—they are like riding a little Lamborghini." Phillips goes on to explain that the Lipizzan's natural talent for piaffe, passage, flying changes, and pirouettes is further enhanced by the current trend toward also breeding for the ability to extend.
If you are looking for a sense of connection with your horse, Lipizzans aren't shy about human contact. "They are 'in your pocket' horses," says Phillips.
Friesians are in demand as dressage horses.
The Friesian
The Friesian, a flashy breed from the Netherlands' Friesland province, originated as a war horse, becoming a working farm horse that was refined over time into a riding and driving horse. This striking black horse is known for its abundant mane, tail and feathering. They tend to be large and have animated movement.
"Friesians are very charismatic," says Jason Tice, Executive Director of the Friesian Horse Association of North America (FHANA). "Their gentle and willing nature makes them versatile, while extremely strict breeding guidelines bring value to the breed." These striking horses, now in hot demand for dressage and driving pursuits, faced near extinction when mechanization rendered them obsolete as utilitarian farming partners.
The "Wow" Factor
There's no denying it: Baroque horses possess a distinctive "wow" factor, which has held us enchanted for centuries. "Baroque horses' handsome appearance, with their long, flowing manes and flashy movement, are always the center of attention," says Tiana Hornickel, a Friesian and Andalusian breeder at Classical Baroque, LLC, located in Illinois.
Today Baroque breeds are enjoying a strong comeback as they increasingly break into the realms of sport horse competition with amateurs and professionals alike. "I fell in love with them because of their people-oriented personalities and nobility that set them apart from other breeds," says Hornickel. "Baroque horses have great minds and are willing to please. Being an amateur myself, they tolerate my mistakes. For professionals, they are athletic enough for the show-ring, smart, and easy to teach. A great mind is not something you can train into horses."
While appreciated by equestrians, these captivating equines also win over general public. Their stunning looks and trainability make them popular choices for riding exhibitions, equestrian theater productions and starring film roles. Indeed, these majestic horses bring the past to modern life in often extraordinary ways.
NATALIE DeFEE MENDIK is an award-winning journalist specializing in equine media. Her personal horse passions include dressage and vaulting. Visit her online at www.mendikmedia.com.
---
This article originally appeared in the March 2015 issue of Horse Illustrated magazine. Click here to subscribe!