Getting a feel for your Miniature Horse's stride can be helpful when it comes time to introduce him to jumps. Kim Sweatt, who competes her Miniature Horses in in-hand hunters and jumpers, starts by observing a Mini's natural movement over ground poles at the walk, trot and canter.
"My Minis are comfortable navigating a series of ground poles when they are set 16 to 18 inches apart for walk-overs and 18 to 24 inches apart for trot-overs, with one front and one rear hoof landing between each pole," says Sweatt. "By watching a horse move through the poles, you can see if he is comfortable—not jammed or stretching too far between obstacles."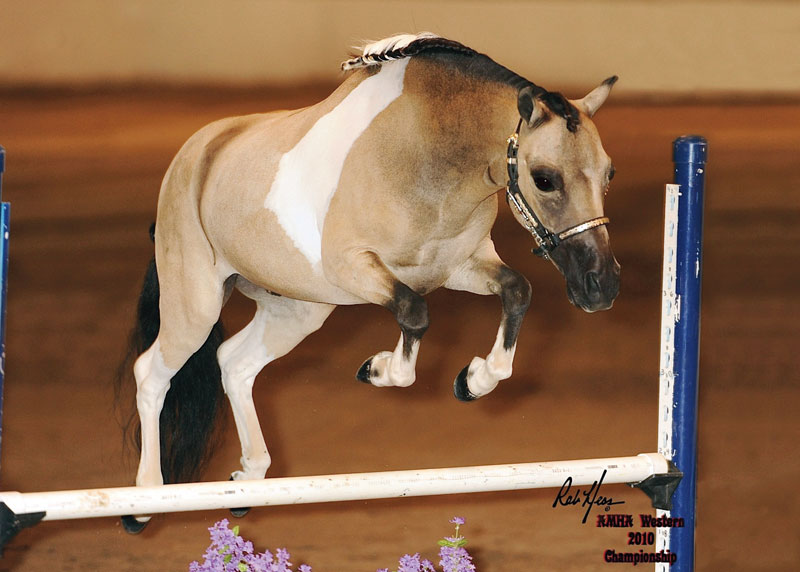 Once you are familiar with your Mini's stride, you can use cavalletti exercises (raised ground poles) to improve his form and rhythm.
"Working in an arena over a series of cavalletti with distances dictated by length of stride is a great way to teach a horse to pick up his feet, or elevate, in a relaxed manner," says Sweatt. "A horse will gain confidence by working first at a walk (on a loose lead) and then at a trot, and with repetition he learns to judge distances on his own."
When your Mini shows more confidence, Sweatt says you can adjust the distances between your cavalletti so he learns to naturally lengthen and shorten his stride on his own, creating more fluid movement. This proves helpful when competing in a halter obstacle class, in which ground poles are commonly set with various distances that are usually tighter than the average Mini's natural stride.
Back to Teach Your Miniature Horse to Jump >>
---
This article originally appeared in the May 2014 issue of Horse Illustrated magazine. Click here to subscribe!