When you consider famous draft horses, the Budweiser Clydesdales are probably the first to come to mind. In addition to making appearances in parades and at events across the country, they're also the stars of the renowned Budweiser Super Bowl commercials every winter. But there are other successful hitches, as well, one being the black and white Clydesdales of Express Employment Professionals in Oklahoma, a company helping people find employment options.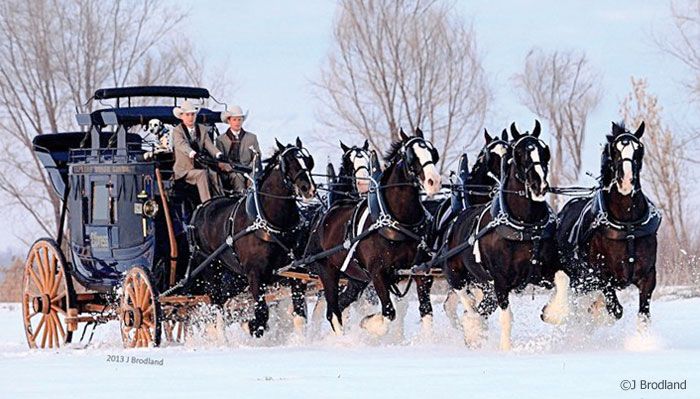 In addition to winning world and national championships, including their most recent six-horse-hitch world championship at the 2013 Calgary Stampede in Alberta, Canada, the Express Clydesdales have participated in many parades and promotional events: Macy's Thanksgiving Day Parade, the Tournament of Roses Parade, the International Finals Rodeo, and the Professional Bull Riders World Finals. They even escorted England's Duke and Duchess of Cambridge, William and Kate, to a private reception welcoming them to Calgary in 2011 when they helped kick off the Calgary Stampede.
"[The hitch] started out as a hobby, and then that turned into competing with them, and that turned into them becoming ambassadors for the company," says driver Josh Minshull. "As [Express Employment Professionals CEO Bob Funk] toured with the Clydesdales, he realized how much of a hit they were with people. Not a lot of people have the opportunity to see Clydesdales up close, let alone black and white Clydesdales; they're so rare that they draw attention to themselves."
Learn more at www.expressclydesdales.com.
Back to Draft Horses >>

---
This article originally appeared in the December 2013 issue of Horse Illustrated. Click here to subscribe.