Like its fellow British native ponies, the Fell Pony is known for being hardy and surefooted, a result of northern England's rugged moors, or "fells," where the breed developed. Add in a friendly, easygoing demeanor and it's no surprise that the Fell became popular with the locals for everything from packing to riding, making it the versatile pony it is today.
A Beautiful Mind
The Fell Pony's stamina led Melissa Kreuzer and her stallion Stennerskeugh Danny Boy to competitive trail riding.
"This year, in our second full year in the sport, he has really taken everything to heart," says Kreuzer, chairman of the Fell Pony Society of North America (FPSNA). "He got as high as third in the nation in the American Competitive Trail Horse Association's rookie pleasure division by the end of 2015."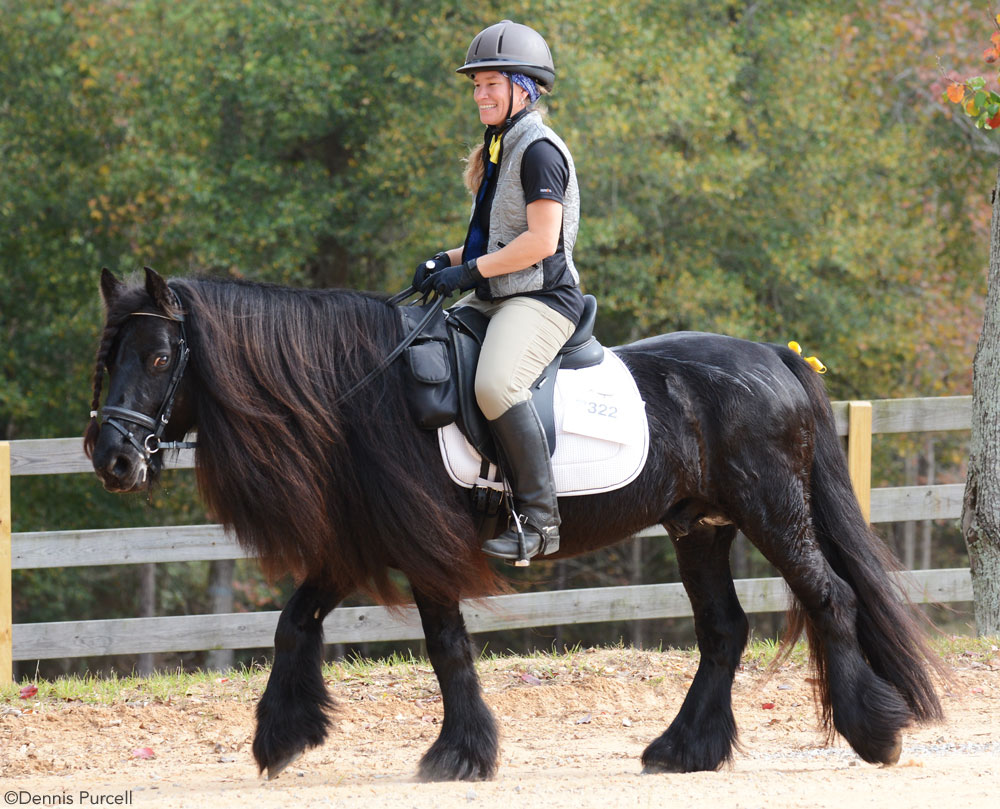 Sennerskeugh Danny Boy enjoys competitive trail activities. Photo: Dennis Purcell/Courtesy Melissa Kreuzer
More than the Fell's brawn and good looks, the pony's mind is what drew Kreuzer to the breed.
"The Fell Pony is a willing partner, honest in his actions and more intelligent than can be imagined," explains Kreuzer. "It's an athletic pony able to take on nearly any job, from dressage to trail riding. And its easygoing nature makes it a natural choice for carriage driving, as the Fell isn't easily spooked.
"Over the past decade, I have done nearly every discipline with my Fells and have never been disappointed," continues Kreuzer. "We've done endurance riding, dressage, pleasure driving, sporthorse in-hand and more."
One Size Fits Many
One pony that's making his way through the levels of dressage is Lisa Lindholm's gelding, Laurelhighland Victor, of Bill Solyntjes' Brandywine Farm. Together, Lindholm and Victor have competed through First Level dressage, and trainer Kate Mikulay rides him at the FEI level.
"Victor competed at Third Level last year and won the championship for the United States Equestrian Federation all-breeds program," says Lindholm. "He'll be doing Prix St. Georges this year."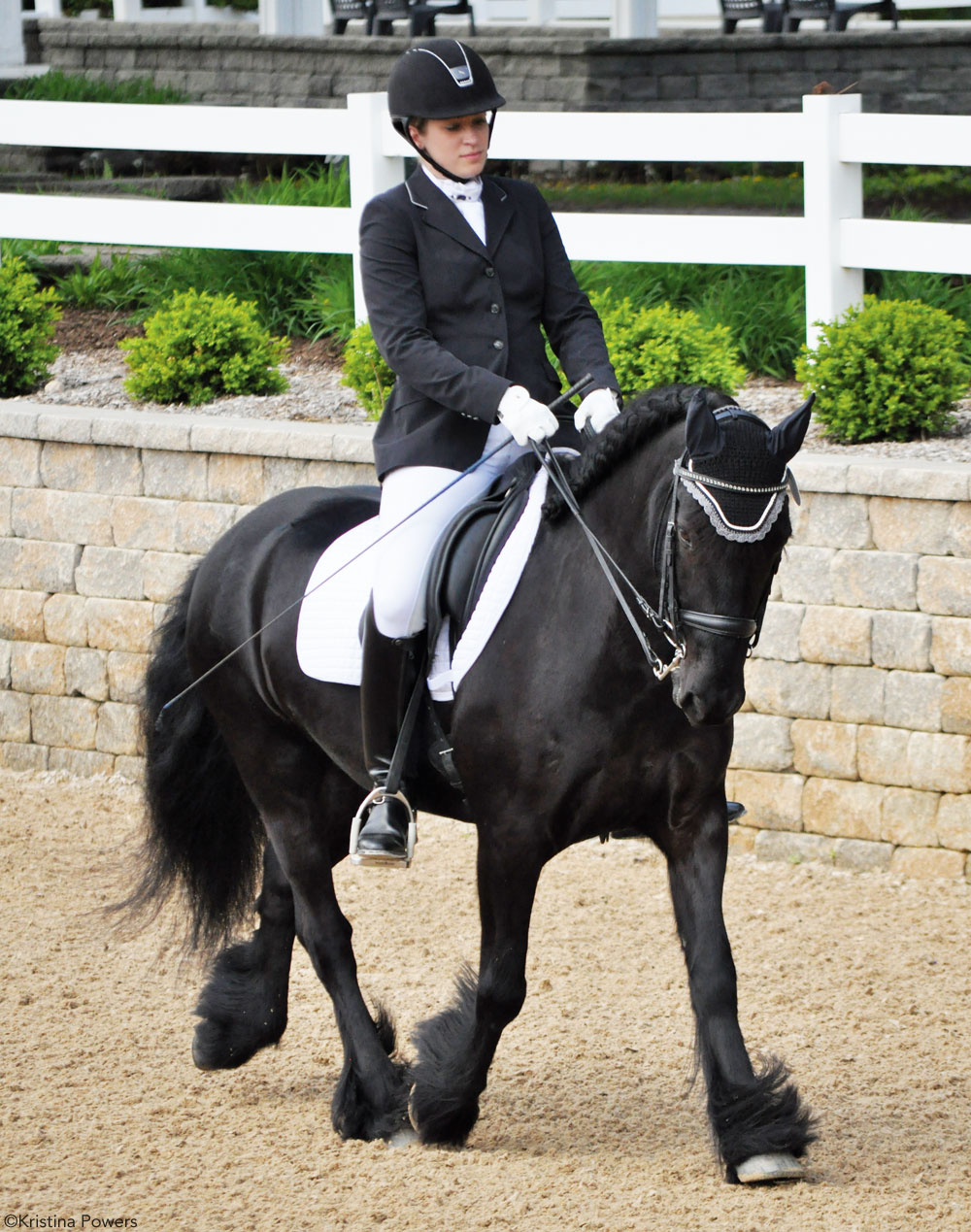 Laurelhighland Victor is making his way through the levels of dressage, competing at Prix St. Georges this year. Photo: Kristina Powers/Courtesy Lisa Lindholm.
Lindholm says Victor is a showstopper who stands out among the many warmbloods at competitions and enjoys the extra attention. "He's a really friendly looking pony and is always very chipper," she says. "'Cheeky' is my word for him. And they're all like that. Fells all have a friendly, playful and calm demeanor. They have a really big personality and like to do funny things and just be cute.
"They make a great pony for kids to ride, but I think the fact that kids and adults can ride them makes them very diverse," continues Lindholm. "You don't look like a big adult on them. The Fell's barrel fills out the adult leg well—my trainer is 5'10"."
Ride or Drive
Nichole Jansen admits that she couldn't resist the Fell Pony's charm, warmth and talent.
"They're so quiet-natured, and they pick up quickly on whatever you're teaching them," says Jansen. "It's a wonderful breed—completely different from any other."
The pony Jansen works with, Dream Hayven Double Agent, competes mainly in carriage driving and open pleasure classes with his owner, Helen Rich. Last year, he was named the FPSNA Supreme Champion Fell Pony in driving.
A Rare Breed
Despite the praise for the Fell Pony, the fact is that the breed is struggling. The American Livestock Breed Conservancy has the Fell on its watch list, which includes animals with fewer than 2,500 registrations per year in the United States, and a global population of less than 10,000. The Rare Breeds Survival Trust has the Fell Pony marked as vulnerable in the UK—there are only 500 to 900 registered breeding females. "We estimate that our North American population has just surpassed 500 Fell Ponies after two decades of consistent breeding," says Kreuzer.
Hopefully the Fell Pony's go-with-the-flow attitude and adaptability will only garner more attention for the breed.
Fell Pony stallion Copper Beech Casper competes with Kimberly Dunn at the National Mountain Trail Championship. Photo: Chris Sloane/Courtesy Braeberry Farm
Fell Facts
The Fell Pony hails from northern England, where it once worked as a riding, packing and plow pony for the Vikings. In the 11th and 12th centuries, its main line of work included carting fleece, wool, food and metal ores, as well as shepherding. During industrialization, Fell Ponies worked in the mines, carrying metals and coal from the underground tunnels. When the working day was done, Fell Ponies (also known as "Galloways") were ridden in trotting races.
Today, the Fell Pony is still known for being able to cover ground at the trot. It's an all-around recreational and competitive mount that has a penchant for jumping and maneuvering soundly over rough terrain. In fact, the Fell Pony Society in England hosts a competition that tests ponies' skills over a course of hills, mucky ground, water, and natural obstacles such as logs.
Fell Ponies are no taller than 14 hands, and are most often black. However, brown, bay and gray are also seen. Some ponies may have small white markings on the forehead or back pasterns, but most have none.
Learn More:
Kim Klimek is a freelance writer based in Kentucky.
---
This article originally appeared in the July 2016 issue of Horse Illustrated magazine. Click here to subscribe!