You have to admit that the Friesian is a pretty good-looking horse. Who doesn't admire the sleek black coat and the long, thick waves of mane, tail and feathers? And he demands attention with his proud, noble air. That kind of flair is perfect for the show ring, whether you ride or drive. But it's also fitting for the silver screen, and many movie and TV-show directors seek out these horses for their commanding presence.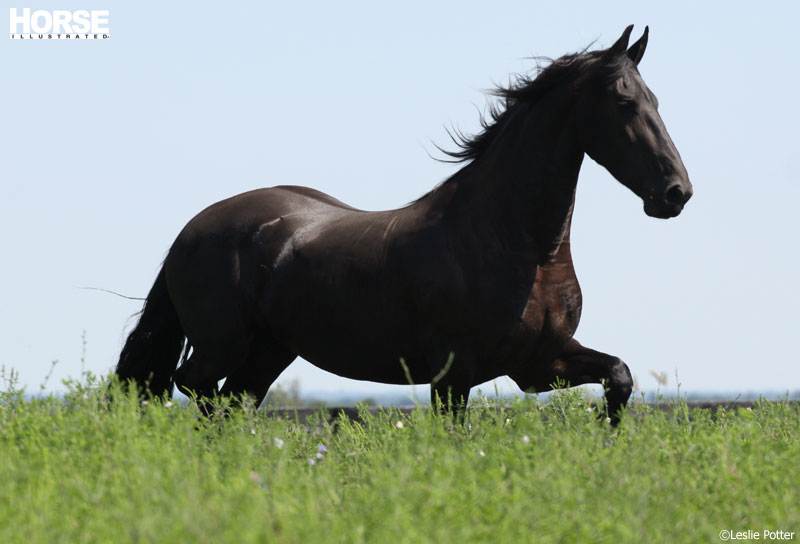 Horse trainer Bobby Lovgren has worked with horses of many breeds for several movies, including War Horse, Racing Stripes and Seabiscuit. When The Mask of Zorro and The Legend of Zorro were filmed, Lovgren was on set to train the horses for those movies, as well, including Friesians.
"Directors love the look [of Friesians]," says Lovgren. "They love the high-arched neck and how proud they are. They look so elegant. Every photographer and cameraperson wants that look: the flowing mane, the way they move. It draws attention."
For the Zorro films, the horses were trained to perform skills such as rearing, lying down, retrieving a bottle, looking back, shaking their head yes or no, pawing, and some running and jumping.
"The films I've done with Friesians have had very fast running types of stunts," says Lovgren. "You've got to make sure you pick the [horses] that are suited to the job." He adds that body styles vary among Friesians, and like any breed, individual temperaments differ too. "The big thing for me when I'm picking my horses is to know what kind of Friesian I need to do the job at hand," he says.
Lovgren notes that Friesians work hard and are agreeable in training. "They are very easy to train and the bloodlines are so good," he says. "They're kind horses, and they're very willing to please. I've had only good luck with them."
While any horse cast in a movie or TV show is going to be trained to handle the hustle and bustle of a busy set, Lovgren says the Friesians tend to be naturally calm and steady. "Typically, I find the Friesians will look at something, but they don't care very much or try to run away from something silly," he explains.
The Friesian is stalwart but elegant, an eye-catching combination. Pair his looks with his calm, friendly disposition and it's easy to see why the Friesian is big in the entertainment industry. In addition to the Zorro films, the breed has starred in Clash of the Titans, 300, The Chronicles of Narnia, Snow White and the Huntsman, Interview with a Vampire, and Sense and Sensibility, among others. TV shows that have cast Friesians include Game of Thrones and Lost.
Being Toronado
In The Mask of Zorro and The Legend of Zorro, the role of Toronado, Zorro's beloved steed, is often played by Friesians. In the first film, a stallion named Casey was the go-to equine actor for the role. "Antonio [Banderas] rode him for the majority of that film," says horse trainer Bobby Lovgren, who worked with the horses on the set of both Zorro films.
In one of Casey's big scenes, Toronado is led into a marketplace by some soldiers on horseback. After rearing and breaking free, he runs through the market, jumping over obstacles in his path until Alejandro de la Vega (aka Zorro) walks up to him and calms him down. "Later on, he's in that whole sequence when the barn catches on fire and blows up," recalls Lovgren. "Zorro is on top of the building and whistles for the horse. The horse comes underneath him and at the last minute steps out, and Zorro falls on the ground. That was a combination of two Friesians: Casey and Duke."
For the sequel, The Legend of Zorro, a Friesian named Ariaan was the main star. His job called for a lot of rearing and close-up shots. In one particular scene, Zorro rides Toronado (Ariaan) into the stable, and the two have a "dialogue" sequence. In another, they're seen riding through a lake before entering Zorro's hideout.
One of Ariaan's backups, El Lobo, starred in one of the more humorous scenes. "The horse that is standing next to the wall crossing his legs and acting drunk is El Lobo," says Lovgren.
Sadly, Casey passed away in September 2013, but after Zorro, he went on to work in other films, like Avatar. Lovgren says Ariaan took up a career in dressage following his appearance in The Legend of Zorro.
Horse and Carriage on Set
Horses are often seen in harness for productions that take place during the 19th century or medieval times, or those that bring fairytales to life. Friesians in particular can be seen pulling carriages in the ABC series Once Upon a Time and in Universal Pictures' Your Highness. Look for Friesians in the second film of the Hunger Games trilogy, Catching Fire, as well.
John Allegra and John Valley of Allegra Farm in East Haddam, Conn., have been hired to drive horse-drawn carriages for many productions that are set during the 19th century, including Time Machine, Kate & Leopold, Amistad and, most recently, a film with Cuba Gooding Jr. called Carry Me Home. Allegra has a growing collection of 80 antique coaches and carriages, farm vehicles, and even hearses, one of which was recently used in an episode of the HBO series Boardwalk Empire.
"It started as a hobby back in 1973," says Allegra. "I had some horses and always wanted to drive, so I found an old surrey at a car dealership and started to restore it. Then somebody asked me if I would do a wedding. From there, word got around that I had a horse and carriage. At that time, nobody was doing horse and carriage; it was like a bygone era."
Allegra's horse-drawn wedding business grew, and eventually his antique carriages caught the attention of directors filming documentaries in the New England area.
"If production companies need something, they find it," says Allegra. "Every time they looked, they kept finding me because I was the only guy that had everything. I have 80 horse-drawn vehicles, I have the horses, I have the carriages, and I have the drivers."
Allegra's vehicles are all authentic antiques, which is why he's sought out to work in productions filmed in his neck of the woods. "I try to do it like it would have been done 150 to 200 years ago, with the right harness and the right horses on the right vehicles," he says. "I take pride in being able to make it happen safely and appropriately."
Since Allegra's horses are regularly hitched up for weddings, funerals, parades and other public events, they're ready for the commotion of working on a movie or TV set. "They're used to motors and high lifts because we drive them in traffic all the time," says Valley. "What it comes down to is they trust us. On the movie with Cuba Gooding Jr., we had to drive alongside a steam train. [The horses] had never seen steam come out of a train, so they got a little nervous. But we just got through it and talked to them. If we stay calm and cool, they'll go through it."

To learn more about Allegra Farm and its services, visit www.allegrafarm.com.
Love Friesians? You'll love these articles and videos.
Friesian Horse Breed Profile
Video: Friesian Colt Plays Soccer
Friesian Screensaver and Desktop Wallpaper
Want to know more about horses in Hollywood? Read on.
30 Best Horse Movies
From Derby Dream to Silver Screen
Are You Ready for Some Clydesdales
---
This article originally appeared in the February 2014 issue of Horse Illustrated. Click here to subscribe.