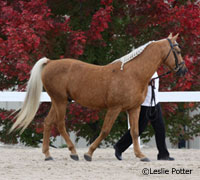 Breeders in the 1800s discovered that an exceptionally sound, attractive and sturdy horse could be created by crossing the Arabian with the Morgan, a breed developed in New England in the late 1700s.
The first recorded
Morab
was Golddust, a stallion bred in 1855 in Kentucky by Andrew Hoke. Golddust was by a Morgan stallion and out of an Arabian mare. As a weanling, he sold for $1,000, a significant amount in that day. He stood at an impressive 16 hands and was undefeated in the show-ring at the trot. He also had a smooth, fast walk and was said to cover 6 mph at a flat walk. When he died in his prime, he was already a noted sire of record-setting trotters and many show-ring winners.
It was newspaper magnate William Randolph Hearst who first came up with the name "Morab" in the 1920s, and made important contributions to the breed with his own horses. In the 1950s, Martha Doyle Fuller of Clovis, Calif., developed a Morab breeding program. Later, her daughter, M. Ilene Miller, founded the first Morab registry in 1973.
"The ideal Morab is a perfect blending of the two breeds, and has the beauty, spirit and sensitivity of the Arabian with the strength, power and common sense of the Morgan," says Linda Konichek, Region 4 director for the International Morab Breeders' Association (IMBA) and a Morab breeder for 25 years.
In addition to beauty and natural athletic ability, it is the Morab's exceptional temperament that makes it so popular.
"Morabs are very intelligent and curious, with a people-friendly disposition," says Konichek. "Once they bond with you, they want to be with you. They're willing, and love to work."
Both the IMBA and The Purebred Morab Horse Association register horses with documented Arabian and Morgan bloodlines. In order to be registered as a Morab, a horse may be no more than 75 percent Arabian and 25 percent Morgan, or vice versa. A horse of 50 percent Arabian and 50 percent Morgan can be crossed with a purebred Morgan, Arabian or other Morab to create a foal eligible for registration.
A first-generation Morab can also be registered as a Half-Arabian, and for this reason, it is impossible to know exactly how many registered Morabs exist, although estimates are around 2,000 in the United States.
Compact and muscular, the Morab retains the refinement and sensitivity of the Arabian but boasts the power and stamina of the Morgan. The Morab has one less lumbar vertebra than other breeds, like both the Arabian and the Morgan, resulting in a shorter back and a remarkably smooth gait. The Morab is known for its graceful, floating trot. It has an elegant head with a prominent jaw; a small, neat muzzle; and large, expressive eyes. Well-built hindquarters and innate soundness give the Morab an edge in numerous athletic disciplines. This versatile breed is used for a wide array of English and western disciplines, including dressage, cutting, gymkhana events, endurance, trail riding, jumping and therapeutic riding.
Height: 14.3 to 15.3 hands (average of 15 hands).
Colors: All colors.
Associations: International Morab Breeders' Association, www.morab.com; Purebred Morab Horse Association, www.puremorab.com
Back to A Winning Combination >>
---
This article originally appeared in the June 2010 issue of Horse Illustrated. Click here to subscribe.