One of the best parts about being a horse person, I think, is getting out there and riding all different breeds and types of horses. I've been lucky enough to ride a Saddlebred, Icelandic, Rocky Mountain Horse and Paso Fino, among others. Most recently, I got the opportunity to ride a beautiful Haflinger dressage mare named Bailey.
Bailey was sweet and calm. I tend to initially feel nervous on a new horse, but I was completely at ease with her from the start. She never spooked and was actually very focused on me.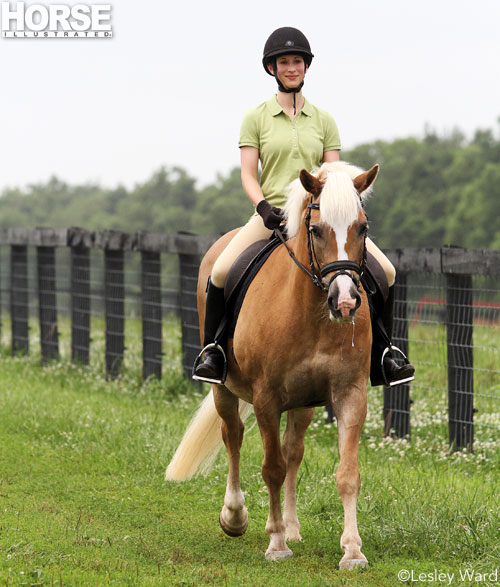 It had been a while since I'd ridden, and there's always a little bit of a learning curve when getting to know an unfamiliar horse. But not once did Bailey get frustrated with me as I worked to figure her out. Even when we ventured outside the arena for a romp in the grass, she remained even-keeled and tuned in to me.
While many people look at the Haflinger's short stature and assume it's a pony, the breed is technically a small horse. Bailey's movement reflected this with a smooth stride that was comfortable to sit at the trot. I personally appreciate the Haflinger's closer relationship to the ground, since I've had plenty of falls in my equestrian career! Plus, it's just easier to mount and dismount from a smaller horse.
Bailey's manners on the ground mirrored her good nature under saddle. She was quiet and well-behaved whether she was on the cross-ties or being held by the reins or lead rope, and she was a good model for the camera. (She hammed it up for our staff photographer!)
The mare also had the looks to match her beautiful personality. Her creamy flaxen mane and tail were thick and smooth, with long, full eyelashes to match. Her eyes were soft and kind, and expressed her welcoming attitude from beginning to end.
Bailey isn't the only encounter I've had with the Haflinger breed. During my foray into vaulting, I practiced my scissors, stars and other maneuvers on the back of a sturdy, trustworthy Haflinger. She was also very easygoing and smooth-moving—particularly important in that sport.
I enjoyed getting to know Bailey, and she was a stellar ambassador for her breed. From my experience, I'd be willing to bet that the Haflinger is a game little horse for any equestrian pursuit.
About Haflingers
The Haflinger traces back to a breed discovered during medieval times in the Southern Tyrolean Mountains of what is now Austria and Italy. These horses served as transportation through the mountains, as they were nimble and surefooted over the rugged, narrow paths.
The first official documentation of the modern Haflinger, named for the Tyrolean village of Hafling, began in 1874 with foundation stallion 249 Folie. To be registered, all Haflingers must trace their ancestry back to Folie.
The Haflinger is a small horse that is bred to be versatile for riding and driving. It can be seen competing in dressage, jumping, vaulting, pleasure driving, therapeutic riding, and more. The breed's easygoing temperament makes it a good family horse as well. All Haflingers are chestnut in color (varying in shade) with a flaxen mane and tail. White markings on the head are desirable.
Liked this article? Here are others you'll enjoy:
Haflinger Horse Breed Profile
Video: Haflinger Horses
Haflinger Horse Desktop Wallpaper
---
This article originally appeared in the October 2014 issue of Horse Illustrated magazine. Click here to subscribe!