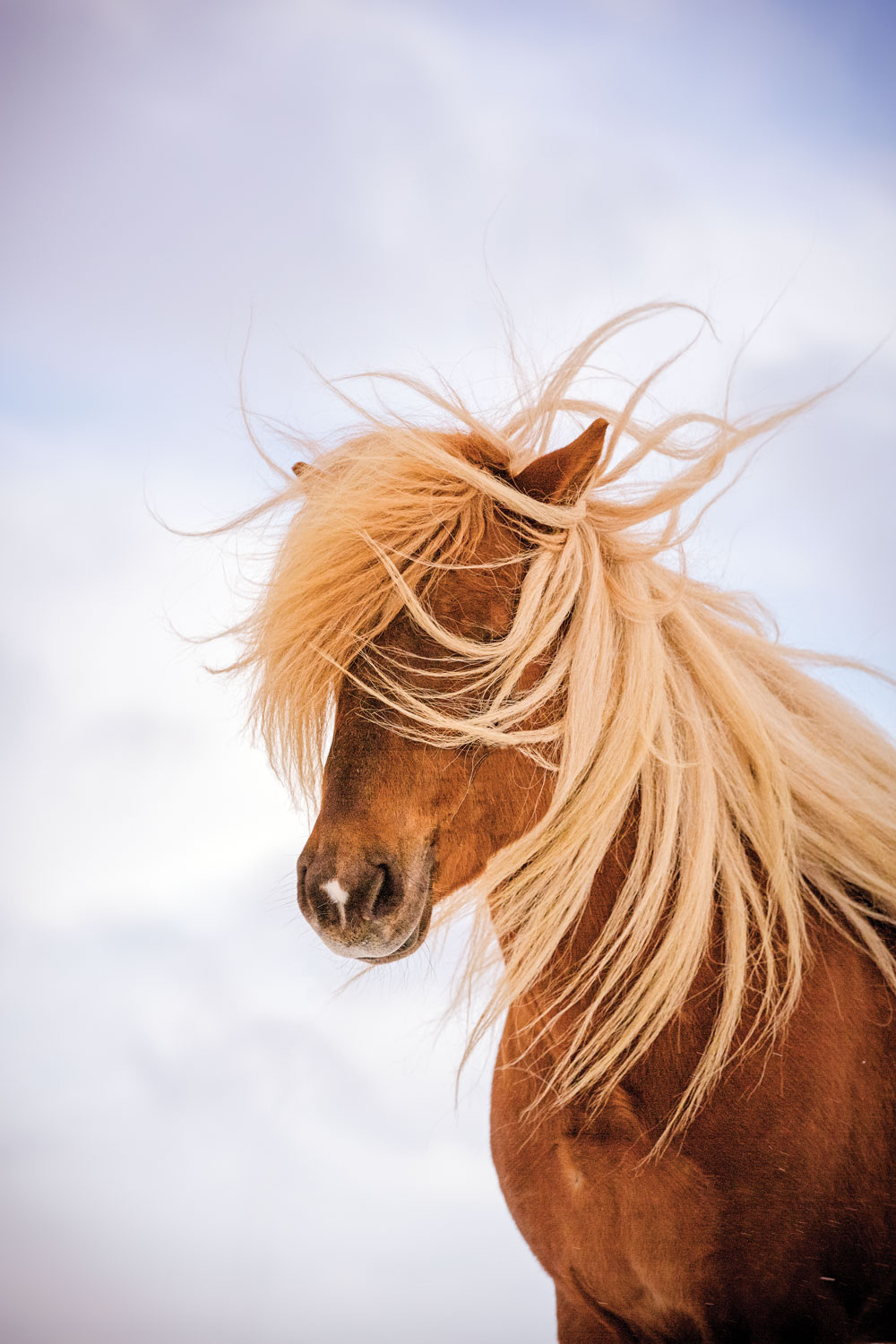 The horse features prominently the Norse mythology that influences Icelandic history, culture and folklore. Because of this mythical heritage, the Icelandic Horse is often referred to as the horse of the gods.
It also holds a special place in the heart of photographer Martina Gates and is one of her favorite subjects to photograph. Gates, who travels to Iceland at least once a year, finds it particularly inspiring to photograph the horses in their native country.
"Experiencing the horses in this magical landscape is beyond words," she says. "Their easy gaits and surefootedness propel you over territory that would be difficult to walk on. The treks often go through rivers, over mountains and along the beaches.
"Every time I pick up my camera to photograph the horses I let myself be surprised. There are times I will see a landscape and envision the horses there. I have often brought horses to those settings and let them be. Sometimes nothing happens; sometimes energy just explodes.
"I wait for moments, compositions, and a connection. The eyes of a horse say so much, as well as body language.
"I love the connection between the natural setting and the horse."
"This photo was taken at Jokulsarlon, where the ice floats in big chunks along the shore. "I immediately had a vision of horses in this icy setting," says Gates. "We trailered three horses several hours to get there, roped off a large area and let them go, all the time hoping they would not start swimming out into the ocean! I had a small window to photograph them, but it was just breathtaking. The horses were mesmerized too, which really made it a special shoot."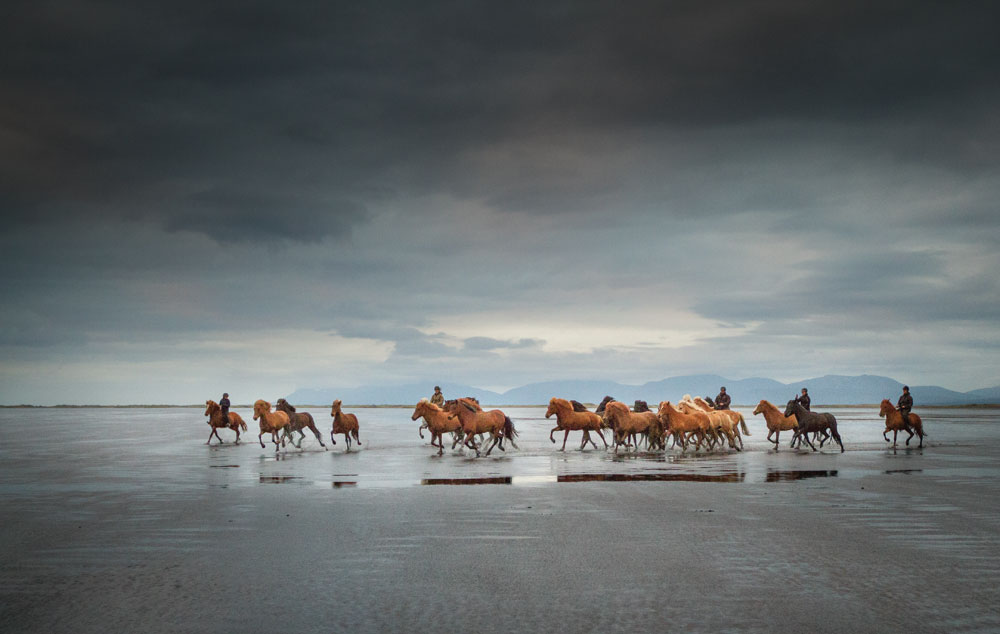 "Way up north there's a lake bed connected to the ocean called the Hop, accessible only by horseback or four-wheel drive. In the summer, the sun barely goes down, and there's enough light to photograph with a high ISO setting. The tide was receding as we walked out onto the lake bed, which had just a few inches of water on it."
"One winter I was in Iceland, it was snowing heavily on and off. The horses had grown thick fur, and it was wonderful to see them so differently. One of the breeders had two stallions out together for the winter so they could play."
"Iceland has many waterfalls, but only a few where horses can run. Skogafoss is one of the most beautiful; it ends in a flat bed of rock. When I first saw it, I immediately felt it was an ideal place to photograph horses. In the summer of 2014, I took a small group of photographers down there and arranged for a friend of mine to bring horses to the waterfall. Unfortunately, it was raining heavily. As soon as we took them off the trailer, the sun came out. It was pure magic. An hour later it started pouring again. Sometimes things just work out."
Meet Martina Gates
Photography has been a big part of Martina Gates's life, first in front of the camera as a model for 20 years, and then behind it. A love of horses has also been a constant for Gates, who grew up riding in her native Germany.
"It would have been a natural progression to photograph horses, but it wasn't until 2007 when I received a wonderful gift from my daughter to go photograph Mustangs in the wild. It was a profound experience," she says. "Watching the herd interactions within a natural setting was breathtaking. I decided right then that this was what I wanted to do for the rest of my life."
Gates first discovered the Icelandic through a Horse Illustrated breed profile in the 1990s; she now owns 10 of them. She describes her first meeting with the breed as an instant connection. "The horses had an incredible temperament and the gaits were amazing. There was no turning back. Now, all these years later, it's a real honor to have my Icelandic pictures in Horse Illustrated. It's like coming full circle."
A graduate of Parson's School of Design, Gates owns a gallery, Fotoworks, in Millerton, N.Y., where she sells mostly limited edition photography, including her own. www.martinagates.com
---
This article originally appeared in the September 2016 issue of Horse Illustrated magazine. Click here to subscribe!