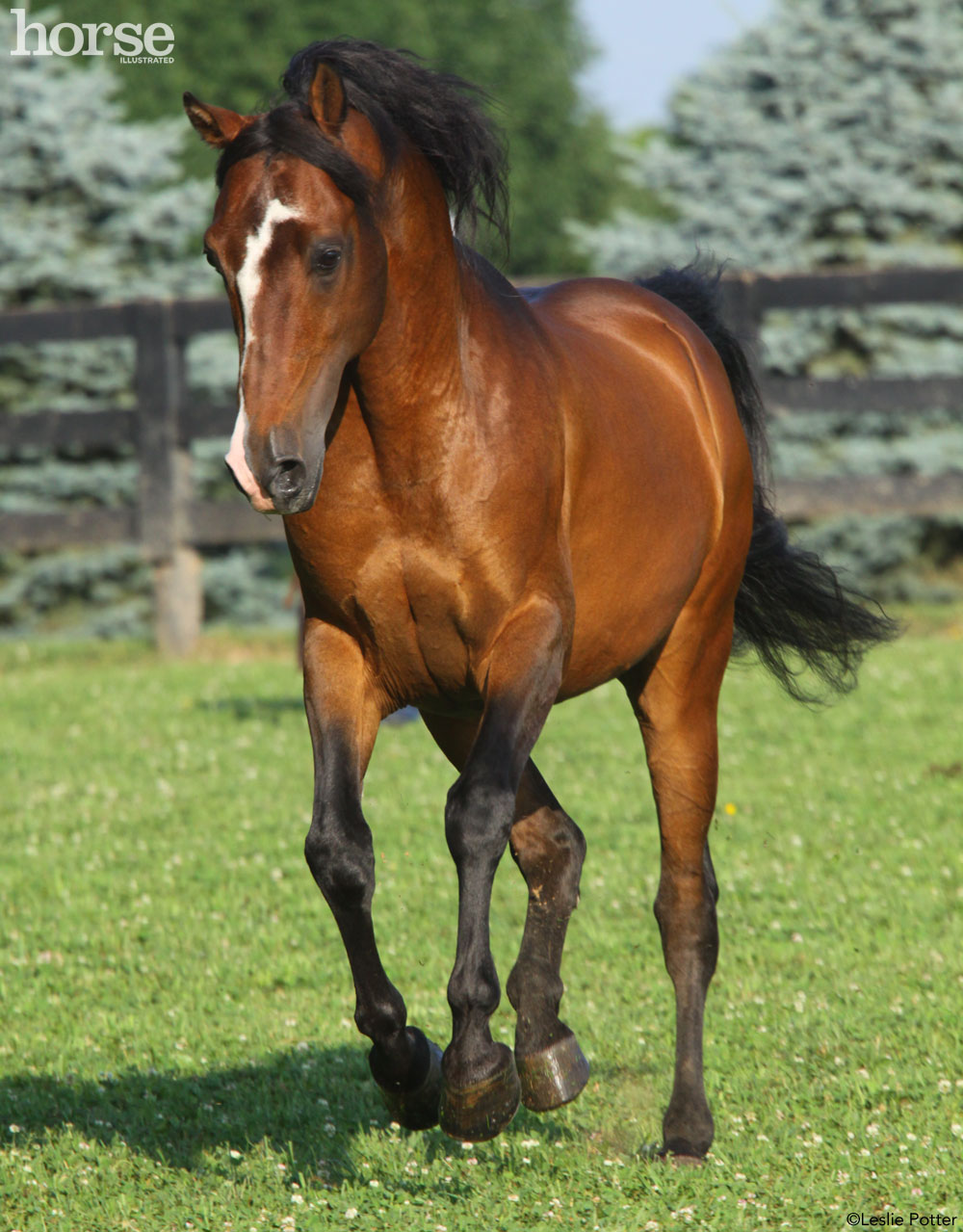 Modern Morgan horses are the epitome of equine versatility, competing in widely varying equestrian sports while maintaining their reputation as a beloved companion and pleasure riding horse. Today's Morgans compete successfully at high levels against more specialized breeds. We talked to two equestrians from different corners of the horse world about their experiences working with and showing their Morgans.
A Dressage Superstar
At the 2014 United States Dressage Finals, a then 12-year-old, jet-black Morgan stallion named GKB Coal Magic came to compete in Intermediate B. He impressed the judges and took home fifth place in the amateur adult championship. Coal has been with his current owner/rider, Lucy Tidd, DVM, for 10 years. While his accomplishments in the dressage arena stand out, it's his lovable demeanor that makes him unique.
"Coal is known as Mr. Personality," says Tidd. "He's by far the most intelligent horse I've ever known. Life is one big adventure to him—he'll get on anyone's open horse trailer!
"He has a super work ethic and seems to genuinely love his work. He is very outgoing and curious and always entertaining to be around. He loves to play—he plays fetch and soccer with his toys in the field. He has a serious sense of humor, and if you're not careful, you'll be the butt of his jokes!"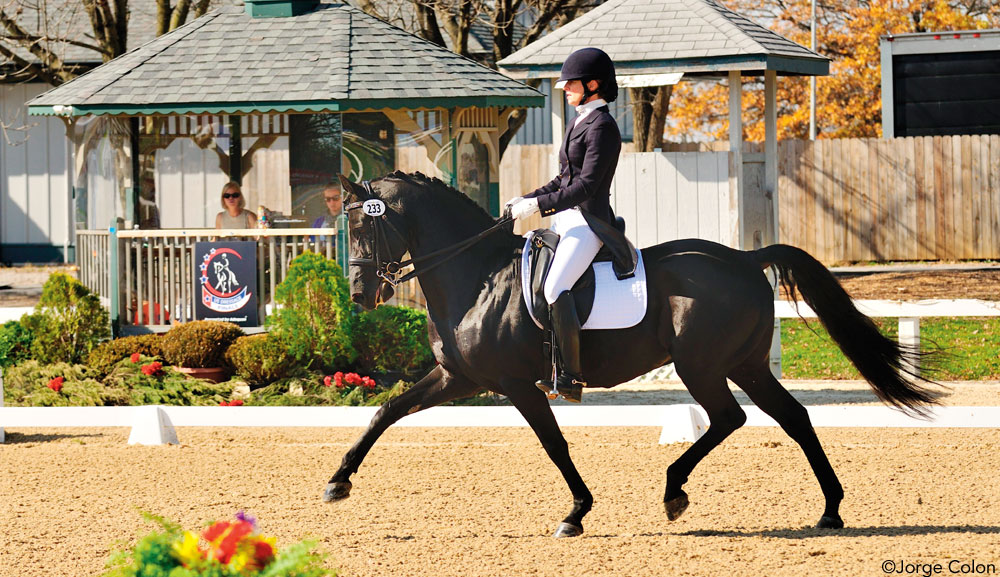 At 15.2 hands, Coal might be literally overshadowed by the big warmbloods competing with him at the upper levels. But his athletic abilities and aptitude for the sport shine through.
"Coal has been extremely competitive through the levels, and if we don't win the class, we are usually the highest placed amateur," says Tidd.
"Challenges for Coal have mostly been related to building strength, as he isn't built like the bigger warmbloods. But the flip side is that his natural suppleness makes lateral work a highlight for him."
Tidd cites her win at the 2014 Great American Insurance Group/USDF Region 1 Championships in Adult Amateur Intermediate B as a career highlight. This was the competition where she and Coal qualified for the U.S. Dressage Finals. But this horse and rider aren't resting on their laurels.
"Our goal for the future is to continue to develop the Grand Prix and hopefully to debut next season at that level," says Tidd. "We've had to learn much of the upper level work at the same time, so it is a huge testament to Coal that he's learned so quickly and successfully with a rider who's had to figure it out as she tried to teach him! He is truly a special horse and has been such a gift in my life."
The Working Western Horse
Morgans have a long history as working ranch horses, and owners like Amie Taber and her family are keeping that history alive. The Tabers' LittleWood Horses in Idaho is home to a herd of working Morgans and Morgan crosses that truly do it all.
"Our horses are used for ranch work, recreational riding and showing," says Taber. "We don't own a single horse that is just a show horse. We joke that we can't figure out if we show our ranch horses or do ranch work with our show horses!"
One of Taber's current standout horses is a 7-year-old buckskin gelding named LittleWood Inside Strait, better known as Dusty. When we spoke to Taber, she had just returned from the Far West Championship Horse Show in Redmond, Oregon, where she had ridden him in reining and western dressage and her 10-year-old daughter took him in the walk/jog classes.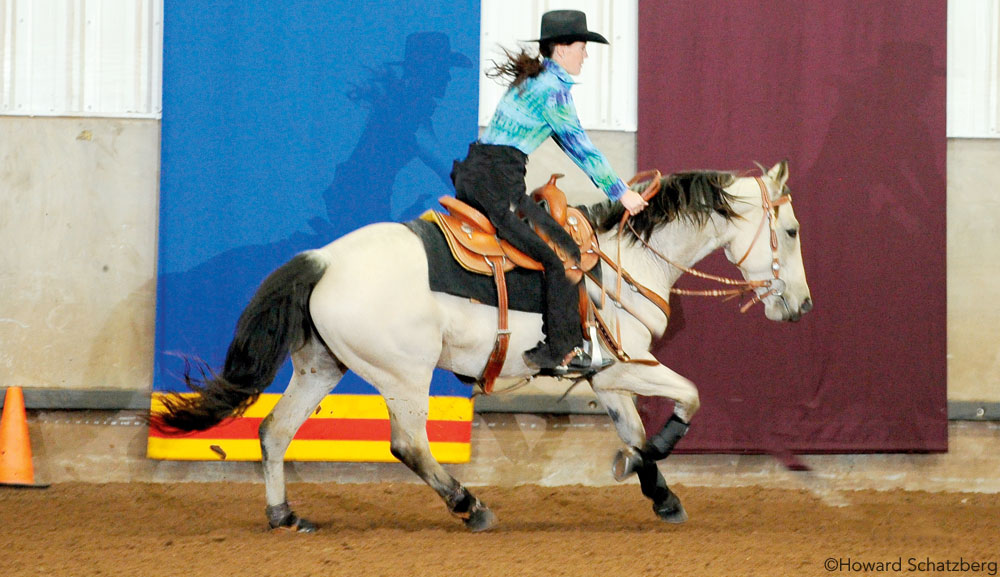 "One of his biggest claims to fame is that at the 2014 Far West show, he ran with four different riders [in the reining division]," says Taber. "He carried two green riders, a youth rider, and I rode him in non-pro and open. He had to mentally switch gears between five different riders—four out of five of them were not experienced reiners—and he just loped along with all of them!"
Reining competitions, particularly in the western region where the Tabers live and compete, are dominated by stock breeds. But Taber says that Dusty's heritage doesn't stop him from doing well in open competition, and that his conformation suits the sport well.
"He has a really nice hip and shoulder on him," says Taber. "He has a stockier build than a lot of showy Morgans, so when we walk into the ring, people don't immediately realize he's a Morgan."
When showing in front of a National Reining Horse Association (NRHA) judge, Taber doesn't feel at a disadvantage against other breeds. She finds the judges will assess the maneuvers on their merits without being distracted by the horse's conformation.
For Taber, the benefits of riding Morgans are numerous. "I like the Morgan personality," she says. "I like their stamina. I like their versatility. Our horses are cowy and they're sturdy. I can ride one all day on Saturday and he'll meet me at the gate on Sunday, ready to go again."
The Tabers will continue to bring up versatile working Morgans on their ranch. As for Dusty, he'll continue to compete with the goal of working up the ladder at NRHA shows.
Morgan Versatility
Morgans are shown in western, hunt seat, saddle seat and pleasure driving classes on the Morgan show circuit, but they can be found competing against all breeds in almost every equestrian sport. Morgans excel in combined driving, often winning at the FEI level, and have led the way in the increasingly popular sport of western dressage.
The American Morgan Horse Association's (AMHA) Open Competition program recognizes Morgans that compete successfully in all-breed competition in dressage, working western, eventing, endurance, hunter/jumper and more.
To learn more about the Morgan horse and the open competition program, visit the AMHA at www.morganhorse.com.
LESLIE POTTER is the managing editor of HorseChannel.com and the proud owner of a 27-year-old Morgan gelding named Snoopy. Follow her on Twitter: @LeslieInLex.
---
This article originally appeared in the September 2015 issue of Horse Illustrated magazine. Click here to subscribe!