"Warmblood," a buzzword in sport horse circles, is synonymous with athletic ability. Think movement, conformation, and aptitude, resulting from long-term, targeted breeding. These extravagant movers, native to Continental Europe, often dominate English-style horse sports, particularly dressage and show jumping. Whether imported or born stateside, warmbloods can be found representing the U.S. in international competition, from the Olympics to the World Equestrian Games.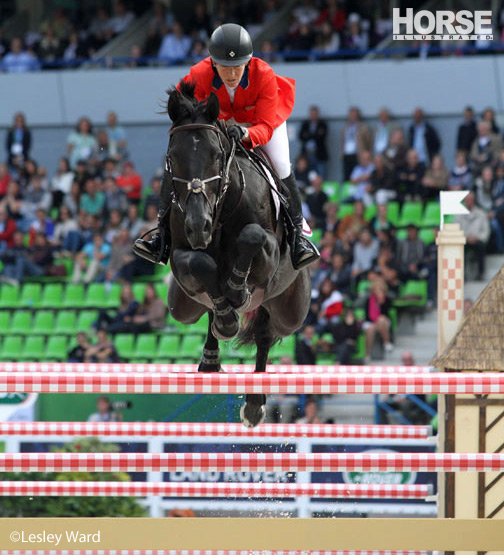 Beezie Madden and Belgian Warmblood Cortes C won show jumping bronze at the 2014 World Equestrian Games.
What's in a Name?
So what exactly is a warmblood, anyway? The term "warmblood" refers to medium-weight, performance-driven sport horse breeds originating in Europe. This style of horse differs from both "cold-blooded" heavy draft horses, such as Percherons and Shires, and "hot-blooded" light riding horses, such as Thoroughbreds and Arabians.
A sampling of popular warmblood breeds includes the Holsteiner, Trakehner, Hanoverian, Oldenburg, Westphalian, Dutch Warmblood, Swedish Warmblood, Danish Warmblood, Belgian Warmblood and Selle Français, among others. Historically, each breed stems from a geographical area: Hanoverians from Germany's Hanover region, and so on.
Modern warmbloods are the descendants of working horses, refined over time as the horse's purpose has shifted from agriculture to sport. This former role as a work horse can be seen today in a positive light: having been bred over time as a multi-purpose farming and family horse, warmbloods have developed an innate ability to work with people.
"Warmbloods have been purpose-bred over the years; that purpose has changed, but has always had the element of cooperating with people," says Maurine (Mo) Swanson of Rolling Stone Farm in Slatington, Pa. With a focus on Hanoverians and Oldenburgs, Swanson has held a place in the top five on the United States Equestrian Federation (USEF) Leading Dressage Breeder rankings for the past decade.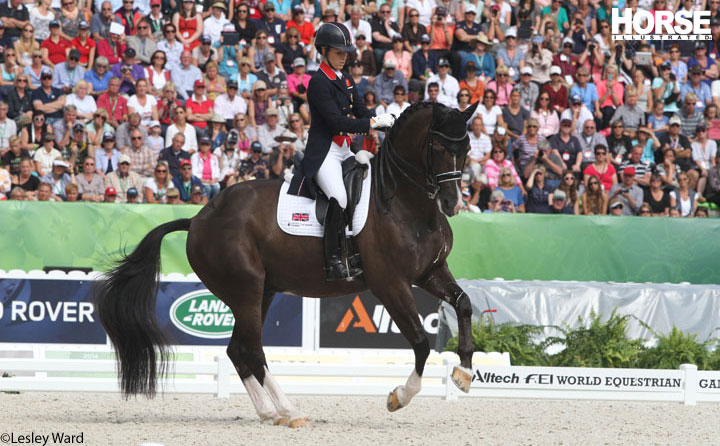 The Dutch Warmblood gelding Valegro won dressage gold at the 2012 London Olympics with Britain's Charlotte Dujardin. The pair also brought home gold at the 2014 World Equestrian Games and the FEI World Cup Final in 2015.
The Horse for the Job
It's no fluke that these athletes-by-design take center stage in top international sport; the primary purpose of warmblood registries is the breeding of outstanding sport horses for show jumping, show hunters, dressage, combined driving, eventing and vaulting.
Increasingly sophisticated breeding has honed horses that fulfill each sport's niche. Warmbloods tend to lead the way in the sport horse world simply because that is what they are bred to do. As the bar raises in all branches of equestrian competition, riders seek horses built for the job.
"As a whole, warmblood breeders breed good performance horses into their registries," notes Grand Prix dressage rider Tonya Grant. "While many breeds possess some qualities for dressage, the warmblood gets the job simply because he possesses the most credentials for the job."
"A horse bred specifically for your [sport] is able to keep up with what you are asking him to do," says world-class show jumper Richard Spooner. "In show jumping, that's to run fast, jump high and stay careful."
Mixing with the Best
Unlike many other horse breeds, performance trumps all in the warmblood world. With open studbook policies being common in warmblood registries, breeders may incorporate bloodlines from other breeds into their program. This means that a horse may be registered without two purebred parents of the same breed. The exception is the closed-book Trakehner registry, which may, however, be crossed into other warmblood registries. Integrating proven talent between breeds helps create quality horses designed to perform.
"Most of the warmblood breed organizations are open studbook, so if there is a quality warmblood that is not of their breed, they will be willing to accept that horse for breeding with the long-term goal of overall improvement of the breed," says Swanson, going on to give some examples. "Holsteiners have been used to improve jumping breeding; Trakehners have been used for improving type and refinement; Thoroughbreds are used to improve stamina for three-day eventing; Oldenburgs, Hanoverians and Westphalians are now accepting Dutch breeding into their studbooks. It's a selective process that benefits each breed organization individually."
Each registry is unique, with its own rules governing bloodlines, registration, inspection and approval. Inspections, also known as keuring, are standard practice among warmblood registries. These performance tests evaluate conformation, movement, type, disposition and ability. Generations of selective breeding and quality control have produced the type of horse known today as a warmblood.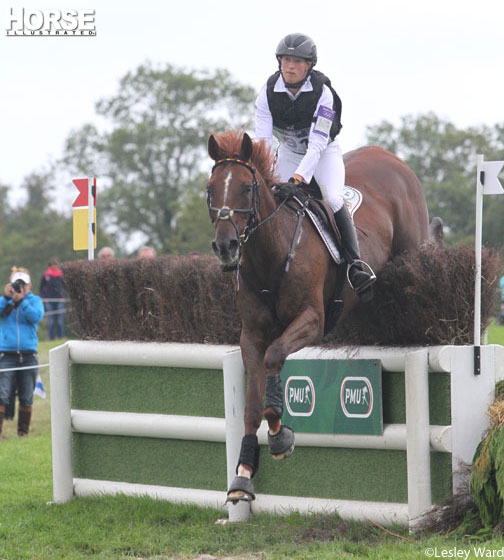 Germany's Sandra Auffarth and her Selle Francais partner, Opgun Luovo, clinched three-day eventing individual and team gold at the 2014 World Equestrian Games.
While each horse is an individual, they all have one thing in common: their purpose is to be competitive. Warmbloods are consistently bred for exceptional gaits, rideability, aptitude, soundness, and conformation for sport.
Born in the USA
Many European warmblood registries offer a branch on this side of the pond as well; for example, the Dutch Warmblood registry, KWPN (Koninklijk Warmbloed Paard Nederland), operates the KWPN-NA for Dutch Warmbloods in North America.
The American Warmblood Society (AWS) and the American Warmblood Registry (AWR), uniquely American entities, exist to promote the breeding of talented sport horses that excel in sport horse disciplines under saddle or in harness, but do so with less of a focus on bloodlines than some European-based warmblood registries.
The AWS accepts crosses from hot-blooded, warm-blooded, and cold-blooded lines that are proven competitors in dressage, show jumping, eventing or combined driving. The AWS performance horse registry is open to all breeds except gaited horses. A registered horse must satisfy performance requirements; a recorded horse must also be registered with another warmblood registry; and an elite horse's lines must document four generations of proven performance horses.
The AWR, on the other hand, focuses more strongly on warm-blooded horses; for example, cold-blooded influence is limited to one quarter draft. Both associations feature inspection processes, with AWR also including a performance testing element for studbook approval. Athletic horses with the temperament, movement, and conformation for sport horse competition are the goal.
Proven Performers
Named USEF Leading Show Jumping Breeder over multiple consecutive years with a mix of Selle Français, Holsteiner, and Dutch Warmblood horses, Grey Fox Farm in Camarillo, Calif., has obviously cracked the code on what it takes to produce top show jumpers.
Breeders Kandi and Rusty Stewart, who produce winning Grand Prix show jumping winners, elect to register their horses with the U.S.-based Performance Horse Registry (PHR), which is part of the USEF. PHR accepts horses of any breed and functions essentially as a sport horse database, recording the horse's lineage and performance results.
"To us, a nice horse is a nice horse," says Kandi. The key to their success is taking quality, talented mares that have proven themselves in high-level competition and breeding them with the best stallions.
There's no denying that warmbloods dominate the sport horse disciplines, consistently bringing home the awards as the level of competition ever increases. These outstanding athletes show that form follows function and function follows form.
NATALIE DEFEE MENDIK is a journalist specializing in equestrian media. Her pursuits include dressage and vaulting. www.MendikMedia.com.

---
This article originally appeared in the May 2015 issue of Horse Illustrated magazine. Click here to subscribe!