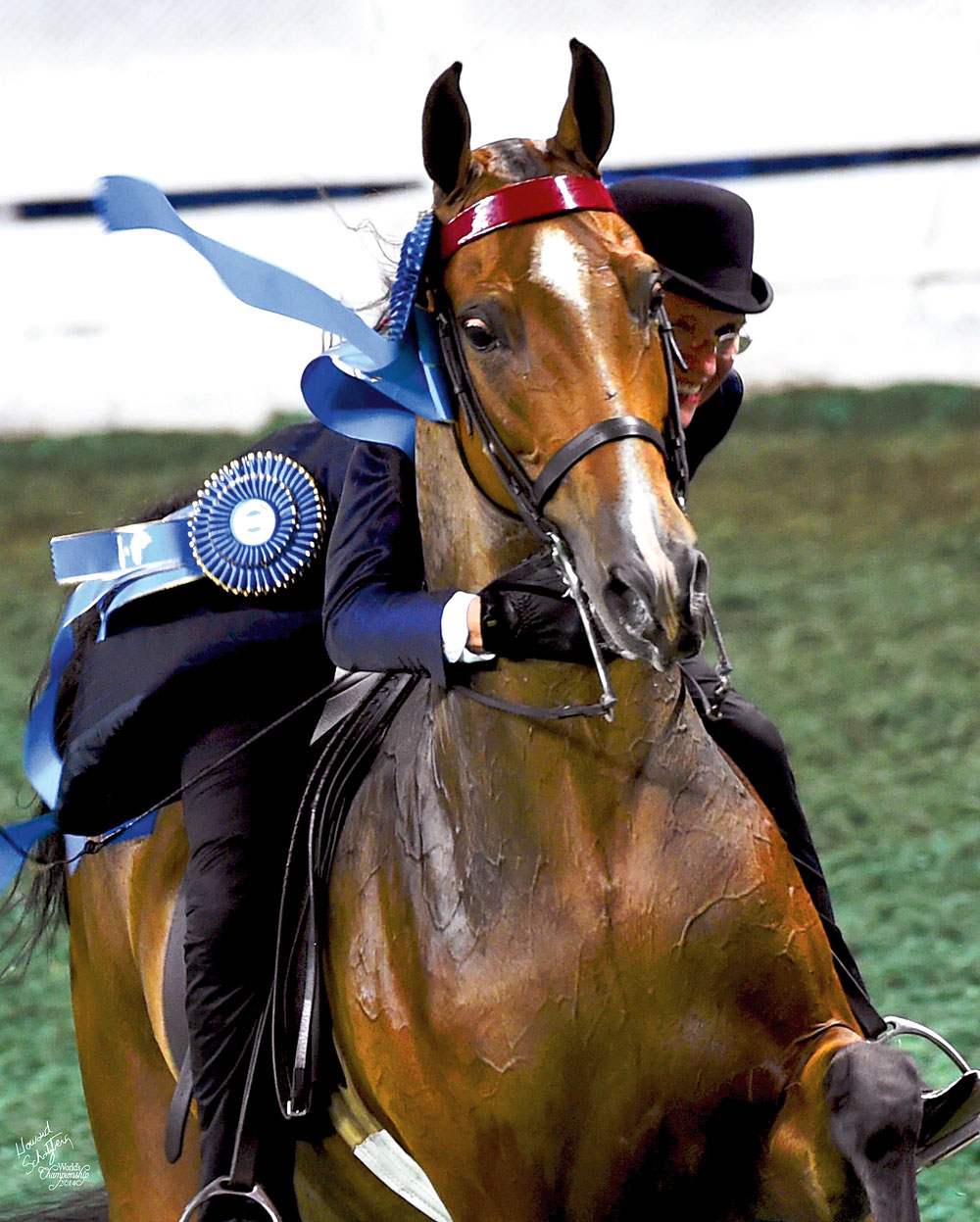 Photo courtesy American Saddlebred Horse Association

You may think of the American Saddlebred as a high-stepping show-ring mount—a pretty face born to show off. But after talking to some Saddlebred owners, it's easy to see that the breed is much more. Eventing, long-distance riding, combined driving and therapeutic riding are just some of the vocations the Saddlebred is succeeding in today.
Showing in Style
Michelle Partridge's deep love for the American Saddlebred took root when she started riding and showing Saddlebreds at 8 years old. Eventually it led her to competitive success, including a team gold medal at the Saddle Seat World Cup in South Africa in 2006. Later it landed her a career dedicated to promoting the breed as marketing manager for the American Saddlebred Horse Association (ASHA) in Lexington, Kentucky.
"There's nothing to dislike about the American Saddlebred, and that may be what I like most about them," says Partridge. "They're easy to train and love to please. They do their job with their ears up and a go-forward attitude. Their lovable attitude and desire to 'crawl into your pocket' makes them your instant best friend."
Partridge currently has four Saddlebreds, one retired and three that she's training with hopes of competing at the ASHA World's Championship Horse Show in August. She acknowledges that they're more than just "the peacocks of the show-ring," however.
"My world-champion show horse was also my bareback riding buddy and the world's best trail horse."
The Best Therapy
Believe it or not, the same panache that has secured the Saddlebred's rep as a flashy show-ring competitor also makes it a suitable therapeutic riding mount. With charisma, intelligence, a willingness to please and a curious nature, the Saddlebred is a social butterfly that wants to be everyone's friend.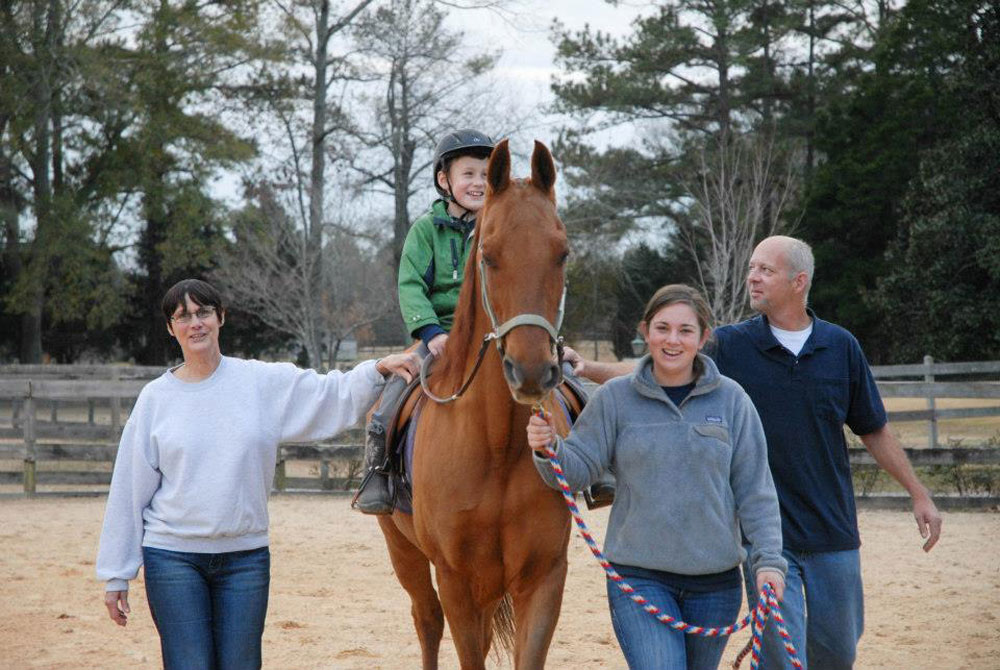 At The Red Barn therapeutic riding facility, a Saddlebred works well with special needs children. Photo courtesy Joy O'Neal/The Red Barn

"That 'look at me' attitude in the show-ring is perfect for building a relationship because it's like the horse is saying, 'Come be friends with me!'" says Joy O'Neal, founder of and executive director for The Red Barn, a therapeutic riding facility in Alabama.
"Children with special needs can often feel like they don't have many friends, or they can be bullied. They may be stared at or just simply left out at times. I love that a Saddlebred's curious personality helps them seek out a relationship with our students, because the world in general may not always provide our students with the same acceptance."
O'Neal adds that Saddlebreds are quick to learn and adapt to their surroundings, which is crucial in a therapeutic riding setting. "They understand what they should do in a therapeutic lesson, like stand at the basketball goal, walk around the barrel, or realize the wheelchair isn't going to attack them," she says.
Saddlebreds on Parade
The Saddlebred's spirit and grace is also well-suited to parade riding. And if anyone is familiar with riding in parades, it's Michele Macfarlane of Scripps Miramar Ranch in California. For more than 30 years, she has ridden or driven her Saddlebreds in the famed Rose Parade on New Year's Day.
"By nature, Saddlebreds are showy and spirited," says Macfarlane, noting the appeal to the crowd of their high-set necks and high knee and hock action.
Other qualities that make the Saddlebred ideal for parades and exhibitions include trainability, a comfortable ride and a good amount of energy, says Macfarlane. "They have lots of energy without being fractious," she explains. "I like energetic horses, and I really like up-headed, proud-looking horses."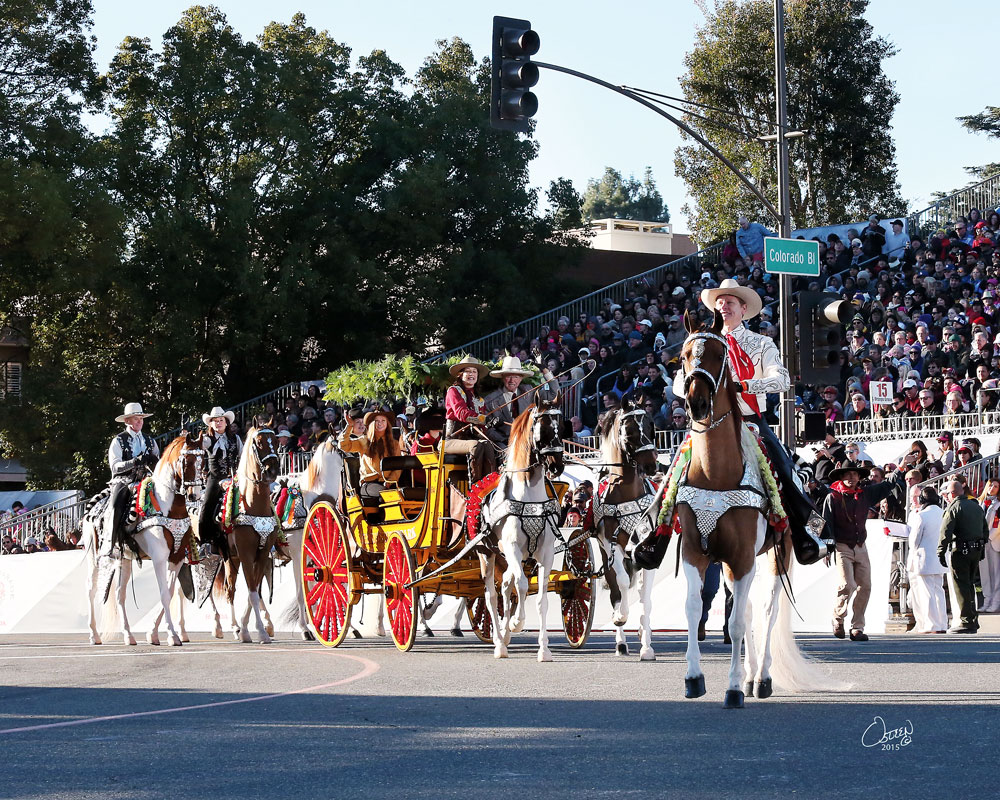 The Scripps Miramar Ranch Saddlebreds are regulars in the famed Rose Parade. (That's celeb Saddlebred afficionado Carson Kressley leading the way.) Photo by Rick Osteen/Courtesy Michelle McFarlane

And if all of these testimonies to the Saddlebred's charm don't sway you, maybe the Queen of England will. Macfarlane and her horses were invited to participate in Queen Elizabeth II's Diamond Jubilee at Windsor Palace in 2012.
"Many countries and breeds were represented, which made me very proud," says Macfarlane of her horses' royal moment.
Saddlebreds Get Sporty
With all this talk about looks and swagger, let's not forget about the Saddlebred's athleticism. The breed is naturally a good mover, with stamina to spare for anyone interested in cross-country, fox hunting, endurance riding and other similar sports, says Rachel Kelley of Crestwood, Ky. She events at the Novice level with her 6-year-old American Saddlebred It's Just George (aka "George").
"Saddlebreds can be fantastic sport horses if given the chance," says Kelley. "George really helps people get past their misconceptions of the breed. Everywhere we go, people ask what kind of horse he is, and they are usually completely shocked when I tell them he is a full Saddlebred."
A good ambassador for his breed, George is calm but bright and curious, says Kelley, who hopes to compete him in the American Eventing Championships this fall. The pair has finished in the ribbons at every competition since moving up to the Novice level.
George was even named the 2015 ASHA Eventing Champion at the Sport Horse Year End Awards, and was the 2015 ASHA National High Point Champion in eventing.
"Saddlebreds really throw themselves into their work," says Kelley. "Whatever you ask them to do, a Saddlebred can rise to the task. Not to mention they're gorgeous! A Saddlebred is the perfect combination of a working horse and a horse with a bit of flair."
American Saddlebred Varoom competes in a combined driving event with Carrie Ostrowski. Photo courtesy American Saddlebred Association

Learn more about the American Saddlebred at www.asha.net.
Kim Klimek is a freelance writer based in Kentucky.
---
This article originally appeared in the May 2016 issue of Horse Illustrated magazine. Click here to subscribe!