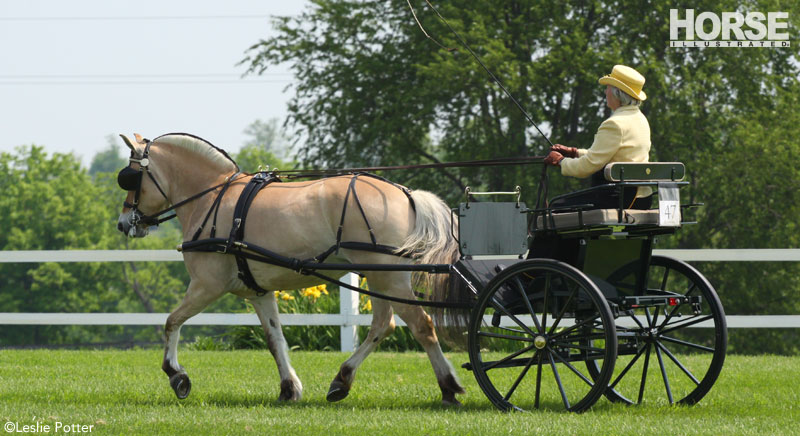 The Norwegian Fjord horse is one of the oldest and most recognizable breeds in the world. For centuries, the pony-sized but powerful Fjord was used for farming and light draft work, originally by the Vikings in Norway and other parts of Scandinavia. This captivating and reliable breed was introduced to the United States in the late 1800s, and the Norwegian Fjord Horse Registry (NFHR) currently boasts some 6,700 registered Fjords in the U.S. Today, versatility is the trademark of the Norwegian Fjord and this is reflected in the diverse array of disciplines in which the breed participates.
Dressage Dreams
Lori Albrough of Bluebird Lane Fjords in Moorefield, Ontario, purchased her first Norwegian Fjords over 17 years ago. "I've had horses all my life [and] grew up in Pony Club, but I never really trained a horse before I got my Fjords," says Albrough. She was inspired by her Fjords to become a better rider and trainer, so she began taking dressage lessons 14 years ago and now successfully trains, rides, and shows her Fjords in open dressage competition.
"My first dressage Fjord was Prisco," says Albrough. "I started his dressage training and showed him at the national level all the way from Training Level up to Third Level, winning numerous champions and reserves, and earning Dressage Canada bronze and silver medals." Albrough also achieved success with her 14-hand homebred mare, Bluebird Lane Kestrel, who was Grand Champion Mare at the NFHR's 25th Anniversary National Show in Winona, Minn., in 2006.
Albrough's current partner is a 15-hand gelding named Ooruk. "He is 12 years old, and this year we showed at Second Level, achieving scores up to 76.7 percent and winning year-end champion at open Second Level," says Albrough. While Albrough has shown her Fjords up to Third Level, she has an even loftier goal in mind for the future: "My present goal is to show a Fjord at Prix St. Georges," she says.
Doing it All
William Coli and his wife, Norma, fell in love with a trio of imported Fjords the moment they first saw them 23 years ago. Today, the Colis raise, train and maintain a herd of 15 Norwegian Fjords on their 140-acre Blue Heron Farm in Charlemont, Mass.
While the Colis have a driving pair and several singles, most of their herd is trained to ride English. "That is where the market seems to be strongest in this region," says William.
The Colis compete their Fjords in a variety of disciplines and activities, including dressage, hunter/jumper, eventing and gymkhana.
"One of my favorite aspects of competing [with Fjords] is that when we unload, we hear lots of folks saying 'what a cute little pony,'" says William."But when the 'pony' pins blue and ends up winning the division, they will often come up and ask, 'What kind of horse did you say that was?'"
Driven to Diversity
Curtis Pierce and his wife, Marsha Korose, operate Deep Creek Farm in Mathias, W. Va., where they breed, train and sell Norwegian Fjords and Icelandic horses. Pierce is a past officer and member of the NFHR board of directors and he and Korose promote the Fjord breed at draft shows, demonstrations, expos and dressage shows.
In addition to their promotional efforts, Pierce and Korose compete at American Driving Society events. "Marsha competes at Combine Driving Events (CDEs) with our pair, Hog Solvar and LFF Ulend," says Pierce. "They have won several CDEs in the Training division." Solvar is a 15-year-old, 14.1 hand white dun gelding, and Ulend is a 14-year-old, 14.1-hand grey dun stallion. Both are draft-type Fjords that have been shown in dressage and enjoyed time as trail horses in addition to driving. "[They] have also been used for some logging and farm work," says Pierce of the versatile pair.
"Selective breeding in western Norway produced horses that are easy keepers in addition to being strong, hard-working horses," says Pierce.
Why They Love Fjords
With their talent and impressive versatility, it's easy to see why Fjords have such a devoted legion of admirers. "[Fjords] are so earnest about their work, so intelligent, and they try so hard; they want to figure out what you want and try to please you," says Albrough.
"One major appeal is what we call 'the cuteness factor,'" says William Coli. "Aside from that, the most important characteristic is their level-headed temperament and their willingness to please."
Albrough expresses similar sentiments. "To me, the big draw is that the Fjord has a soul that wants to engage with people, that is interested in you," she says.
Liked this article? Here's more on Fjords
Driven to Succeed: Norwegian Fjords
Fjord Explorers
SAMANTHA JOHNSON is a freelance writer and the author of several books, including The Field Guide to Horses. She raises Welsh Mountain Ponies in northern Wisconsin and is a certified horse show judge. Follow her on Twitter: @miraclewelsh.

---
This article originally appeared in the March 2014 issue of Horse Illustrated magazine. Click here to subscribe!