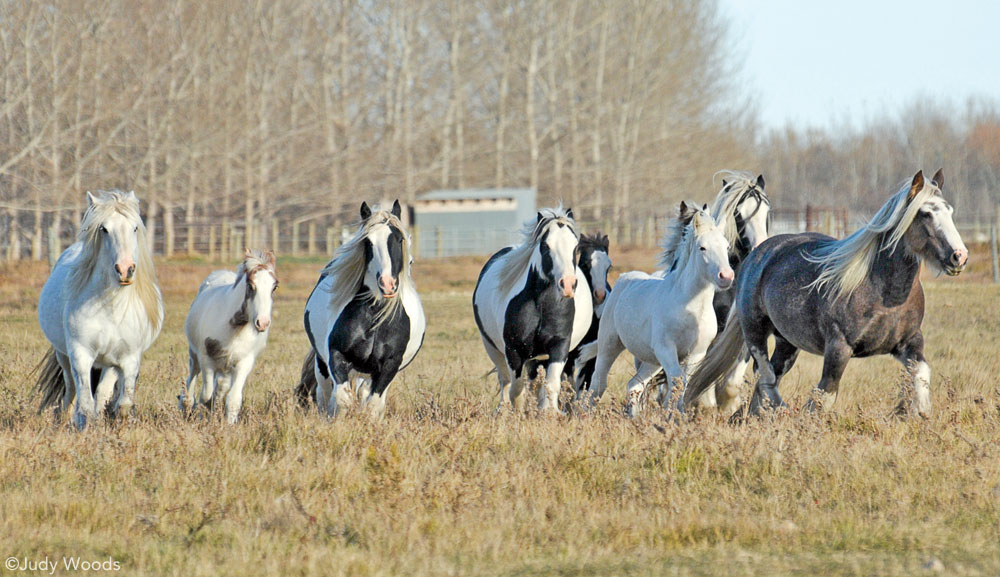 Photo: Judy Woods/Courtesy North Fork Gypsy Cobs
The horses we know as Gypsy horses trace their origins to the cobs used by the Romany people in Europe to pull their wagons. When equestrians in the U.S. discovered these horses and brought them stateside, admiration grew and eventually led to the establishment of three breed associations. While each seeks different qualities in the horses it registers, all three groups appreciate the culture and history that trace back to the Romany horses in Europe.
Newbies Take Note
Since the Romany people have traditionally spent a lot of time on the move, encountering new sights and sounds, they have sought out horses with stamina and a level-headed nature. These are just a couple of the qualities that drew Americans to the sturdy cobs.
Laura Marshall, who purchased a Gypsy Cob named Dantea as her first horse nearly four years ago, says they are also animated. "They fairly ooze personality," she explains. "There are definitely across-the-breed similarities, but each Gypsy has a distinction or two that amuses his owner. One thing about Dantea is that he is constantly showing me how smart he is."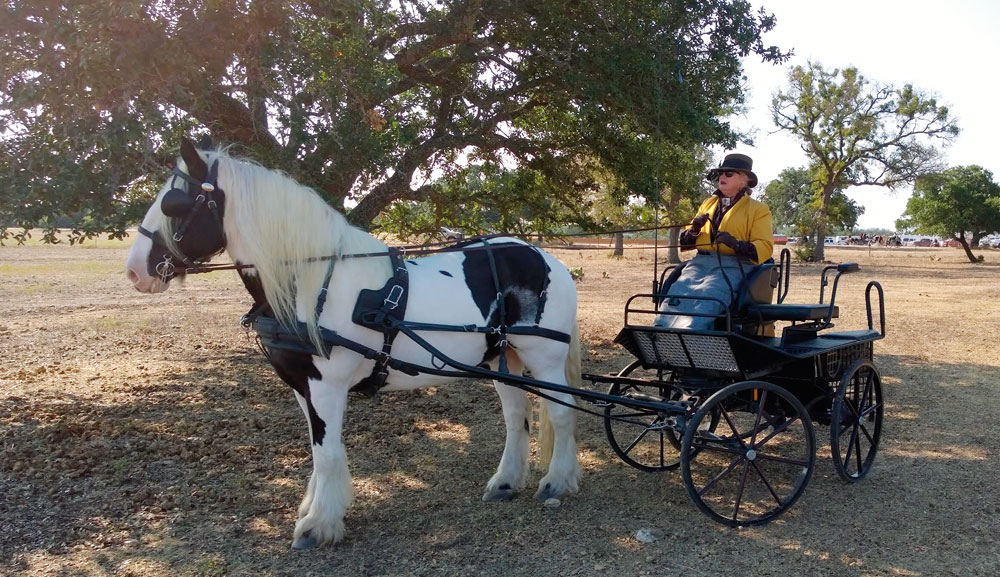 Photo courtesy Laura Marshall
In her time with Dantea, Marshall has learned that the Gypsy Cob is kind and generous—a good combination for a new equestrian. Dantea came from an abusive situation, so it has taken time to develop the relationship they have today. But in that time, Dantea has been patient with Marshall, and she with him.
For Marshall, the focus of her time with Dantea is on fun. "Dantea and I just spend time together," she says. "That could mean driving, riding, having a spa day—concentrating on hair care, mainly—or just hanging out in the pasture." The duo sometimes competes in driving events, but that too is more about camaraderie and fun than getting a ribbon.
You Can't Have Just One
When equine trick trainer Jackie Johnson was approached with the question of working with a Gypsy Vanner Horse, she wasn't quite sure what to expect. She had never worked with the breed before, but she soon discovered there was a lot to love about it.
"They are so easy to work with and train, and they are healthy, sturdy and versatile," says Johnson of the Gypsy Vanner.
In addition to her Paint mare and Percheron gelding, Johnson has four Gypsy Vanner Horses. All of her horses are trained for riding and driving. They compete in hunter/jumpers, trail, barrel racing, mounted shooting and more. "Anything that suits our fancy that week," says Johnson.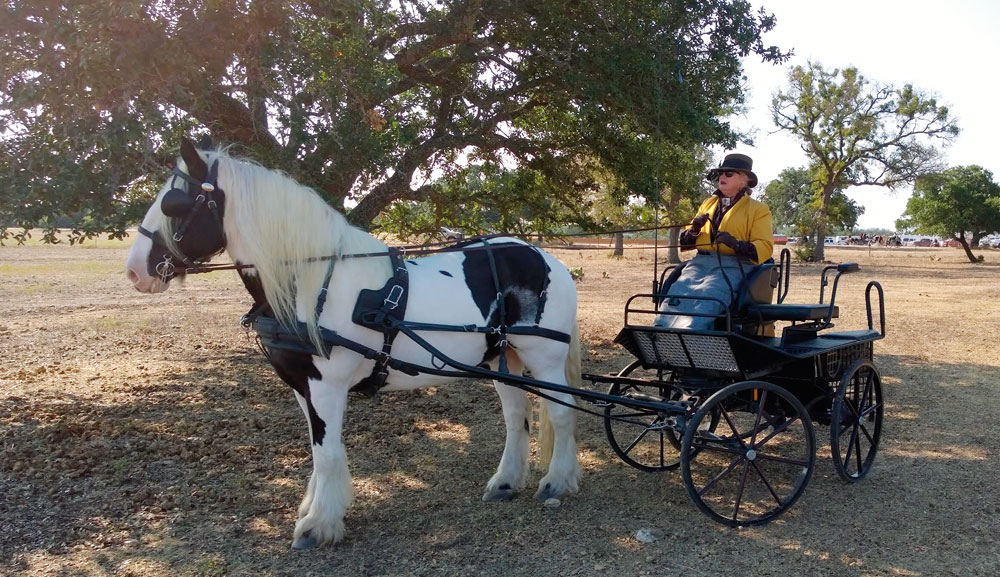 Photo: Linda Hazelwood/Courtesy Jackie Johnson
In comparison to other breeds Johnson has worked with, she says the Gypsy Vanner's versatility and ease of training stand out. "I always say that I can train three Gypsy Vanner Horses in the time that it takes me to train one light horse," she explains. "This breed is born knowing its job!"
A Romantic at Heart
If you're looking for that fairytale mount with flowing hair and a noble presence, Heidi Horchler would tell you to look no further than the Gypsy Horse.
A self-proclaimed romantic, she loves the Gypsy's feathered legs and full mane, as well as its more compact stature. "When I was younger, I always wanted a big draft horse like a Clydesdale," says Horchler. "But I really like the smaller size of the Gypsies. I also love that the breed can be any color, and there are so many beautiful varieties. When I bought Chroicoragh, she had a blue blagdon coat—a blanket of gray dapples across her back. Even though the pigment is still in her skin, her hair has completely grayed and she is almost totally white. She looks like a unicorn!"
The real clincher for Horchler, though, was the Gypsy's calm temperament. "I am a pretty mellow person, and I did not want a super-spirited horse," she says. "The Gypsy temperament is perfect for me."
Learn More!
Gypsy Cob & Drum Horse Association

www.gcdha.com
Gypsy Horse Registry of America

www.ghra.us
Gypsy Horse Association

www.gypsyhorseassociation.org
Gypsy Vanner Horse Society

www.vanners.org
Kim Klimek is a freelance writer based in Kentucky.
---
This article originally appeared in the February 2016 issue of Horse Illustrated magazine. Click here to subscribe!