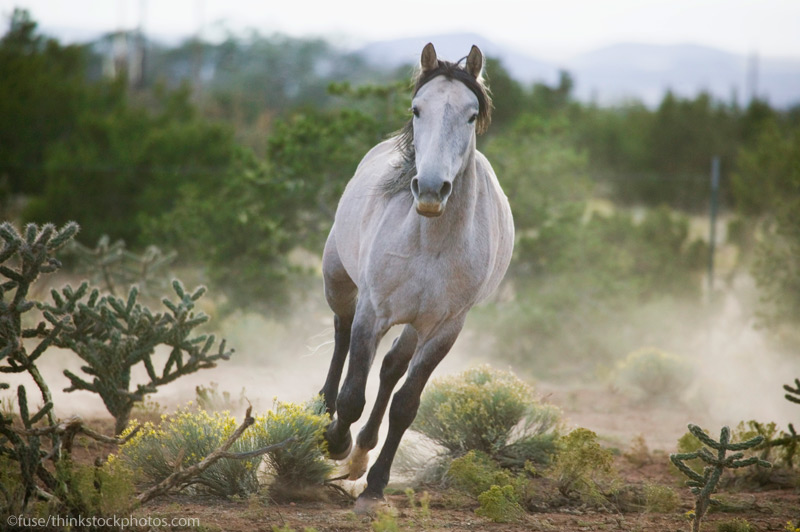 It's the dream of many horse lovers: to have their own
Mustang
. And it's no wonder. The recent popularity of programs like the
Extreme Mustang Makeover
has brought Mustangs into the limelight and shown what wonderful mounts they can be.
In addition to the wild horses available through the Bureau of Land Management (BLM), Mustang breeds such as the Spanish, Sulphur and Kiger are also gaining notoriety, prompting people who are looking for a unique and hardy horse to check out these special breeds.
But before you go to a BLM adoption event or buy a Mustang from a breeder, it's important to know that Mustangs are different from other horses. BLM Mustangs grew up wild, with little or no human contact. In fact, most BLM horses have been wild for generations. Domestically bred Mustangs, like the Spanish, Sulphur or Kiger, have been domestically raised, but carry the DNA of ancestors who were wild only a few generations before.
All this adds up to a horse that sees the world differently than, say, a Quarter Horse or Thoroughbred, whose ancestors lived in close proximity with humans for centuries.
How to Train Your Mustang
"Mustangs are truly wonderful horses and are highly intelligent," says trainer Lisa Scebbi of Diamond Elite Training in Norco, Calif., who teaches dressage to both adopted BLM wild horses and Spanish Mustangs. "The main goal with Mustangs is not to muscle them, but to outsmart them. They have a higher fight-or-flight response, due to heightened survival instincts."
Although their strong instincts don't make Mustangs spookier than other horses (in fact, some people find them to be less spooky), they can react strongly in situations when they feel threatened. This can result in spinning and bolting in green horses. Most Mustangs recover swiftly once they realize the threat isn't real, and will settle down quickly.
Close to Nature
Mustangs are very sensitive to their environment, and can even be more reactive at a certain time of day.
"For instance, because of their survival instinct, Mustangs tend to be a little more sensitive at dusk," says Scebbi. "In the wild, this is the time when predators are out."
When Scebbi first begins training a new Mustang, she avoids working the horse around sunset.
"I want them to feel comfortable working with me," she says. "Later in the training, once trust is established, I start working them during those hours."
Wild Horse Intelligence
Mustangs tend to be exceptionally intelligent too, due to their wild ancestry. Horses need to learn quickly to survive in a harsh wilderness, and due to natural selection, the smartest horses were those most likely to survive. Because of this intelligence, Mustangs catch on fast in a training environment.
Frank Hopkins, a Mustang expert who lived in the 1800s and was the subject of the film Hidalgo, once wrote of the Mustang:
"You can't beat Mustang intelligence in the entire equine race. These animals had to shift for themselves for generations. They didn't have grooms keeping them out of trouble or trainers showing them what to do. They had to work out their own destiny or be destroyed. Some were destroyed in the working out of nature's survival law. Those who survived were animals of superior intelligence. The Mustang knows what intelligence means."
While this intelligence means that Mustangs learn fast, it also means they get bored easily. Constantly drilling a Mustang in a training session will result in a horse that will be less willing to work. It also means you have to be smarter than they are if you want to keep their minds occupied.
Mustang Quirks
Mustangs are also naturally curious, and often have very active mouths. They are famous for being able to untie themselves when they get tired of standing tied. They can also become destructive if they are bored, using their lips and teeth to dismantle and demolish whatever they can reach.
No doubt because of generations of herd life, Mustangs tend to be clannish. Unlike more domestic breeds, Mustangs do not consider every horse to be part of the herd. They form strong attachments to horses they live with and consider part of their family group, and can even become protective of these herd mates, not allowing other horses near them.
Mustangs, whether BLM wild horses or pure strains kept by breeders, are sensitive horses known for their ability to bond with their riders in ways not often seen in other types of horses. Once that bond is formed, a Mustang will do just about anything for you. Likewise, it can take some time for a Mustang to learn to trust you. Time spent, along with consistent, fair handling is the sure way to a Mustang's heart.
Liked this article? Here are others you'll enjoy:
Slideshow: Mustang Troop at the Kentucky Horse Park
Mustang Match-up
---
Audrey Pavia is a freelance writer and the author of Horses for Dummies. She lives with two Spanish Mustangs, Milagro and Rio.