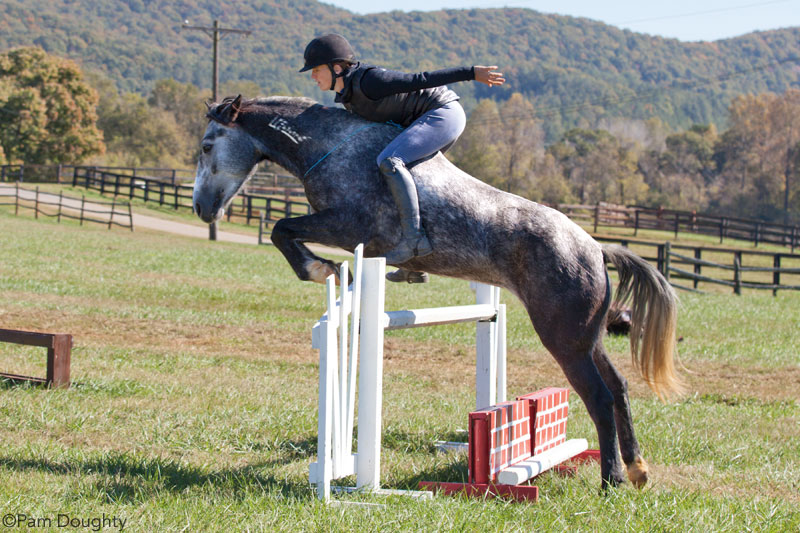 Elisa Wallace with her 2014 Mustang Magic horse, Hwin. Only three weeks into her training, Hwin showed incredible natural jumping talent.
Elisa Wallace was born with horses in her blood; her father is eventing trainer and upper-level rider Rick Wallace. These days, Elisa and her dad compete against each other at many of the events in Florida, but having that family support is something she treasures.
"It's nice to have that relationship with my dad," she says. "That's how I started eventing. I bought my first horse when I was 18—I saved up all my graduation money and bought a yearling Thoroughbred that I produced to the Advanced level. We won our first three-star [international event], but he ended up getting hurt."
After such high-level success with her first horse, Elisa began slowly working her way back up through the levels with other horses. She had mostly babies in her barn when the opportunity to train her first Mustang came along in 2012.

"A friend of mine, Rebecca Bowman, had done the [Extreme Mustang Makeover in 2010] and was nagging me to do it," says Elisa. "It was on my bucket list, so I said what the heck, do it. So I entered the makeover competition. You have to apply to be a trainer and then you're randomly assigned a Mustang that you have 120 days to train. The competition at the end has prize money; there are actually some pretty good incentives. In eventing, there's really not that much prize money unless you're at the highest levels."

The winning freestyle performance from Elisa Wallace and Fledge at the 2012 Extreme Mustang Makeover in Clemson, SC.
2012: Fledge
The Mustang randomly assigned to Elisa was a 13.3-hand, 3-year-old colt (now a gelding) that she named Fledge. They ended up winning the Extreme Mustang Makeover after just 120 days of working together. While she never intended to keep him, she had fallen in love with Fledge and purchased him at the end of the competition. Elisa was suddenly a recognizable name and sponsorship interest came calling from far and wide.
"That [first Mustang makeover] was really the best decision I'd ever made because it changed my life," says Elisa. "It changed how I view horses, and it's been cool doing the Mustang demos since then.
"I became really passionate about Mustangs," she continues. "I had a breeding program [for event horses] going at the time, but I felt like that wasn't what I needed to do because there are 50,000 Mustangs in holding facilities right now. I felt like I didn't need to be adding to the horse population anymore, so now I am focusing on promoting the Mustangs."
Elisa currently has two upper-level eventers (one Thoroughbred and one warmblood) that she started training before getting her first Mustang. "Now I'm hoping to have Mustangs at the upper levels too," she says. "They come in all shapes and sizes. There's a certain amount of magic that happens when you're working with a wild Mustang and you're able to get that horse to trust you not long after being untouched. That journey is what you become addicted to."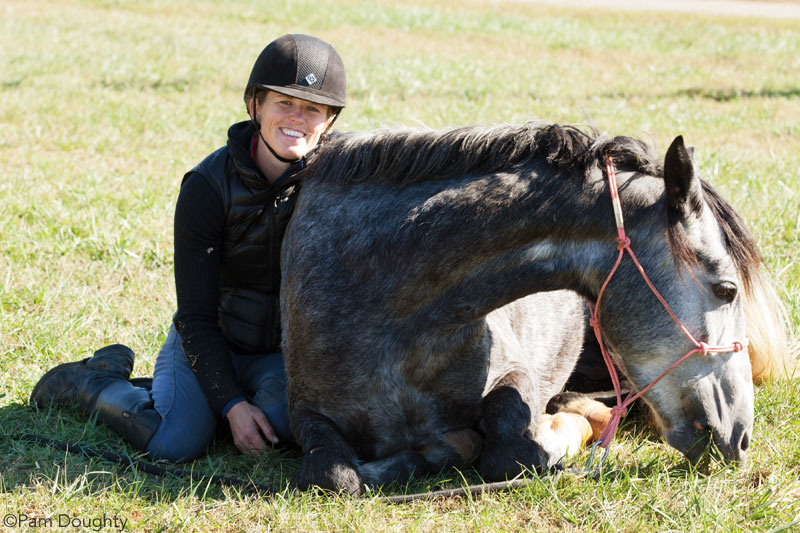 Elisa enjoys the process of bonding with her BLM Mustangs.
2013: Rune
In 2013, Elisa got another unhandled Mustang, a 15-hand, 3-year-old colt she named Rune. This time, she was able to select the horse herself. The pair finished in 30th place out of 190 entrants in the Mustang Million competition that fall.
"Rune was probably the easiest one to train. But I would say that my favorite one was Fledge because he was the first. Just like your first love, that one's always going to be the best in your mind."
Elisa still owns Fledge and Rune and has no plans to sell them. She showed Rune in the United States Eventing Association's Young Event Horse (YEH) series 4-year-old division in 2014. "He was third; I thought he could have been placed a little higher, but he was good. I'm hoping to do the 5-year-old division with him [in 2015]."
2014: Hwin
Her latest project Mustang is a 14.3-hand, 5-year-old mare named Hwin. "I got invited to do a makeover that was all mares," says Elisa. "I haven't trained a Mustang mare before, so I figured I might as well try it. I named her Hwin after the character in a book [The Horse and His Boy]; there is a talking mare named Hwin. When I got her, she fit the name to a T — Hwin is exactly how the horse is described in the book. I like them to have magical names because they're different. [Names] need to stand out and be original."
People have commented that Hwin looks easy to train after seeing pictures of Elisa jumping her bareback after only a few weeks of training. "Everybody's like, 'Wow, she must be super easy!'" says Elisa. "There is no such thing when it comes to training horses. She was easy in the fact that she is very sweet. But other things do pop up when you're training them. She wasn't the most confident horse as far as when something would scare her, she'd just want to run away."
Hwin showed immediate natural aptitude for jumping, and loved hopping over little ditches Elisa would walk her over during lessons on the lead rope. "She seemed to think that was pretty fun. The picture [of jumping her bareback] that circulated around came about when I was at my friend's place. I had been riding Hwin western and she seemed to be in a bad mood. So I took her tack off and rode her in a halter and was jumping around the jumps and she was knocking them down. They were about 18 inches. You could tell she was bored. So I asked my friend to put one up to about 3 feet. Hwin knocked it because she wasn't paying attention. But when she came back around, she cleared it and never hesitated. And then my friend suggested taking the halter off.
"I'd been trying to work bridleless with her," Elisa continues. "She was only five weeks out of the wild at the time and had only three weeks of training. So I had just the neck rope on and sure enough, I pointed her at the jump and she jumped it. It wasn't a fluke. She did it like 10 times."
Elisa's friend encouraged her to keep Hwin as an event horse, but Elisa was reluctant. Her friends and family seemed to know better, however, predicting that she was going to keep the mare. "I already had two [Mustangs] of my own. I didn't think I could take another one on my budget. Not unless it was a freak of nature."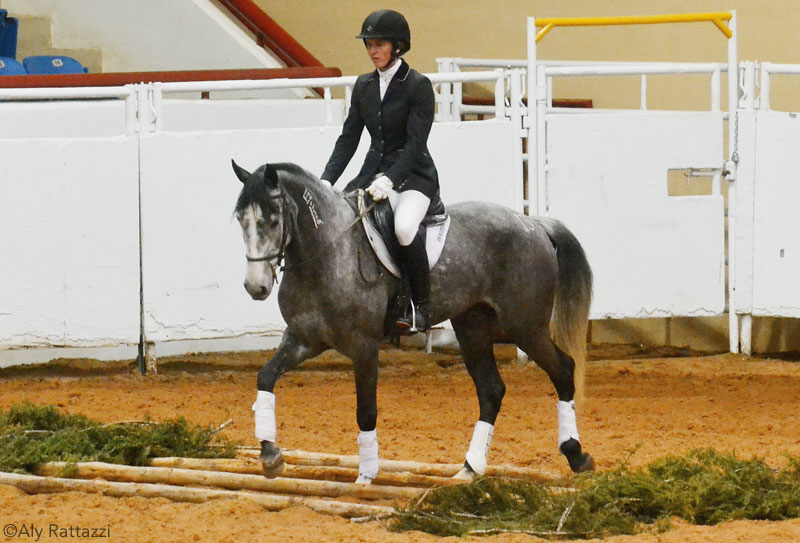 Part of the Mustang Magic competition included obstacles like those in a western trail class.
While working on western training for the 2015 Mustang Magic competition with Hwin, the sometimes-opinionated mare would say "no."
"But she never does that toward the jumps," says Elisa. "The other day, I was jumping around small stuff, about 2'6," and wanted to see how brave she really was. I had my triple bar set up to 4 feet. She just came right on down to it and cleared it. She never even second-guessed me. It didn't even feel like she was trying hard. I posted a picture and everybody told me I had to keep her!"
After talking it over with her father, he encouraged her to keep this gem that seemed perfect for eventing. She decided to raise money to bid on Hwin at the conclusion of the Mustang Magic competition in January 2015. The pair ended up finishing fourth overall and winning Fan Favorite. Elisa was able to purchase the mare for $2,100, the second-highest price of the sale.
"[These events are] designed to entice adopters to adopt a trained horse and bridge the gap between a wild horse that you see at the corrals and the public," says Elisa. "Some horses can be absolutely perfect in 120 days. I felt that [Hwin was] still a little insecure about some things and needs a more experienced rider, so that's part of the reason I wanted to win her at auction. I'm working hard to try to find someone to be an owner and sponsor of her to see how far she can go up the levels [of eventing]. There have been half-Mustangs that have gotten to the upper levels, but there haven't been any branded BLM ones that have competed above Prelim, I believe. But the whole object of the game when it comes to the Mustangs and me is to show people how nice they really are."
Elisa took Hwin to her first schooling event at Novice level less than two months out of the wild. "I was actually shocked at how she was in my dressage test. I had never ridden her in a dressage ring before, she marched just right around, didn't care about the judge's box, and was pretty relaxed. The stadium [jumping] was pretty hefty and she knocked down almost every rail. She wasn't really paying attention, but then you could see her figuring it out by the end. And then cross-country came and she just ate it up."

Elisa Wallace and her Magical Mustang Mare Hwin went double clear on cross country at the 2015 Chattahoochee Hills Championship International Horse Trials (Hosted by Bouckaert Farm in Fairburn, Georgia), and finished in 3rd place in the Novice Horse division with a score of 31.0.

The Future

For 2015, Elisa has two new 4-year-old Mustangs headed to her barn, but they are already sponsored by an owner and will be with her to ride and train for eventing. "I'm hoping to do the Young Event Horse series with them," she says. "I know one is 15.3 and the other is 15.1. I started thinking that I wanted a taller one, but then I thought getting on a wild Mustang is really nice when they're 13.3!"
Her future Mustang plans include an Extreme Mustang Makeover in Georgia this year. "I don't know how many more I'm going to do because I've been bad about getting attached to the horses," says Elisa. "My goal is to create a link for people that are interested in Mustangs; to train the horses up and then find interested people [to buy them]."
Elisa made her first trip to the only four-star event in North America, the Rolex Kentucky Three Day Event CCI****, in 2015, riding a 16.3-hand, 13-year-old Australian Thoroughbred gelding named Simply Priceless. Completing Rolex is a bucket-list accomplishment for any top U.S. event rider, and hopefully it will be just the first of many rides there for Elisa.
"My ultimate goal is to have a Mustang going Advanced [level]. If I could have one running around Rolex, that would be really cool."
HOLLY CACCAMISE is Horse Illustrated's managing editor.
---
This article originally appeared in the June 2015 issue of Horse Illustrated. Click here to subscribe!