The craggy terrain of the Welsh countryside has kept the human population localized to the coastlines. However, for the native Welsh Pony and Cob, it has historically been a perfectly suitable home.
That mountainous, sparse countryside allowed only the strongest, sturdiest ponies and cobs to survive, and they soon became favored on the farms and cobblestone streets of Wales. The admiration of their athleticism and spirited personalities in recreational riding and driving sports continues today. Enjoyed by both children and adults, Welsh Ponies and Cobs are seen in hunter, driving and dressage competition, as well as pleasure riding.
Welsh Section A Pony
by
User:MBurger
–
Own work
,
CC BY-SA 3.0
Fortunately, you don't have to go to Wales to enjoy one of the four types of Welsh Pony and Cob. You can thank the horse lovers who began importing the breed to the United States in the late 1800s.
The Multitasker
The Bailef, a stallion at Lazy J Welsh Pony Ranch in Texas, is known as "the little white pony who could," says Lazy J owner and operator Janice Early, who breeds, trains, shows and sells Section B Welsh and Half Welsh performance ponies. "He has been on television in Extreme Cowboy Racing, America's Favorite Trail Horse (where he finished third out of the original 1,000 that auditioned), and Project Cowboy sponsored by the American Quarter Horse Association."
Section B Welsh stallion The Bailef is a champion in halter, Welsh performance, and the Extreme Cowboy Races.
Early says that, like The Bailef, the Welsh Pony and Cob breed can do just about anything. Lazy J ponies have won national and reserve national championships in Extreme Cowboy Racing, Pony Finals, jumping, western pleasure, English pleasure, trail, cowboy dressage, cattle work and more. "The ponies are extremely intelligent and versatile," says Early. "One pony can do all of the above and drive. We really like them for trail and obstacle challenges because they are brave."
Welsh Ponies are known for their jumping ability, and usually rule the competitive small and large pony hunter divisions. Martha Stover, a board member for the Welsh Pony and Cob Society of America who raises Section C Welsh Ponies of Cob Type, says that Welsh Cobs are getting more recognition in the dressage arena as well.
The breed's diverse skill set is one of Stover's favorite qualities. After a bad riding accident, she was searching for a different way to enjoy her equestrian hobby. She found it in Welsh Ponies and the sport of driving. "When I did come back to riding, I didn't have to leave the breed," she says. "We call them the original sport pony. They work out well for a family that has an older child who can work the pony for a younger child. And the parents drive them while the kids ride them, so they stay in the family for a long time."
Welsh Ponies and Cobs adapt just as well to different riders as they do to various disciplines. "Our ponies are ridden and handled by people from age 2 to 80," says Early. "The ponies are very strong and sturdy and can carry adults easily. Their gaits are smooth, and as a 70-year-old with a bad back, I can ride them comfortably."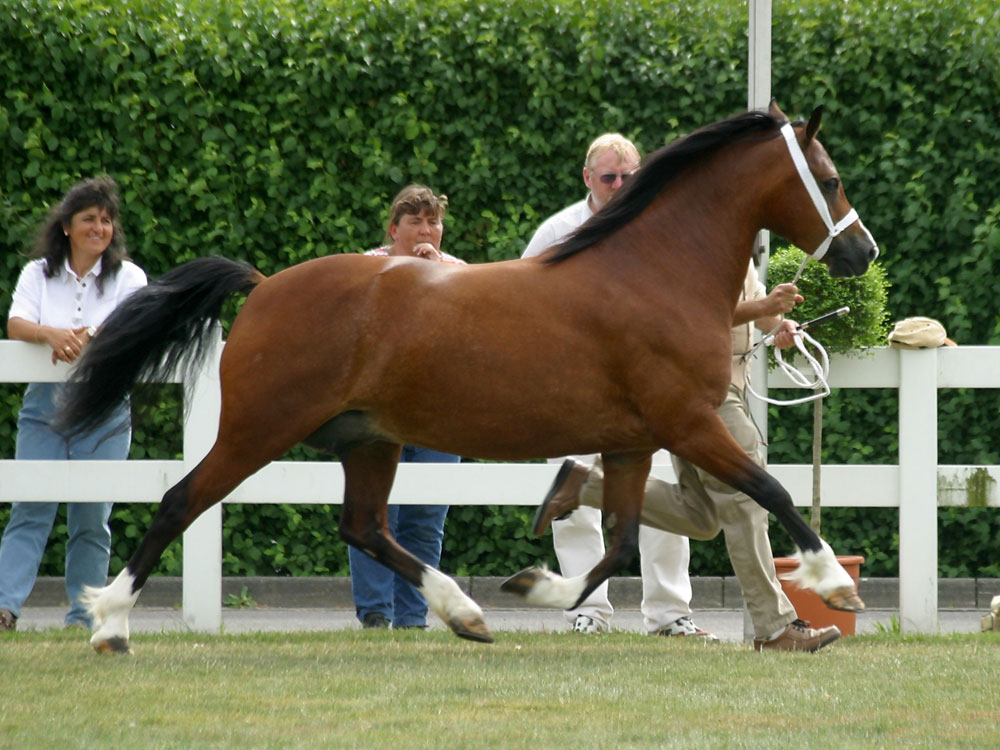 A Section C Welsh Pony of Cob type
by
User:MBurger
–
Own work
,
CC BY-SA 3.0
A Fun-Loving Personality
What could be greater than a Welsh's under-saddle abilities? Early says it's the breed's temperament and mental drive. "I think that the greatest quality of The Bailef's offspring is that they are easy to train," she explains. "They are honest and willing."
Lisa Brezina, who owns and operates Castleberry Welsh Cobs & Sport Horses in Indiana, began breeding Section A ponies for hunters. "I quickly fell in love with the personalities of [the Section A] ponies. They are so intelligent, kind, people-friendly and fun. I have worked with many different breeds of horses and ponies before, and there were always a few individuals that would stand out among their peers. But in this breed, almost all of them are smart and fun."
Wishing she had a Welsh in her size, Brezina bought her very first Section D Welsh Cob, the imported stallion *Tuscani Dundee. "It was love at first sight," says Brezina, who also breeds Welsh cobs now. "They have the same fun intelligence that my Section A ponies had," she says.
To really appreciate the Welsh's fun-loving nature, Brezina says you need to have a like-minded personality. "I always tell prospective clients that you must have a sense of humor to be owned by a Welsh," she says. "Otherwise, they will drive you crazy!
"Most of mine love water," Brezina adds. "They play in the water trough and sometimes will even get all the way into it. They often manipulate many different latches, so they can be escape artists. Some may find their antics annoying, but others find it humorous and appreciate the intelligence they display."
Full of Surprises
For those who haven't had the pleasure of getting to know a Welsh Pony or Cob, there seems to be an element of surprise when they're introduced to the breed. "What I really like to hear is when people say they didn't realize ponies could be so well-trained," says Denise Dougherty, who owns a mix of Section A Welsh Mountain Ponies, Section B Welsh Ponies and Half Welsh ponies. "Or when they comment on how nice Welsh Ponies are compared to the pony they remember from when they were young."
"A lot of people have never seen a Welsh Cob before," says Brezina. "They are surprised at how well they move and how competitive they are, even against full-sized horses."
So if there's something to be learned about Welsh Ponies and Cobs, it's that you need to let go of any preconceived notions you might have and give the breed a chance to show you what it can do. "They love their people, and they love to learn," says Brezina. "They are always up for an adventure."
For more information, visit the Welsh Pony & Cob Society of America online at www.welshpony.org.
Kim Klimek is a freelance writer based in Kentucky.
---
This article originally appeared in the January 2016 issue of Horse Illustrated magazine. Click here to subscribe!