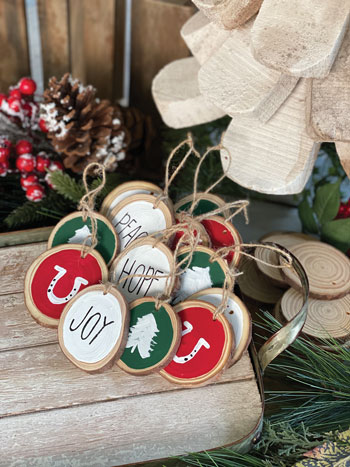 Deck the halls! The holidays are coming up, and what better way to get ready than with a horse Christmas DIY craft to celebrate the festivities? Follow these steps and trim your tree with a bunch of adorable, wood slice barn ornaments. Happy holidays and a horsey new year!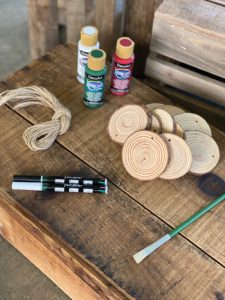 Materials
◆ wood slices with holes in the top
◆ acrylic paint
◆ permanent or paint markers
◆ twine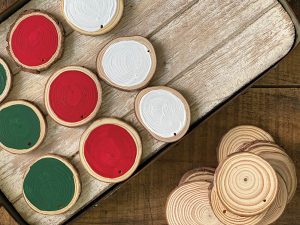 STEP 1: Paint a circle on each ornament and let dry.
STEP 2: Decorate your ornaments using paint, paint markers and permanent markers.
STEP 3: String twine through each ornament, and you're ready to hang them on the tree!
This article on creating a horse-related Christmas DIY ornament appeared in the Fall 2020 issue of Young Rider magazine. Click here to subscribe!
Further Reading
◆ Have a Very Horsey Holiday with These Equestrian Gift Ideas
◆ That's a Wrap: 11 Fun and Fabulous Holiday Gifts for Horsey Kids
◆ Gift Ideas for Horse-Crazy Kids
◆ Homemade Horsey Gifts: Horse-Themed Gift Box
◆ Homemade Horsey Gifts: Homemade Horse Cookies
◆ Homemade Horsey Gifts: Decorative Key Hook
◆ Homemade Horsey Gifts: Barn Tote Bag
◆ Homemade Horsey Gifts: Light-Catching Glass Bottles
◆ Homemade Horsey Gifts
◆ Stable Advice: Holiday Gifts for Horse Professionals
◆ 4 Gift Ideas for the Horse Enthusiast Who Has Everything
◆ Luxury Gifts for Horse Lovers