Summer is coming, and it's threatening to suck the joy right out of your barn time. But fear not, intrepid summer riders, I'm here to share some of this Floridian-turned-Texan's favorite hot weather products and tricks.
Sunscreen and bug spray. Obvious, but often overlooked. I can assure you, it's still possible to get sunburned in the evening after work. And hell hath no fury like a mosquito after a good summer rain.
Have a plan. Ride early or late. Save the new-green-breeches chit-chat for inside the barn, and have a plan: do as much work at a walk as you can, focus your trot/canter work on what you really want to accomplish, and keep your ride reasonable in length.
SPF Shirts. Equestrian fashion gods smiled upon the South when these shirts hit the scene with their SPF fabric, quarter-zip to shield your freckly chest, and mesh panels to catch any hint of a breeze. If you spend significant time outside, then no matter what brand, get as many of these as you can handle in light colors, and thank me later. And if not…
Raid other sports. If you haven't already, empower yourself to buy riding shirts from your favorite sportswear outlet, where you can find loads of gear made for serious athletes (you!) in serious heat (also you!). Pair with breeches, and voilà! And if you yearn for a tailored look, invade the golf sections to find more structured, collared dry-wicking shirts with top heat-surviving technology.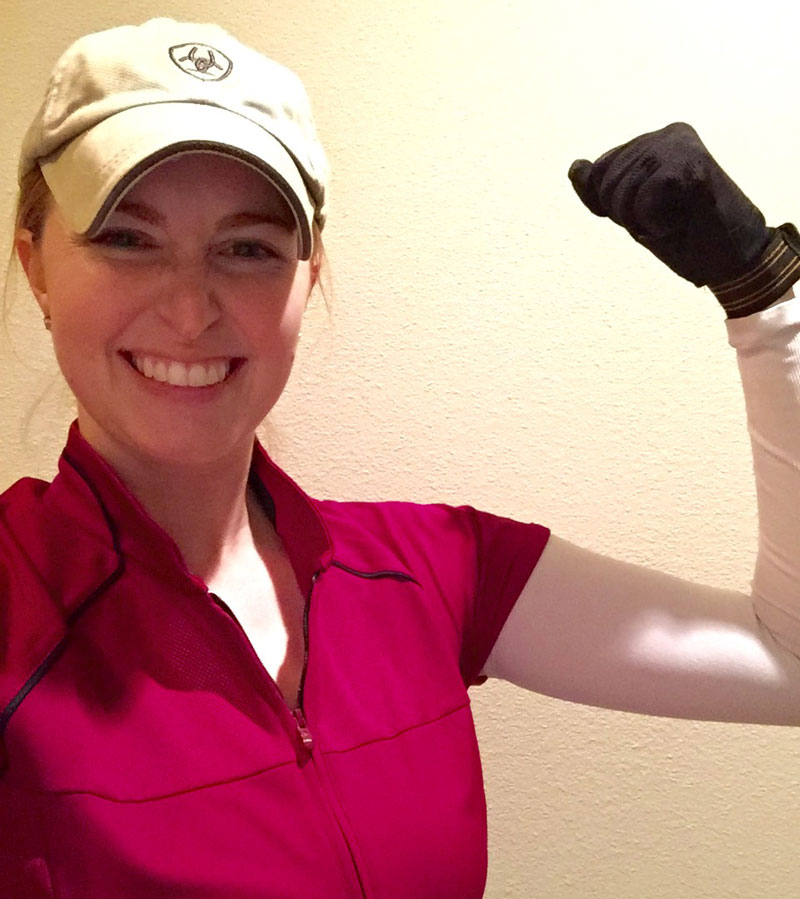 Sun protection sleeves. If you prefer short sleeves, try these puppies. Slip them on and ditch the sunscreen-y arms feel. Rider's Sleeves makes horse-branded ones, but Nike and others have versions, too (usually marketed for golf). If you wet them first, they'll also function as a personal air conditioner until they dry out. You may feel weird and wet, but amazingly—not miserable at all. Once you're back under cover, peel them off and enjoy the breeze.
Detachable wide helmet brim. I know, how old are we? But consider a detachable wide brim for your helmet, and with any luck, in forty years, someone will take one look at your baby-skinned countenance and suggest, "… Twenty-nine?"
Water, water, everywhere. Invest in a good water bottle and nurse it like you're a newborn foal. Once you've dismounted, off with the helmet. Soak your head with the hose, wring out your hair, and slap on a baseball cap. TIS, guys. This Is Summer. And on that note…
Wet hair under your helmet. My secret weapon for the hottest days. If you have a helmet with vents, wet your hair before putting it on. Every breeze will be amplified.
Wave goodbye to mildew-covered gloves. There's only one cure for eternal summer dampness—and it's called September. Until then, invest in some desiccant packets from a home improvement or closet store. Stash them in your riding bag and suck the wet right out of your helmet and gloves (just be careful to keep them away from pets!).
Love your tack. Your tack is bound to take a beating from the extra, er, moisture you're emitting. Take extra care to wipe it down and keep it clean and conditioned, even—especially—when it's gross out.
Frogg Toggs Chilly Pad Cooling Towel. Wet it. Stick it on the side of the ring. Wipe your face and arms when your lesson is over for a cool burst. Are you a weirdo? Maybe. But you're cool in a thermal sense.
Finally, if you start feeling bad… don't be a hero. I speak from experience when I say there is very little heroism in heading toward an oxer, pulling out into a circle at the last minute, dismounting, and vomiting over the rail of the ring. Take a break and cool down. Your trainer will understand, and your horse will probably be thrilled.
Now get out there and seize the heat, riders!
Do you have a favorite hot weather secret weapon to share? Let us all know below and take credit for your genius while helping your fellow riders!
Don't forget your partner! For tips on cooling your equine friend properly and keeping him happy in hot weather, check out these articles:
Too Hot to Trot?
Stay Safe with Your Horse in Hot Weather
---
Emily Bogenschutz lives in Texas and is a freelance writer,
recent hunter-turned-jumper, and professional sneaker of saddle pads
into the washing machine. Follow her on Twitter: @EJBog.